With the advancement in technology, the current generation also looks for quick and easy methods to complete each task. This also includes home décor. More and more people are shifting to metropolitan cities and living in rented flats. They look or efficient and temporary ways to decorate their places.
The scenario is the same with people living in their own houses. As getting new floorings done and wall painted is always an expensive affair. However, we now have easy ways to enhance our homes. Such as using wallpapers to change the look of any corner. Not just by sticking on one accent wall, but the stick-on wallpapers can be used in various ways, such as:
Behind The Staircase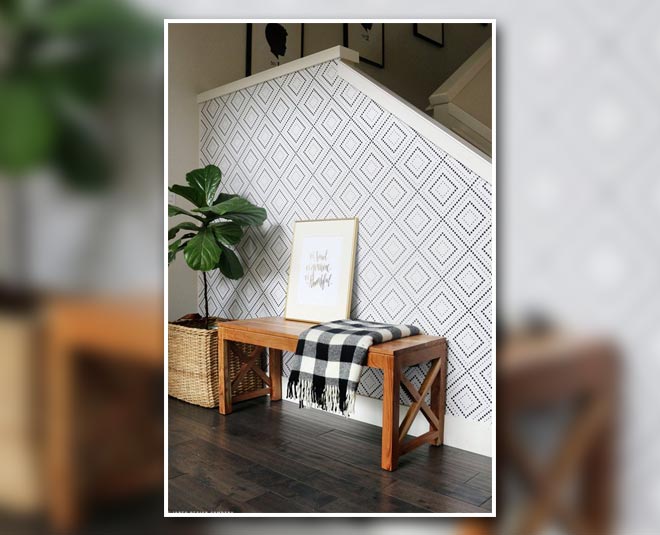 The area behind the staircase seems really tricky to elevate. A simple paint looks absolutely boring. Take a wallpaper of your choice, perhaps a neutral shade with simple patterns, measure it according to your staircase all, cut it and place it there. You will witness an instant change in that area. It will add colour and beauty to a place that was looking dull before.
On The Floor
Yes, we know the wallpapers are called wallpapers for a reason, but who said we can't mould the rules a little bit! Take a simple floral pattern wallpaper and stick it on the floor. For all those who are still stuck with mosaic and are totally done with it, this idea is especially for you. We know getting an actual wooden or funky flooring can take a toll on your wallet, but this hack is fun, beautiful and definitely cost-efficient.
Around The Entrance
People who are a fan of the minimalistic style somehow ends up with a complete plane house, with almost zero creativity. After a while, it can really start to bore the onlookers. If you don't want to change the entire theme, but just want to add a little bit of drama, use a patterned wallpaper. To maintain the theme, you want to apply something that has a similar background, but a solid colour pattern.
Cover The Ceiling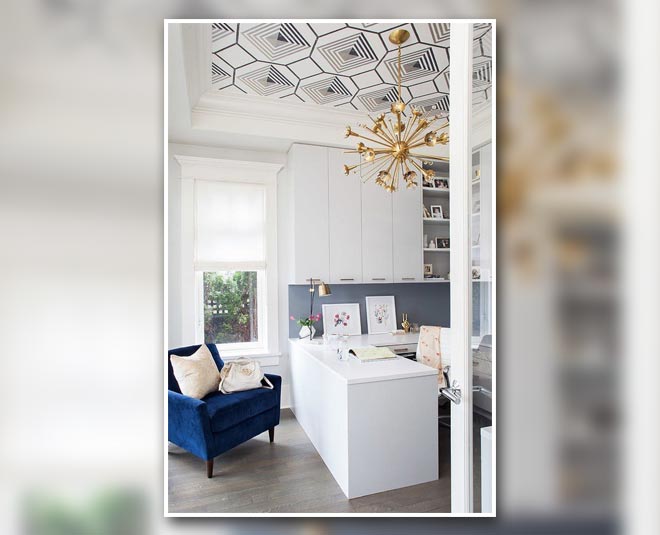 Again, wallpapers are not just supposed to be on the walls parallel to you. Break the monotony and add drama to your ceiling. You can pick something textured, colourful, or literally anything you like. However, don't go overboard with hues, as you must match it with the walls of the room to maintain homogeneity.
Decorate Your Furniture
For every occasion people can add pieces they think they need, but to change the entire set is something that is not possible and very expensive. However, using wallpapers you can give a new look to your centre table, side tables, chair handles, etc. Take cues from the image shown, the centre table with patterned wallpaper is looking chic and timeless. You can also go for this style or anything that you think will suit your space.
Don't Miss: Planning To Shop For Furniture Online? Read These Important Tips First
Re-Do Your Cabinets/Shelves
Be it your kitchen (tips to keep your kitchen positive) cabinet, or bookshelf, it need not look boring as long as you have wallpapers available. Pick a patterned piece of your choice and stick it in the background. Don't try to cover everything, just the wall behind the shelves. You can also do completely opposite thing. Stick the wallpapers on the shelves and not the walls to create a new, quirky look!
Don't Miss: Common Myths Around Usage Of Wallpapers At Home, Busted!
If you liked this article, do comment on our Facebook page. Stay tuned to HerZindagi to read more such stories.
Image Courtesy: Pinterest