Ways To Make An Efficient Wedding Checklist!
A wedding checklist needs to be worked out six months before the wedding to avoid last moment panic attacks!
Weddings are a grandiose affair for us Indians. In India we love going overboard with not just the preparations for the wedding party, but also the outfits, decor, and whatnot. While the whole celebration is fun at the end of the day, it takes a lot of planning and execution to make it all work. Without proper planning, it can end up being chaotic and disorganised. But don't worry, Her Zindagi brings to you tips on how to make an efficient checklist for your convenience to organise a unique wedding function that will be nothing but spectacular.
Budget
When it comes to planning a great wedding, budgeting is supremely important. The first and foremost thing that you need to add on your checklist is the budget. Once you have the budget allotted for different aspects of your wedding, then things will be a smooth sail from there. Budgeting needs to be done with extreme precision and care, while ensuring that you don't overspend on unnecessary things. Use a diary to keep track of all the expenses you incur. This will help you to spend your money more efficiently. Budgeting ought to be on priority on your checklist.
Wedding Venue
As soon as your wedding date is finalised, you ought to start shortlisting on the possible venues and start comparing their prices. The right wedding venue is not easy to find and one needs to do a lot of research to find that ideal. Wedding venues can literally make or break your wedding so you need to ensure that you choose nothing but the best. Be sure to consider the weather conditions during the wedding when choosing your venue.
Guest List And Invitations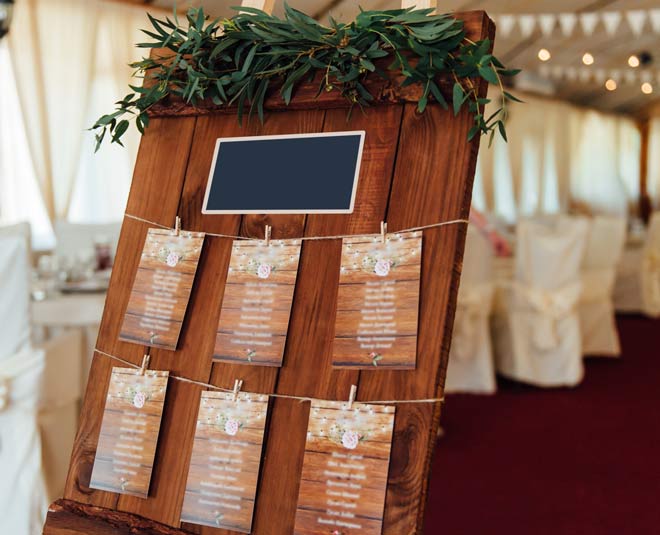 Guest lists and wedding invitations are other super important things that need to be worked out way before the wedding day. Make sure that your wedding checklist has wedding invitations on priority. Your wedding guest list will be revised a lot of times and hence it needs to be worked out way before your D-day.
Don't Miss: Bride-To-Be? Try These Beauty Tips That Will Help You Look Gorgeous On The D-Day
Return Gifts
Well, you cannot send the special wedding guests empty-handed. So you need to make sure that you have picked a special gift for each and every guest of yours. The gift doesn't need to be something grand and elaborate. Just a token gift will work. It is enough to make your guests feel special and even make the wedding memorable for them.
Don't Miss: Planning A Wedding? Here Are 5 Different Ideas For The Wedding Reception
Jewellery And Trousseau
Being a bride is not easy, you have to pick the right ensembles and the right jewellery to make your wedding look striking. In order to have that striking wedding day look, you should have everything worked out beforehand. Make sure that you have ticked off jewellery and trousseau from your wedding checklist numerous days before your wedding day.
If you wish to share any tips on how to make an efficient wedding checklist, do let us know by commenting on our Facebook and Instagram page.
Stay tuned to HerZindagi to read more such stories!