Over the past few years, the importance of bath space has increased tremendously, it is considered as the most vital space in the house. It offers solace and helps unwind the stress with a warm bath. Many great ideas spring up in the bathroom. It is a place where we can rehearse for big meetings or speeches or interviews. Therefore, special attention needs to be paid to designing this space of solitude and enhancing comfort. From here, the concept of smart bathrooms comes into play.
By Mr. Vinay Jain, Founder and CEO, Grafdoer, told HerZindagi that "smart bathrooms first became evident in the country Japan and further, the idea spread all around the globe. Moreover, in todays fast pace life, smart bathrooms are a blessing in disguise. The Sanitary industry is getting improvised by innovative Artificial Intelligence and the latest technologies.
"The new technology will not only saves our efforts but also time. The bathroom of the future is here with the sensor faucets and taps, voice control, smart showering systems, and much more smart technology. Now we can customize every aspect of our bathing experience. Smart Bathrooms are coming up with a wide range of high tech products to make our lives easy. They are establishing a place for themselves in our lives by allowing us to obtain a comfortable, hygienic, and time-saving experience," he added.
Here is a 5 step guide by Vinay Jain that will help in setting up your own smart bath space.
Smart Showers
If you hate hot water pouring over you one minute and then cold water the next minute, a digital shower is exactly what you need. Smart showers have flashing LEDs that stay red when water is hot and then start turning to blue once it cools down.
There is no need to mess with knobs as the water starts and stops at your command. With a smart shower, you can even feed your unique combination of water flow, temperature, and duration of your shower into the device, promising you an alluring experience. Imagine showering your baby without worrying about water temperature because it will be pre-set; sounds so convenient.
This technology will surely give a unique look to your bathroom, try it out! Moreover, these showers optimise the water that pours over you and plays a pivotal role in water conservation. So, while showering, not only are you seeking solace but also playing your part in conversing with the environment.
Voice Control
You can adjust the lighting and set the right mood by using voice control and even avoid getting your phone wet while scrolling through your music playlist during bath. All can be done with your voice. You can also start water or flush with voice control. It is quite handy for those of you with physical disabilities.
It makes disabled people feel good about them and enhances their self-confidence as they can function in the bathroom without any help. It becomes a place of solitude for all, irrespective of everything, promotes inclusivity too. You can even listen to news or podcasts by giving a voice command.
Don't Miss: Make Your Small Flat Look Bigger, Chic With These Decor Tips
Smart Toilets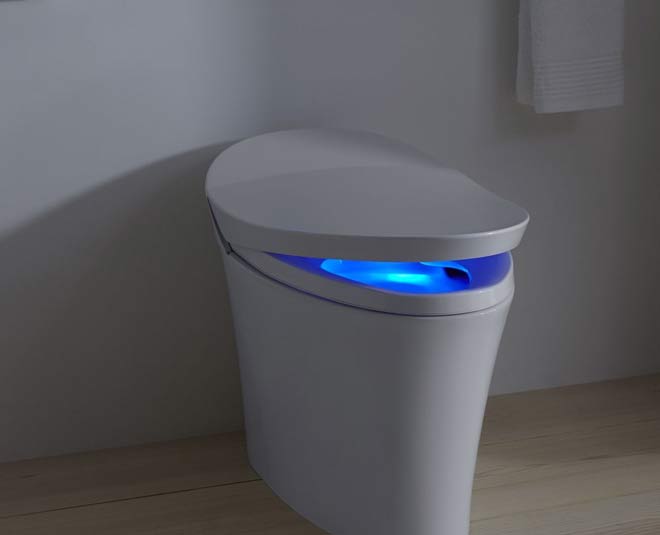 Smart toilets have temperature-controlled water in the jets so that you are not bombarded with icy cold water and then the automatic dryers start working so that you're ready to go back into your fast-paced lives after a hands-free experience. Seat warmers erase your distress of sitting on an icy cold seat.
Smart toilets will surely offer you great comfort. Self-cleaning toilets also tackle the problem of germs and enhance hygiene, so they are highly recommendable for hygiene freaks. The lid opens and closes automatically, giving you a complete touch-free experience. Smart toilets are of great use for the disabled and elderly for taking care of personal hygiene.
They are often smaller than traditional ones and save space. The right amount of water is used while flushing which lowers water consumption.
Don't Miss: Make Your Bathroom Smell Good All The Time With These Tips
Sensor Faucets
Digital faucets bare the twin advantage of making your lives convenient by saving time and effort while helping you conserve water. The water only starts flowing when thermal heat is detected by the sensor and stops as soon as we move our hands away; the flow is controllable.
Touchless faucets are a step towards building a sustainable world. These faucets also contribute towards improving hygiene as there is no need to touch. The spread of bacteria and viruses can be tackled by incorporating this technology. Earlier, touchless faucets were usually seen in malls, movie theatres, restaurants, etc. but now they are wholeheartedly welcomed by households as well.
Moreover, amidst the Covid-19 pandemic, automatic faucets have gained immense popularity and are acting as a dark horse amidst the somber. They are even useful for handicapped people since there is no need to touch and apply pressure to open the taps. Touchless faucets come with a great recommendation, you should get one too!
Smart Mirror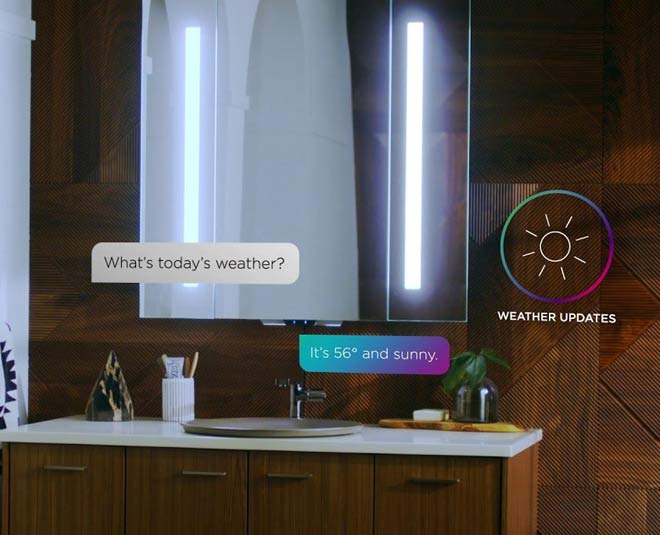 The new technology is such that they have demistifiers hence you do not face any mirror fogging up situation. There are even mirrors that have an audio facility and help you connect with built-in bluetooth. Smart mirrors are two way mirrors which have an inbuilt display. The display shows everything from weather forecast, news feed, to social media feed, calendar, and more.
Jain shared that "smart bathrooms guarantee users a comfortable and luxurious experience. Nowadays, sanitaryware companies are making a tremendous amount of efforts to incorporate cutting edge technologies in bathroom utilities.
"Earlier, smart bathrooms were a thing of the rich but now they can be seen in middle-class houses as well. India has also adopted the concept of smart bathrooms but right now this technology is only limited to a small segment of people. Companies are trying to make smart bathrooms more affordable so that all people can make use of its advantages. In the future, smart bathrooms are expected to replace a major chunk of conventional bathrooms due to hygiene factors, water preservation abilities, and great services."
Stay tuned to HerZindagi for more on ways to update your bathroom and home.