Adorable Moments That Made Ranbir-Alia Wedding Even More Special
We can't stop gushing over the lovely pictures from Alia Bhatt and Ranbir Kapoor's wedding.
The only thing on everyone's mind right now is Alia Bhatt & Ranbir Kapoor. We are going 'aww' on every picture from their wedding. Although they kept their wedding a hush hush event with just close friends and family invited, we still got some inside scoop via Instagram posts and stories.
This was definitely the wedding of the year as their wedding was long awaited just like their film 'Brahmastra' and fans are going crazy seeing the lovely pictures from the wedding. Here are some adorable moments that make their wedding even more special.
Surprise Performance By The Groom & His Squad
View this post on Instagram
According to reports, Ranbir Kapoor, Neetu Kapoor and others from the groom's side gave a surprise performance for the bride which just shows how much they adore Alia. They practiced for a long time with choreographer Rajendra Singh and gave a fantabulous performance.
It is said that Ranbir performed on 'Tenu Leke Main Javanga' while Neetu Singh and others performed on some popular Alia-Ranbir songs including 'Cutie Pie' and 'Dholida'. We even saw some clips of the practice and we are sure that it would have been a blast.
Varmala & Other Rituals
Varmala was made even more special when Ranbir went on his knees in front of his bride. Everyone was hooting and Alia Bhatt just couldn't stop blushing. Similarly, Alia Bhatt and Ranbir Kapoor took the family tradition forward as they drank champagne with each other to celebrate their union. Before them, Rishi Kapoor and Neetu Kapoor did the same on their wedding day. Such precious moments made their wedding even more special and we just can't stop gushing over the photos and videos.
Ranbir Picked Up His Wife
View this post on Instagram
After getting married, the newlywed couple appeared in front of the media to share their happiness with everyone. The couple seemed in love and extremely happy. The thing that made headlines was when Ranbir Kapoor picked up Alia in her arms and she couldn't stop giggling.
Mahesh Bhatt Mehendi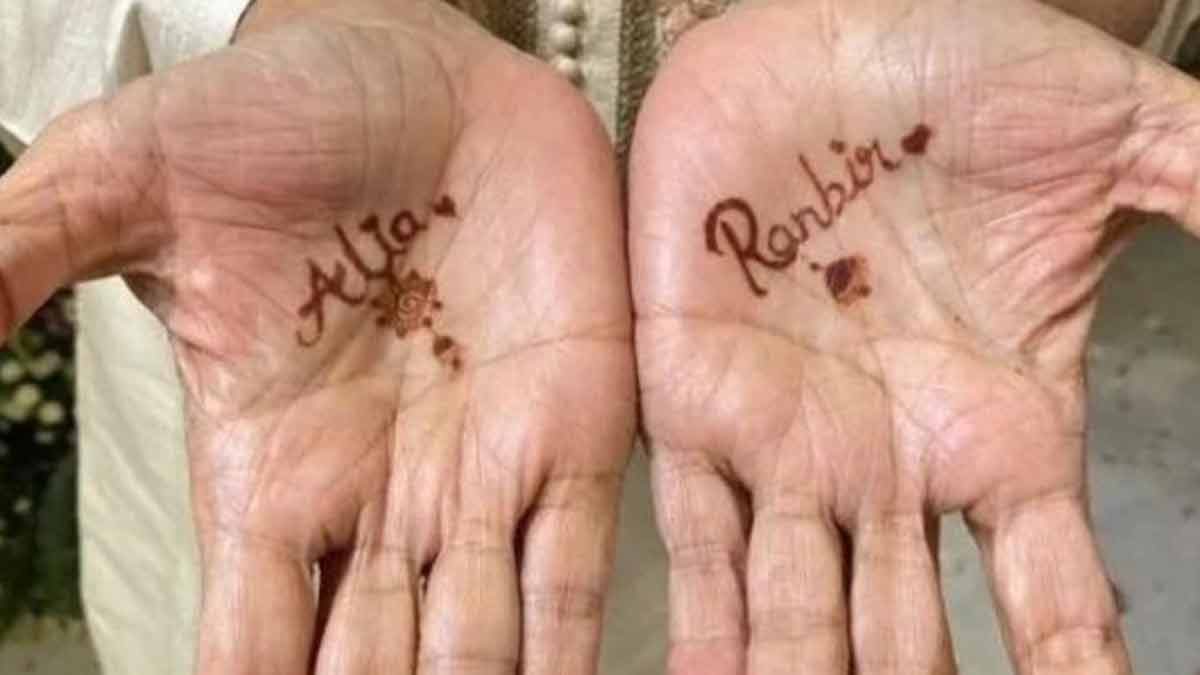 The proud father got his daughter and son-in-law's name written on each hand. Mahesh Bhatt got Alia written on one hand while he got Ranbir written on his other hand. This shows just how happy he is with this union and blesses the couple in this unique way.
Don't Miss:Alia Bhatt And Ranbir Kapoor Dressed In Sabyasachi Mukherjee, See First Wedding Pictures
Remembering Rishi Kapoor
The wedding was supposed to happen in 2020 in front of Ranbir's father, Rishi Kapoor. However, due to his demise, the wedding got postponed and Rishi Kapoor lost the opportunity to see his son get married. Even though he was not there physically but he was present in prayers. None of them left a chance to remember him and Ranbir was also seen holding Rishi Kapoor's picture. Along with this, Neetu Kapoor mentioned that Rishi Kapoor's was fulfilled as his son got married.
Minimal
View this post on Instagram
From outfits to makeup to location to mehendi, they decided to keep everything minimal and not go over the top. It is often said that a perfect bride is the one in a red lehenga with heavy makeup and hands full of mehendi. However, Alia Bhatt and Ranbir Kapoor proved that every bride is beautiful and no matter how you decide to celebrate your union, it is going to be special.
Don't Miss:Inside Alia Bhatt's Dreamy Mehendi Ceremony: Special Performance By Ladkewalas, Tribute To Rishi Kapoor
Happy Family
View this post on Instagram
In several pictures, we can see that the couple is absolutely in love and can't get over each other. They can't seem to leave each other's side and give us some adorable pictures to gush over. Not only the couple but also the family seemed to be extremely happy with the joyous occasion. Riddhima and Neetu Kapoor were in fact seen praising the new 'Kapoor Bahu' and we just love all their family pictures filled with feelings of joy and togetherness.
For more such stories, stay tuned to HerZindagi!