Alia Bhatt - Ranbir Kapoor Wedding Highlights: Gathbandan By Kapoor Sisters, Kaleere's Number 8 Connection
Alia Bhatt and Ranbir Kapoor made their intimate wedding ceremony at Vastu special in so many ways.
After dating for many years, Alia Bhatt and Ranbir Kapoor finally tied the knot on 14th April 2022 in an intimate wedding ceremony. The low-key wedding took place at Ranbir Kapoor's house Vastu where close family and friends were in attendance.
Alia Bhatt and Ranbir Kapoor's wedding pictures and videos are now all over social media and their fans can't keep calm! Alia Bhatt and Ranbir Kapoor's wedding was dreamy in every possible way. So, we thought of bringing you some of the biggest highlights from their big day. Read on.
Ranbir Kapoor Wore Late Father Rishi Kapoor's Wristwatch
Ranbir Kapoor accessorised his wedding look with an expensive watch which belonged to his father. As per reports, the wristwatch which Ranbir Kapoor wore for the wedding day is worth INR 21 Lakh. It was Ranbir Kapoor's way to pay tribute to his late father Rishi Kapoor.
Gathbandan Performed By Kapoor Sisters
Pictures from Ranbir Kapoor and Alia Bhatt's gathbandan ceremony are out and we can see Neetu Kapoor, Riddhima Kapoor, Karisma Kapoor, Kareena Kapoorm, Nitasha Nandan in frame. Neetu Kapoor can be seen helping out Riddhima Kapoor and Karisma Kapoor to tie the sacred knot, the gathbandan while Kareena Kapoor and Nitasha Nanda can be seen standing along.
Kaleere's Number 8 Connection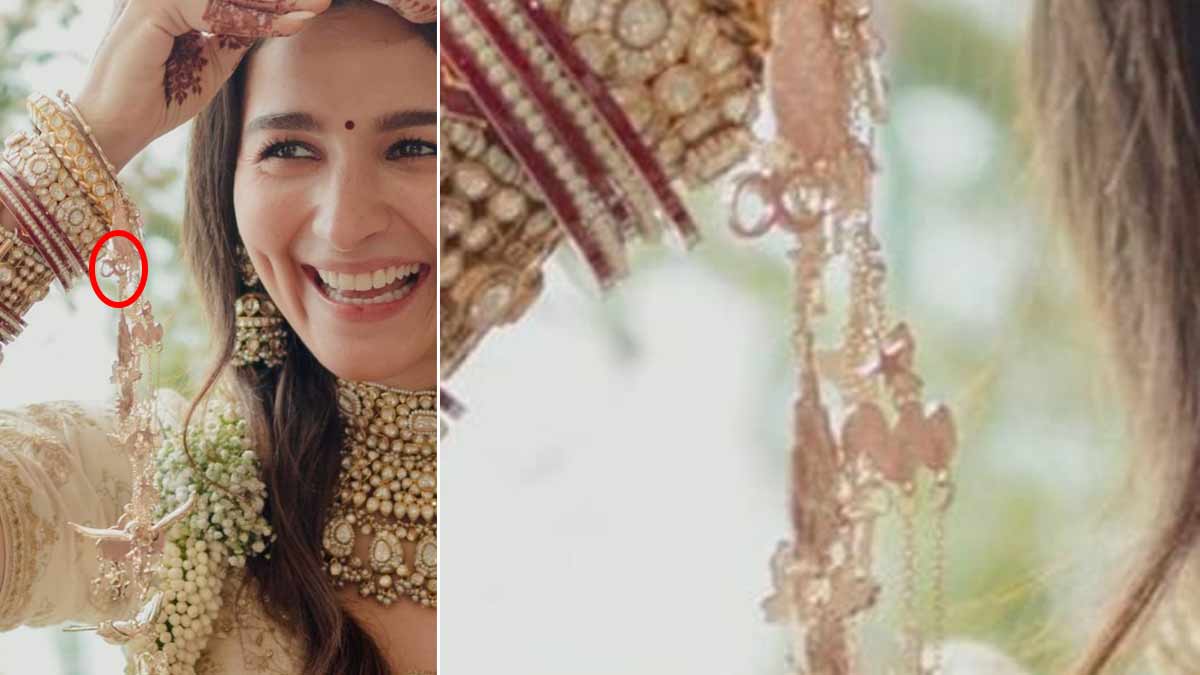 You aren't really an Alia Bhatt fan if you aren't aware of her obsession with number 8. Ranbir Kapoor's lucky number is 8 and no wonder why it is special for Alia Bhatt. Number 8 also denotes infinity. If you missed noticing in the wedding pictures, let us tell you that we spotted number 8 on Alia Bhatt's kaleere and mangalsutra. Isn't that a beautiful way to embrace your partner's lucky number?
Wedding Date Embroidered On Alia Bhatt's Saree
An interesting detail about Alia Bhatt's ivory organza saree from Sabyasachi Mukherjee was that it had her wedding date embroidered on it. Yes, the wedding date, "The fourteenth of April 2022" was embroidered on the saree with intricate gold thread. Such a special detail, no?
Toast To Married Life With Cake And Champagne
Alia Bhatt and Ranbir Kapoor raised a toast on their big day, just like Neetu Kapoor and Rishi Kapoor did, years ago on their wedding day. They were seen celebrating their relationship by sipping on a glass of champagne. After the toast, the couple cut a three-tier wedding cake.
Don't Miss: #Ralia Wedding: Decoding Alia Bhatt's Wedding Look
Alia Bhatt And Ranbir Kapoor's Varmala Ceremony
As per reports, Ranbir Kapoor made the varmala ceremony special for dearest Alia Bhatt by getting down on his knees. During the varmala ceremony, Ranbir Kapoor's family picked him up on the shoulder and so did Alia's family. When it was Alia Bhatt's turn to exchange the garland, Ranbir Kapoor sat down on his knees.
Alia Bhatt And Ranbir Kapoor Took 4 Pheras Instead Of 7
Traditionally, the bride and groom take 7 pheras in a Hindu wedding around the sacred fire. However, in a lot of cultures, the bride and groom take only 4 pheras. It is believed that the 4 pheras aim at - Dharma, Artha, Kama and Moksha.
As per reports, Ranbir Kapoor had personally requested the Panditji to properly explain the rituals during the ceremony as they are performed.
Don't Miss: Ranbir And Alia Wedding: Alia And Ranbir Are A Married Couple Now; Welcome Mr and Mrs!
Alia Bhatt Had No Chura Ceremony
The chura ceremony is one of the most important ceremonies in Punjabi weddings but it didn't take place at Alia Bhatt's wedding. Why? Traditionally, the newly wed bride is expected to wear the chura for atleast 40 days. However, since Alia Bhatt plans to get back to shooting soon after the wedding, she skipped the ceremony altogether.
White And Gold Theme Wedding Ceremony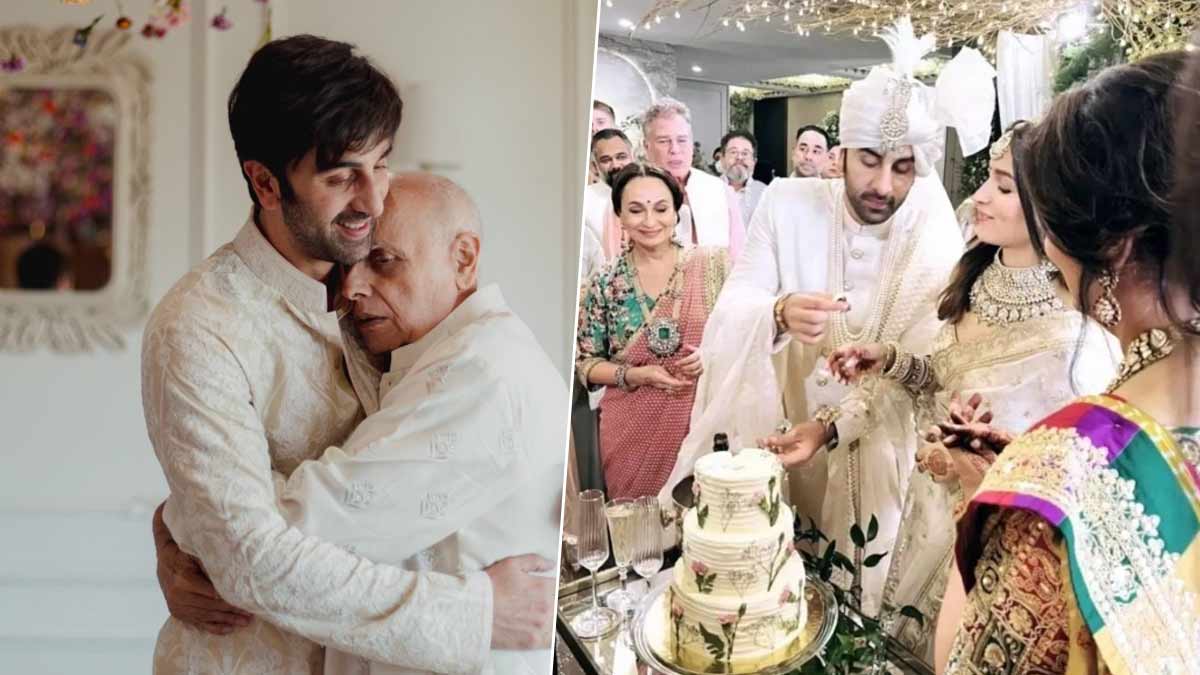 Alia Bhatt and Ranbir Kapoor got married at the latter's residence, Vastu. As shared by Alia Bhatt with her wedding pictures, they tied the knot at their favourite spot, the balcony. The theme for the wedding was gold and white. All the decor images which are now surfacing on social media hint at the theme of the wedding ceremony. Not just the decor, the guests too were dressed up in the two hues.
The Kapoors And Bhatts
View this post on Instagram
Soon after the wedding, both the Kapoor and Bhatt family started to share pictures from the wedding day. Sharing a picture with Mahesh Bhatt, Soni Razdan, Shaheen Bhatt, Riddhima Kapoor Sahani, Bharat Sahani, Alia Bhatt, Ranbir Kapoor, and herself in the frame, Neetu Kapoor on her Instagram wrote, 'My family'.
Tell us what are your thoughts on Alia Bhatt and Ranbir Kapoor's intimate wedding on our Facebook page. For more such updates on their wedding, stay tuned!