Diwali is the most amazing time of the year. It comes loaded with a lot of vigour and happiness. Not only is it the festival of lights but it is also the festival of lives. It is like a grand celebration of each of our lives, the reward for the entire year of turmoil and hard work. Diwali is the best festival. The sound of the word itself can turn a gloomy person into a happy one.
But this year has been extra different. Well, everyone has been suffering from various issues due to the novel coronavirus and the pandemic and that is why we have some really cool ways that will help you celebrate Diwali creatively.
Say No To Crackers
Image Courtesy: Pinterest
We all witnessed how pollution levels decreased during the lockdown. The environment is our top priority and that is why we must take steps to protect it and prevent its depletion. The lockdown proved that there is still scope for us to prevent the decline of the environment as we saw so many endangered species of animals roaming here and there freely. Thus, we must not burn crackers this year and come out of our shell of pretence. Instead of burning crackers, we can play games with the entire family and even light up a paper lantern on Diwali to mark the entry of happiness in our life.
Make Organic Rangoli
Image Courtesy: Pinterest
So, the idea behind making rangoli was to feed insects and ground crawling animals. And that is why traditionally, the rangoli was made with edible items. The modern rangoli colours changed the entire scene and introduced chemically made sand colours for rangoli. If you don't want to go ahead with edible items to use for making rangoli in Diwali, then you can also buy organic rangoli colours that are not at all harsh and are totally free from chemicals.
Upcycle Old Stuff For Home Décor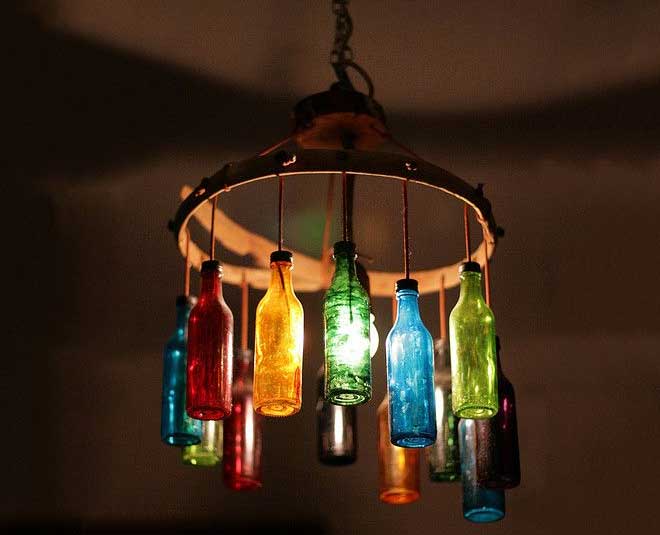 Image Courtesy: Pinterest
Your expenditure can really go beyond limits during Diwali time. So, to find a creative solution to this problem, you can go ahead and upcycle your old sarees to make attractive table covers or bed covers. You can use old mason jars to make DIY lights, old glass bottles to use as flower vases etc. So, don't buy anything new this time and challenge yourself you revamp your home décor in whatever items are present at home.
Don't miss: Movie Lovers, Get Ready To Watch These Diwali Special Releases
Use Diyas Instead Of Candles
Image Courtesy: Pinterest
Light up your homes this Diwali with Diyas instead of candles. We say so because Diyas are made with organic and eco-friendly materials whereas candles burn out leaving toxic fumes into the air, such as benzene or formaldehyde. Further, Diya is reusable but candles are not once they burn out you have melted the wax and make a candle out of which is not always possible but you can always fill up a Diya with oil and add a cotton wick and spread the light. To add to this, for further conservation of energy you must use LED lights during Diwali as they are energy efficient and less likely to get fused.
So we wish you a happy Diwali in advance and hope that you will celebrate an eco-friendly and creative Diwali this time.
Don't miss: Follow These Expert Tips To Perform Diwali Puja And Please Goddess Lakshmi
Stay tuned to Her Zindagi for more such articles.