Varun Dhawan and his teenage love Natasha Dalal finally got married on January 24 after years of dating and his fans were super excited. All though it was a hush-hush affair with all ceremonies well guarded, Varun has now started sharing pictures from his various functions that took place. His haldi to sangeet to his wedding and reception, check out the latest pics from Varun Ki Shaadi.
Varun Da Vyaay was long-awaited as it was a well-known fact that Varun was Natasha's anyway but they just had to take the pheras officially. The privacy of all the functions was well guarded so much so that as per a post by Filmfare said that "stickers are being stuck on staff members' mobile phone cameras which, if removed, will immediately alert security."
The pictures from his wedding functions have started trickling in with actor himself sharing a few but one at a time. So here is what we have out on different social media handles by now which for sure are giving is Shaadi goals. Also, do not miss out on the decor, you never know what clicks for you!
Just In! Ace designer Manish Malhotra just shared a video of the groom getting ready explaining what the actor wore. Check out the video. The Instagram handle names Manish Malhotra Vows shared the clipping with the caption: "Varun Dhawan (@varundvn) embraces timeless royalty in our bespoke ivory sherwani adorned with intricate gold and silver zardosi hand embroidery, layered with a celeste blue drape paired with contemporary mojaris."
View this post on Instagram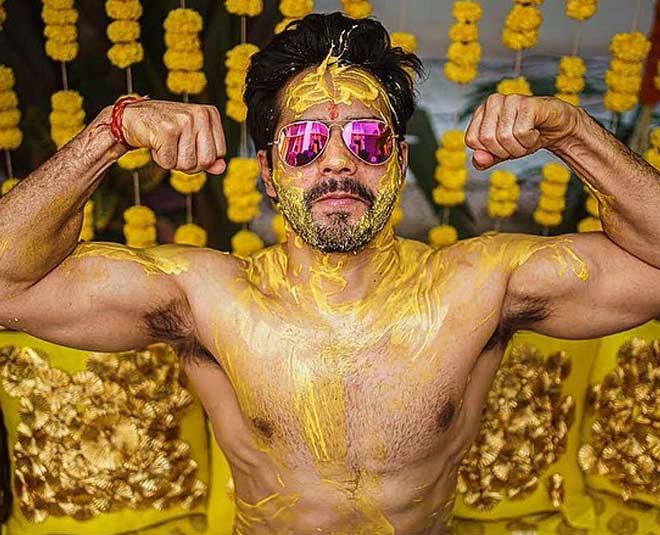 Besides this epic shirtless pose by Varun from his haldi day, the pic below has his folks wearing t-shirts with different names of his characters that were essayed by him to date.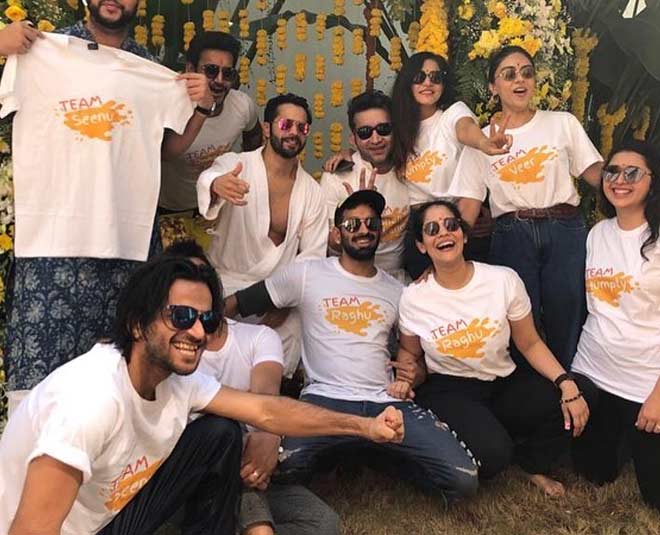 The decor has marigold flowers arranged in drop strings and the cushion covers are also yellow-hued with little bling on them, adding to the brightness and happiness of the ceremony which brings close ones together.
Just In! Pics from their mehendi ceremony are out and we love this couple so much! Check out the pics.
Next up are some pics from the wedding day when the lovely couple had just completed or were about to complete their pheras.
View this post on Instagram
View this post on Instagram
Here is a video that went viral which shows Natasha prepping up for her wedding. Clad in silver, the bride for sure looked different from the traditional hues of peaches and reds. Her makeup was done by makeup artist Namrata Soni.
View this post on Instagram
View this post on Instagram
View this post on Instagram
The wedding day of the couple had very few celebs we may know of which included Kunal Kohli, Maish Malhotra and Karan Johar. The couple's wedding planner was Shaadi Saga, which has taken care of many weddings in the past and done an amazing job hands down.
The reception of the couple is reportedly being held on February 2 at JZ Marriot, Mumbai.
Varun and Natasha got together after 3-4 rejection from Natasha's end. On Kareena Kapoor Khan's show "What Women Want", Varun shared recently that "I actually met Natasha in the 6th standard. We were friends till 11-12th. We were very close friends. I remember seeing her for the first time. We went to Maneckji Cooper. It was on the basketball court that I saw her and I fell in love with her that day. That was it! She rejected me 3-4 times, but I didn't give up hope."
Stay tuned to HerZindagi for the latest pictures that will keep coming in and stay updated on how was Varun Ki Shaadi afterall!