Indian Celebrities Who Got Married Secretly
Do you Reena and Amir were married before the Qayamat Se Qayamat Tak shooting began? Take a look!
Celebrity weddings are about gorgeous pictures, lavish decoration and intricately embellished clothes. However, there were some Bollywood couples who chose to get married in secret and stun the world with their announcement. Let us take a look at their stories!
Amrita Rao - RJ Anmol
When Amrita and Anmol appeared on Couple Of Things, a show on YouTube, they revealed that the two had a secret wedding in 2014, and they announced it in 2016. The actress was worried about getting married early and how the news could hamper her career. Therefore, they chose the secret path and got married in the presence of just family members.
Speaking about the impact of social media, the actress said, "Today, there is social media to put your thoughts across, but it wasn't so common back then. It was very easy for people to spread rumours that she is married now, there won't be any fan following now, all those kinds of things. So, thinking that, I didn't want to take the step of getting married."
Hema Malini - Dharmendra
Image Courtesy: Hema Malini/Instagram
The couple tied the knot in 1980. Before they got married, there was not a Bollywood fan who did not know the two names. Hema Malini was the Dream Girl, while Dharmendra ranked among the top of the list of heroes of that time. The two have worked on many films together.
According to several media reports, both the actors converted to Islam because Prakash Kaur, Dharmendra's first wife, refused to divorce him. The reports also suggested the two went against the will of their families to convert into another religion and marry each other. In an interview with Pinkvilla, Hema Malini said, "The best thing was that he (Dharmendra) never stopped me from working."
Sridevi - Boney Kapoor
If the old media reports are believed to be true, the news of Sridevi's pregnancy had spread through the country like a fire in a jungle. Soon, people started accusing her of breaking into a home. In 1996, Sridevi and Boney Kapoor tied the knot in a temple. A report in BollywoodShaadis also suggests that the late actress ensured that her husband had broken ties with Mona Kapoor, his first wife and their two kids.
Mona died in 2012, and Sridevi breathed her last breath in 2018. Boney Kapoor and Sridevi had two daughters - Janhvi Kapoor and Khushi Kapoor. Many controversies were published in the past.
Amrita Singh - Saif Ali Khan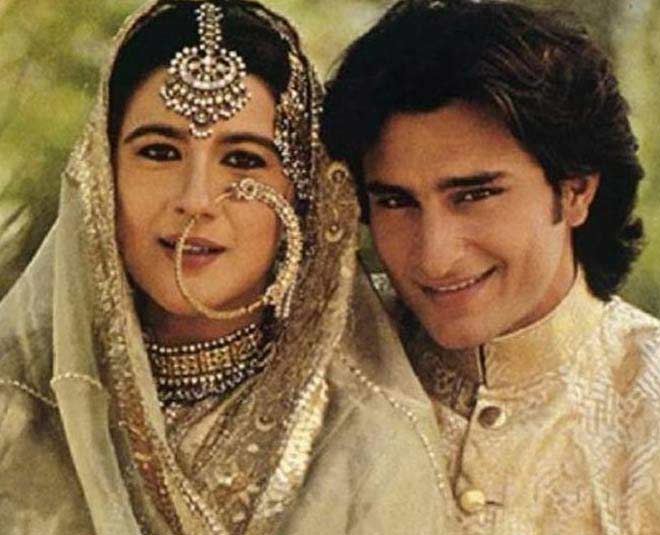 Image Courtesy: Pinterest
There is no secret that Amrita Singh and Saif Ali Khan had an age difference of 12 years. They dated for three months and decided to marry. Because their families did not agree to their decision, Amrita and Saif married in secret.
They were married for 13 years and had two kids - Sara Ali Khan and Ibrahim Ali Khan. They got divorced, and Saif married Kareena Kapoor Khan.
John Abraham - Priya Runchal
John and Priya got married in 2013 and the actor broke the news on the internet by sharing the name of his wife in a New Year wish of 2014. He wrote, "Wishing you and your loved ones a blessed 2014! May this year bring you love, good fortune and joy. Love, John and Priya Abraham." What a sweet way to drop the bomb on millions of fans.
There were rumours that John and Priya were married in 2011 when John and Bipasha Basu broke up. Priya is not a regular on social media, and from their looks, John likes to keep his private life away from the buzz on the internet.
Don't Miss: Indian Celebrities Who Had Simple Wedding
Reena Dutta - Amir Khan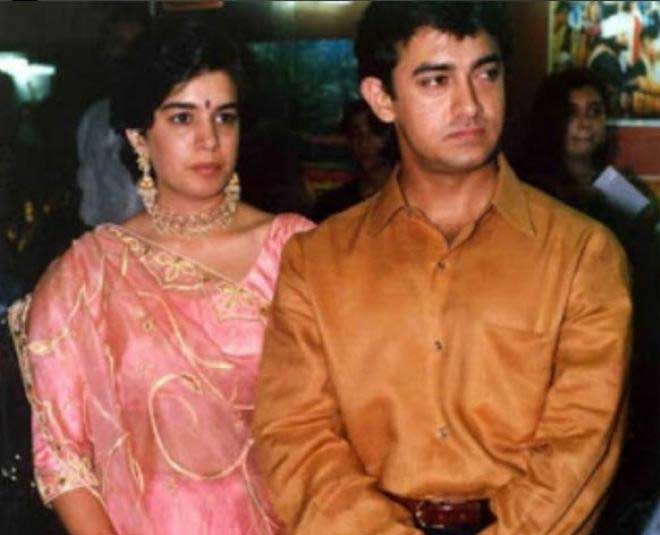 Image Courtesy: BollywoodShaadis.com
Talking about his journey in Bollywood, Amir Khan said in an old interview that he got married to Reena in April 1986 before the shooting of Qayamat Se Qayamat Tak even started. He broke the news a few years later and told the interviewer that only five people knew about the marriage.
He confessed neither of their parents knew that Amir and Reena were married. They were married for 16 years and got divorced in 2002. They have two kids, Ira Khan and Junaid Khan. Amir and Reena maintained friendship even after the divorce and brought up their kids.
Maanayata - Sanjay Dutt
If you have watched the movie Sanju, you know that Sanjay Dutt was involved hundreds of women. A report in BollywoodShaadis states that the actor was dating Nadia Durrani when he met his current wife. The couple has been married for 14 years.
Don't Miss:Bollywood Actresses Who Are Trained Classical Dancers
They were in courtship for two years and tied the knot secretly in 2008. The wedding ceremonies involved Hindu rituals. Maanayata and Sanjay are parents of twins - Iqra and Shahraan. According to the same report, Sanjay's sisters neither attended the marriage nor accepted Maanayata as a part of their family.
Stay tuned with HerZindagi for more such stories.