In a short span, Sara Ali Khan has managed to make a mark in Bollywood. She has a huge fan base and her followers love her for her outstanding acting skills, screen presence, and candidness. Even before her Bollywood debut, she was one of the most talked-about star kids in the B-town. She isn't a regular star kid and all those who follow her know that she is way too humble and simple for a Bollywood celebrity. She stepped into the world of films with Kedarnath, opposite Sushant Singh Rajput. She was last seen in Imtiaz Ali's Love Aaj Kal. If you love Sara Ali Khan, take a tour of her beautiful home.
It is Sara Ali Khan's birthday today and we thought of giving you a sneak peek of Sara Ali Khan's home in Mumbai where she stays with her mom Amrita Singh and brother Ibrahim Ali Khan. She keeps giving us a glimpse of her house with her social media posts and we can't thank her enough for that. Scroll down for pictures of her beautiful home.
That's Sara Ali Khan's bedroom and clearly, it is as colorful as her personality. Agree? Her room wall is full of colours, colourful motifs. Wonder if all of it is handpainted or just wallpaper. Anyways, it beautifully adds to the vibe of the place. We also get a glimpse of her simple and pretty dressing table.
How cute is this! We forgot to tell you about this adorable member of the family, Fuffy Singh. And that's Fuffy posing with personalised name cushions.
Recently, Sara Ali Khan gave us a glimpse of the living area of the room with a video. How beautiful are those multicolored stripe curtains for the living area? Also, don't miss the bubble pink sofa with so many stuff toys. Looks like Sara Ali Khan has done the entire house in beautiful colours to make it more vibrant and welcoming.
Don't Miss: See Sara Ali Khan's Lunch Plate, You Too Can Follow Her Simple And Healthy Diet
Don't miss the multi-coloured rug and the mirror division on one side of the area.
Sara Ali Khan also shared a fun Tik Tok video with mom Amrita Singh and brother Ibrahim on her handle. This was a fun family challenge they probably shot in the living area of the house. Can you see the quriky curtain at the back? So quirky!
Don't Miss: Sara Ali Khan's Unseen Pictures With Mom Amrita Singh
Sara Ali Khan also gave us a glimpse of her workout area. She recently posted a quick workout video. Sara had her Yoga mat and some dumbells set on the side as she worked out. She posted her video on Instagram and captioned it, "I support Janta Curfew! 🇮🇳 Meanwhile fitness and motivation I Pursue!
I sincerely urge this to become a worldview 🌎
Stay Fit 💪🏻👊🏻🙌🏻 Stay Safe 😷🧼🚿 Stay Home 🏠💟☮️
Tabata Workout 🙌🏻
20 seconds of-
1. Burpees
2. Squat Jumps
3. Mountain climbers
4. Reverse Lunges
5. Shoulder taps in high plank
6. Jumping jacks
7. 2 reverse lunges and 1 squat jump
8. Burpees again 💪🏻👊🏻 @pumaindia."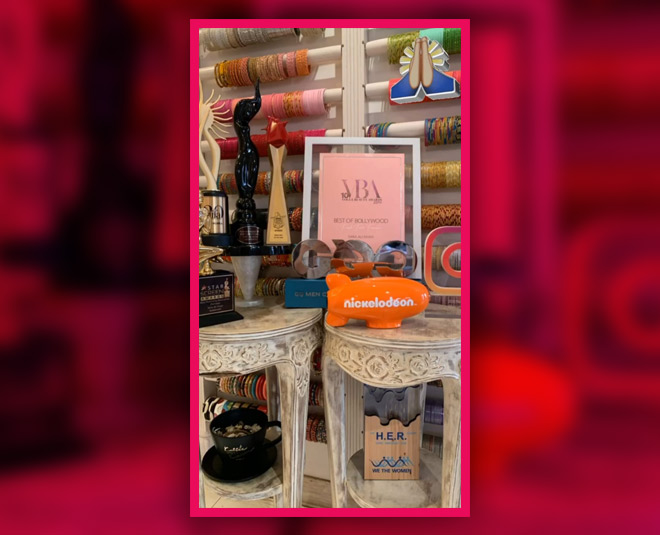 Sara Ali Khan has a thing for bangles and she gave us a glimpse of her bangle collection on her social media long time back. We even shared a picture of her bangle wall some time back. Sara Ali Khan has an entire corner in her home dedicated to bangles. It is the same place where she has kept her awards too!
Earlier when Sara Ali Khan posted a picture of herself, sitting on the floor and unpacking some boxes, there were reports that Sara has moved out of Amrita Singh's house and will be living alone. She captioned the picture, "Here's to new beginnings!". However, in an interview, Sara cleared that it was just for an ad campaign and she has no plans to leave her mother. She also shared that she cannot think of living without her mother.
On the work front, Sara Ali Khan will be next seen opposite Varun Dhawan in the remake of Coolie No. 1. Sara will also be seen sharing the screen with Akshay Kumar and Dhanush in Atrangi Re which is slated to release on Valentine's Day next year. On the other hand, Sara Ali Khan's 19-year-old brother, Ibrahim Ali Khan became a Tik Tok star overnight with his debut. All those who have watched him act would agree when I say it is in his genes. We can't wait for his Bollywood debut!
For more stories around Sara Ali Khan, stay tuned to HerZindagi.