Priyanka Chopra Criticizes News Referring To Her As Nick Jonas' Wife: 'Should I Add My IMDb Link To My Bio?'
Priyanka Chopra schooled a news report that referred to her as Nick Jonas' wife. Here's what happened.
We all know Priyanka Chopra Jonas for her amazing acting abilities in both Bollywood and Hollywood, as well as her stunning personality. She has earned a name for herself with her exceptional performances in movies and other achievements.
Even after so much success, a news report referred to her as 'the wife of Nick Jonas'."
Priyanka Chopra Calls Out The News Report
The actress who literally needs no introduction due to her achievements, schooled a media publication who referred to her as "the wife of" Nick Jonas. She took to Instagram stories to call out such mentions. She shared screenshots of the text and asked if she should add her IMDb link to her bio. She also asked for an explanation as to how this can still happen to women.
"The wife of Nick Jonas shared..." read the text of Priyanka Chopra's screenshot. It quoted her talking about her The Matrix Resurrections co-star Keanu Reeves on Good Morning America.
She highlighted and wrote, "Very interesting that I'm promoting one of the most iconic film franchises of all time, and I'm still referenced as 'the wife of...'." In addition she added a strong note, "Please explain how this still happens to women? Should I add my IMDb link to my bio?"
See Priyanka Chopra's Instagram story here: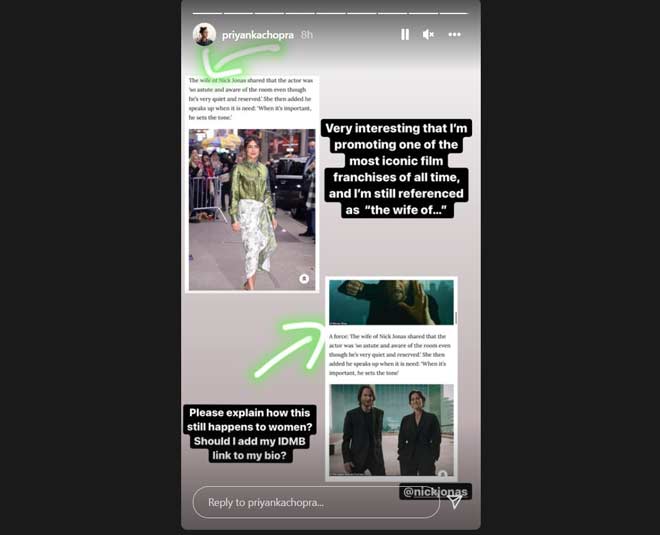 Priyanka Chopra Achievements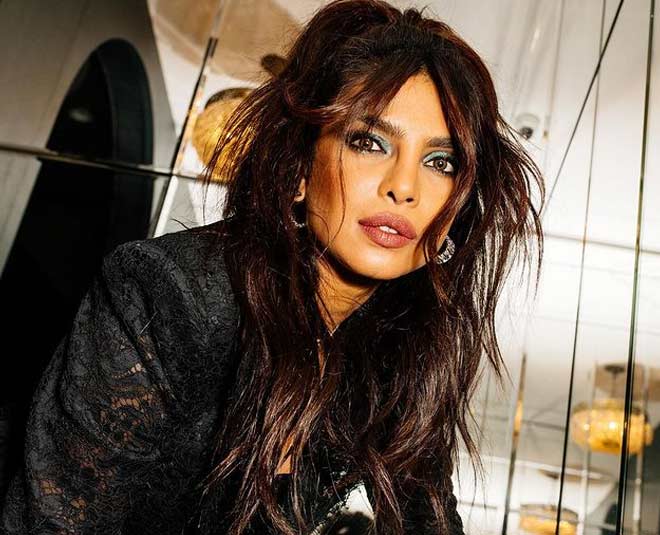 The 39-year-old actress Priyanka Chopra has done enough by now to make a name for herself and is still going strong. Referring to her as someone's wife is nothing less than an insult to her professional life. Her accomplishments are numerous, and she continues to impress and inspire many people. Among her accomplishments are:
Priyanka Chopra is truly a woman of many hats. If we start at the beginning, Priyanka Chopra's victory in the Miss World pageant in 2000 gave the nation a sense of pride. Soon after, she quickly made an impression on everyone with her acting talent in the Bollywood industry. That, however, was not enough for her, and she went on to make a name for herself as a global icon.
She was the first South Asian woman to lead the cast of an American television show, Quantico, and she went on to star in a number of Hollywood films. She recently completed filming for the upcoming Russo Brothers series Citadel. The actress, who most recently appeared in Netflix's The White Tiger, will next be seen in The Matrix Resurrections, opposite Keanu Reeves and Carrie-Anne Moss, in January of next year.
Apart from that, Priyanka Chopra is also a UNICEF Goodwill Ambassador as well as a tech investor. She is running a hair care firm too, called Anomaly Haircare. She has also opened an Indian restaurant in New York named Sona. You may get tired of reading all of her professional accomplishments, but it seems like the actress will never get tired of achieving more and more.
Don't miss: Priyanka Chopra Completes 20 Years In The Industry, Posts A Throwback Video On Instagram
Not The First Bias Incident By International Media
Surprisingly, this is not the first time Priyanka Chopra has been subjected to bias in the international press. There have been several instances.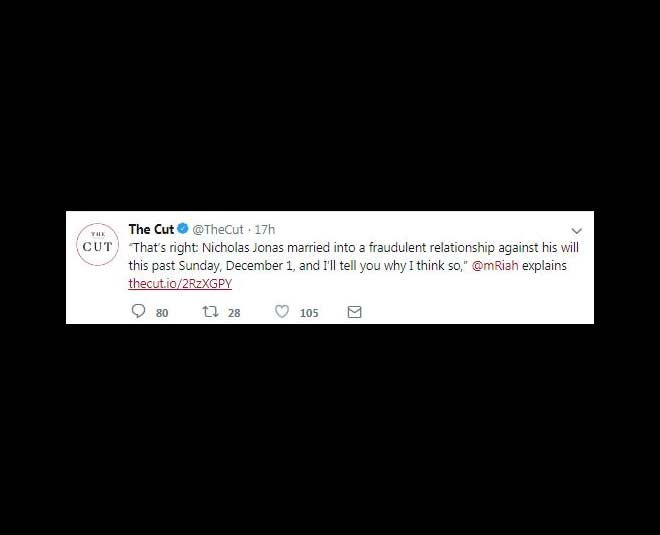 When she married Nick Jonas in 2018 in Jodhpur, she was referred to as a "modern-day scam artist" in an editorial for 'The Cut'. The article read "All Nick wanted was a possible fling with Hollywood's latest It Woman, but instead he wound up staring straight at a life sentence with a global scam artist."
also congrats to @TheCut for publishing the single most sexist and frankly xenophobic take on the priyanka/Jonas wedding?! Priyanka has had an extremely productive and successful career and she is doing nick Jonas a favor by marrying him. pic.twitter.com/bG03xnaoxC — Khushbu Shah (@KhushAndOJ) December 5, 2018
The piece was taken down from the Internet after widespread criticism, and the author even apologized: "I want to sincerely apologize to Priyanka Chopra, Nick Jonas, and to the readers I offended and hurt with my words. I do not condone racism, xenophobia, or sexism. I take full responsibility for what I wrote, and I was wrong. I am truly sorry."
It's unfortunate that she has to hear such comments despite her success and status as the most popular Jonas family member. The most popular Jonas is her words not ours, but we do agree. Recently, in a segment on the Jonas Brothers Family Roast, which debuted on Netflix, Priyanka rocked the show with her burn segment. The actress had commented on her worldwide success in comparison to the Jonas Brothers: "Have you noticed how much content the Jonas Brothers post online? They are forever on Instagram, always on the phone - it's cute. I'll tell you why - all of them combined have less followers than me. So, I guess the most popular Jonas is - @Priyanka Chopra on Instagram."
Don't miss: Ladies! Stop Considering These Sexist Comments As Compliments
Priyanka-Nick Wedding
Chopra and Jonas married on December 1 and 2, 2018 in two elaborate and lavish ceremonies at Jodhpur's Umaid Bhawan Palace. They first married in a Christian wedding ceremony. The next day, they got married with Hindu wedding rituals.
Such cases of outright misogyny in the news report have enraged us and made us wonder when the world will eventually recognise women in the same manner that it accepts men, and when will we finally make meaningful progress?
For more such stories, stay tuned to HerZindagi!