Pre-wedding shoots have become an important part of our wedding these days. While the day you are getting married is all about traditions and rituals, you can take a few days off with your groom-to-be and have a romantic wedding shoot.
This shoot is what captures your love for each other. This shoot is going to tell the people your story, your love story. While the photographer will be ready with his locations and skills, you two have to put up some beautiful poses to make sure your chemistry is exaggerated in the photographs!
The Gerua Pose
Image Credit: i.pinimg
There needs to be one picture where you are posing a huge gown/saree with its fabric flying all over the place and holding the love of your life! Remember when Shahrukh said "rang de tu mohe gerua"? That is exactly the kind of a scene we are hoping for! This is going to be a Bollywood-inspired pose that will show your chemistry in the most Karan Johar way possible!
Fly High With His Company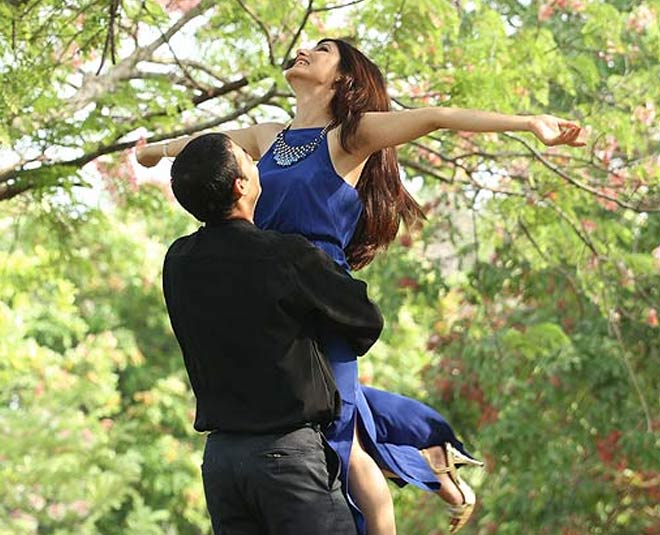 Image Credit: shilpaahuja
Your relationship thrives on making sure you both are always progressing in life. You both support each other through your thick and thin. He is your support and you are his wings! Take a picture where he is lifting you and spread your arms like they are your wings. This pose is for all those times when you guys were each others' stepping stones to success!
Lost In Each Others' Eyes
Image Credit: videotailor
Sit by the water, let the sun set, all you care about is the depth of feelings and the ocean of love that is clearly seen in each others' eyes! Click a picture where you both are lost in each others' eyes like you did when you first realised you love him!
Don't Miss- Planning A Pre-Wedding Shoot? Here Is Why You Should Consider Going To Honnavar, Karnataka!
The Romantic Dance Pose
Image Credit: zowed
There is no romance without a sizzling dance, right? Wear a red dress, let him wear his tux. Ball dance with him and let the photographer capture these moments. You can go for the pose where he is holding your finger and twirling you or even the above-mentioned one. Either way, make sure your sizzling chemistry gets captured!
Don't Miss- Your Ultimate Guide To Select The Perfect Honeymoon Destinations Without Hassle
The Proposal
Is your pre-wedding shoot even complete without a pose where there is a proposal going on? We suggest you go down on your knees instead of him to declare your love for him in front of the whole wide world! Go down on your knees and make him feel all the love that he deserves!
We hope you found this article helpful. If you wish to read more such articles, stay tuned to HerZindagi!