What an exciting idea is it to watch a movie under the light of the stars, with an umbrella of the night sky, in the company of your favourite people! Well if you have been willing to spend time with your mates in a way that is different from the usual get-togethers, then you're at the right place. Because we have got your back on this. You can plan a pleasant movie night on your terrace or backyard.
This idea derived from the time before the invention of the television, people used to gather at one place, hang a white cloth, and with a help of a projector they used to watch movies, shows, etc. A few travel companies also offer movie nights under the stars, pretty sure you can attend them but still, planning it at your home will be way cheaper and better. So, let's check out the steps to plan a movie night under the stars.
Keep The Comfort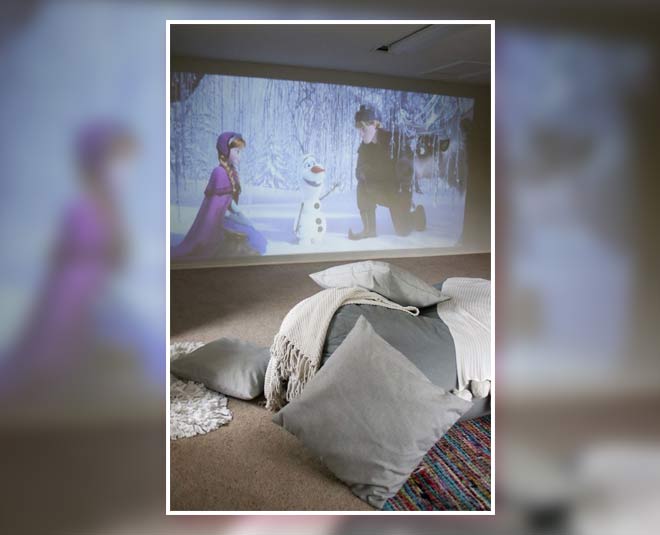 Image Courtesy: Pinterest
This is one of the most important aspects of a movie night under the stars. Usually, people intend to sleep under the stars after finishing their movie. So you will have to keep comfort in mind. You will need mattresses, pillows, bed sheets according to the number of people you're inviting (the lesser the better) we say so because it is an intimate space you don't like sharing with you.
Deciding The Spot
Another very important part of our plan involves deciding the right place. Obviously are homes don't consist of large backyards but they have terraces and the better. Generally, our terrace is designed with electrical supply which can make our work easier at the end. But don't worry backyards are also ideal places for such get-togethers and you can easily stretch out an extension board from inside your home and there you go! Once you decide the perfect spot, start cleaning it thoroughly.
Setting Up The Seating
Image Courtesy: Pinterest
Now that you've decided the place and gathered the comfy mattresses. You should probably start setting it all up before the evening. Place the mattresses, cover them with sheets, and add the pillows. Also, keep some extra cushions and thin blankets as per requirement. Keep two small side tables on either side of the mattress so that you can easily keep your drinks over there and prevent any chances of spillage.
The Projection Arrangements
So, you've accomplished about 70% of the plan. The last 30% is both the most important and tricky. But don't worry we're still here. Now, you need to arrange two bamboo sticks of about 15 ft., a big white coloured fabric, and a projector with a table. If you don't have a projector maybe you can ask a friend for it or rent it out easily.
Fix the bamboo sticks, parallelly to each other, and tie a thin fibre rope, making somewhat like a cloth line. Then hang a well-ironed bed sheet and secure with clips. Now, finally, place the projector on a table in front of the setup and run a few tests and check if the images are visible, is it in focus, etc.
Don't miss: Is Your Dinner Date Still Pending? Here's How You Can Plan It At Home
Some Other Tips to Use
Image Courtesy: Pinterest
Don't select a movie based on your likeness, check reviews ask your friends, and then decide whether you want to watch it or not. Arrange for eatables beforehand so that the movie experience goes interrupted. Next, add fairy lights to your setup to enhance the decor. And voila, you are ready to host an outdoor movie night now.
Don't miss: Going For Your First Date? Here Are Signs That It Is Going To Be Your Last One
If you like reading this, stay tuned to Her Zindagi for more articles like this.