If you had planned to go out on a date with your friends or loved one before the Coronavirus Pandemic, but the lockdown ruined all your plans. Then we assure you that you are not alone. Most of us, have some grudges or the other against this virus and imposition of the lockdown across several counties. But what is done is done and it was for the betterment of the entire world, so, it's no use mourning over it. It's time to get up and execute your plans. Well, before you ask how? Let us tell you that we have got it all covered for you. Here are simple steps to plan out a dinner date right at your home and impress your loved one without spending much money.
Start By Picking The Perfect Spot In Your House
Image Courtesy: Pinterest
The first step to start setting up your place for a dinner is to choose a small or a medium room that does not have too much furniture in it. We say so because rearranging the furniture will be time taking and will also make the setup look cluttered. An unfurnished room, on the other hand, will be easy to setup and will allow you to use various pieces of decoration. So, once you have done that, start to declutter your space and keep it as minimal as possible.
Deep Cleaning And Decoration
Image Courtesy: Pinterest
After choosing the perfect location for your date, you will have to clean it very nicely. Use a good floor cleaner to allow deep cleaning of the room. Afterward, blow heart-shaped balloons and throw them randomly across the floor of the room. Then on the walls, stick fairy lights using double-sided tape, these are not only affordable but also are also add to the vibe of the place and therefore, you definitely must not miss out on this option and wait to light them up later otherwise the complete wax will melt down.
Aroma Set Up In The Room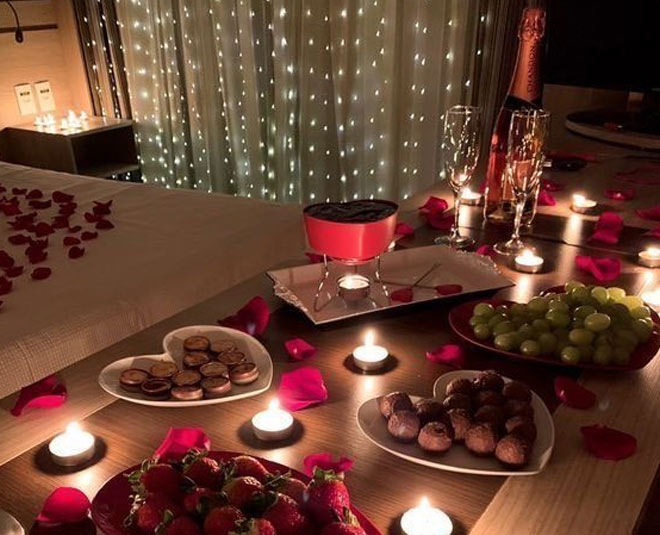 Image Courtesy: Pinterest
Before your special date begins, it is essential for you to make sure that the room is free from any kind of odours. Hence, use the aroma diffuser to make the room pleasant smelling. Further, light candles in the corners of your room and throw some rose petals near them to make them look super appealing. And. That's about the decoration. Let's finalise with setting up the tables and music playlist.
Don't miss: Going For Your First Date? Here Are Signs That It Is Going To Be Your Last One
Music And Dinner Table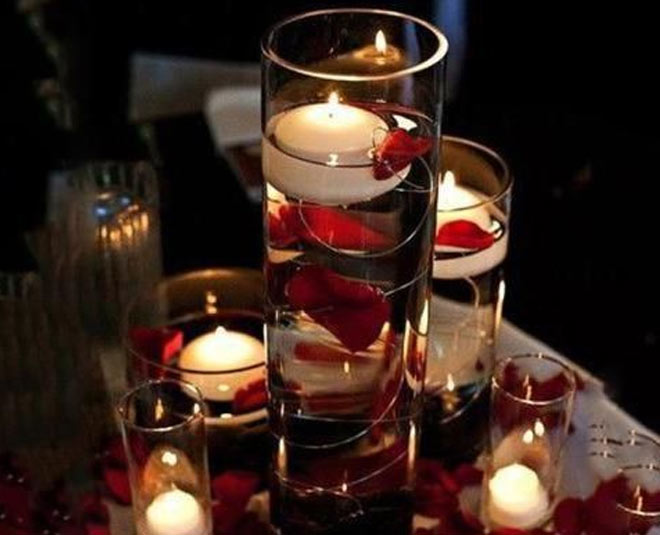 Image Courtesy: Pinterest
You have to place every element with accuracy and precision. Keep all the pointers in mind to have a great date. Once you have done everything that's written above, bring in a small speaker and play a pre-decided playlist of your favourite numbers. Lastly, to set the most important part, dinner table, bring in a table and lay a wrinkle-free white sheet on it. Now, place a table runner on it. Place floating candles, flower pots etc. in the centre of the table. Next, place table mats and then plates, spoons and forks on the side of the plate. Just before your date for the evening arrives, remember to warm up the food, light the candles and play the music. Place the food bowls in order over the table and enjoy your dinner!
Don't miss: Take Special Care Of These Things While Going On A First Date
Stay tuned to Her Zindagi for more articles like this.