Ancestral homes in India have a charm that can't be beaten especially when we talk about the rich in palaces country like ours. One such palace is the Pataudi Palace which actor Saif Ali Khan inherited from his late father and cricketer Mansoor Ali Khan. We all see in the backdrop of the family pictures and a lot was shared amid the lockdown period in the last year. But there are many amazing facts about this house that you may not know.
According to Architectural Digest, here is a list of some fun and interesting facts about Pataudi Palace
Its Actual Name
It is called Pataudi Palace because it is located in Pataudi but did you know that the actual name of this palace is 'Ibrahim Kothi'. The princely estate is in fact located on the outskirts of Pataudi town of Gurgaon district in Haryana.
The Expanse
Now the question that first pops in your head is "how big is this palace?" Well ladies, the answer is a haw dropping 10 acres "zameen" and it has guess how many room? Nah you can't, it has 150 rooms! This also includes seven dressing rooms, seven billiard table rooms, seven-bedroom, many drawing rooms and dining rooms as well to entertain.
The Ancestry & Careers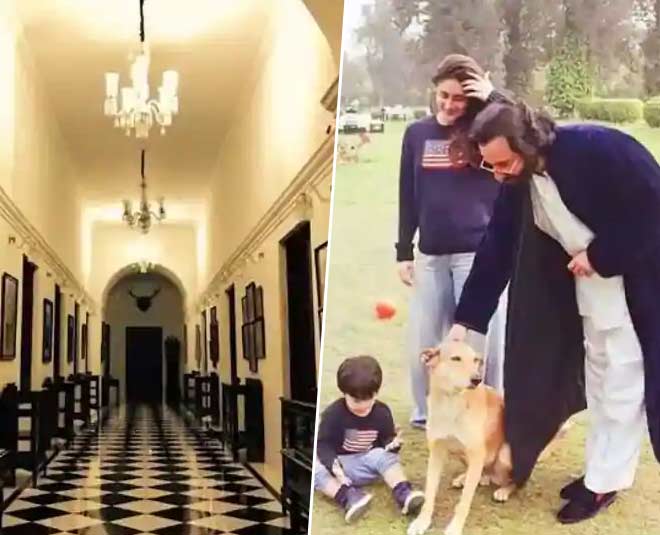 The palace once belonged to the last ruling nawab Iftikhar Ali Khan who then passed it in to the last recognised titular nawab, Mansoor Ali khan. But both nawabs chose their careers differently. One took to cricket and was also the Indian cricket team captain and then we have Saif Ali Khan who chose to be an actor like his mother and veteran actress Sharmila Tagore who has her own famous ancestral history. We wonder what Taimur and his newborn sibling who is yet to be officially introduced by the family, plan on becoming.
Don't Miss: The Pataudi Palace: Inside Pics Of Kareena & Saif Ali Khan's Rs 800 Crore Worth Home
Shooting Location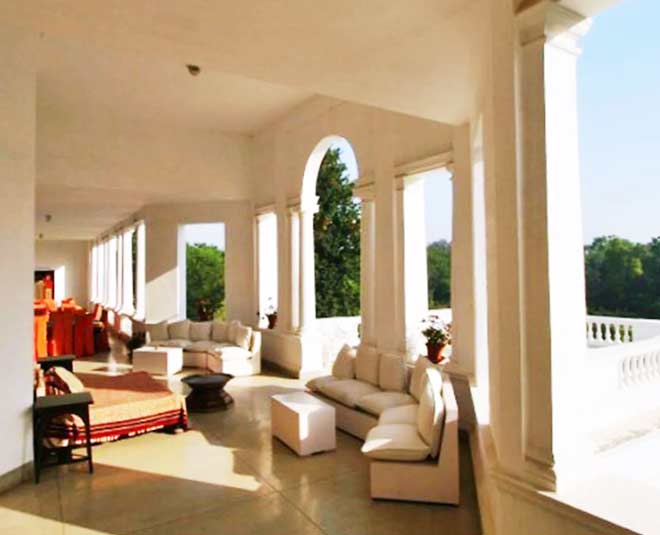 Many films have been shot in and outside this extravagant, larger-than-life palace. Remember the film Eat, Pray, Love that starred Jula Roberts? It was shot here. Then we have Aamir Khan starrer Mangal Pandey, Shah Rukh Khan's Veer Zara, Akshay Khanna's Gandhi: My father and Imran Khan's Mere Brother ki Dulhan among others.
A Hotel, Now Holiday Home
Not many know this, but the palace was on a 17 year old lease with the famous Neemrana Hotels owners, Francis Wacziarg and Aman Nath. It is a chain of non-hotel Hotels where they mostly turn old havelis into hotels for a lovely experience that masses cannot have unless they are a royal. This lease was worked out by Mansoor Ali Khan. The Pataudi Palace was a hotel from 2005 to 2014 but it has not been repossessed as his home by Saif who worked really hard for it.
Don't Miss: See Pics: Grand Interior Of The Laxmi Vilas Palace, The Biggest Indian Residence, Is A Visual Treat You Can't Miss!
The Architecture
The grand palace was designed and built in the early 1900s by Robert Tor Russell. He was assisted by Austrian architect Karl Molt von Heinz and the base and inspiration of the design was the colonial mansions of Imperial Delhi. After Saif Ali Khan repossessed the haveli, he got it refurbished by interior designer Darshini Shah. Here is goal was that the house exudes comfort and understated style, ditching luxury and opulence.
Stay tuned to HerZindagi for more on the palaces of India and interesting facts about them.