Actress Akanksha Puri and singer Mika Singh are making headlines these days. It all started when they shared a romantic picture on their social media handle. In the picture, Akanksha could be seen sitting on the lap of the singer, who can be seen holding her from behind with their eyes closed. Clearly, the picture speaks only love and this has sparked rumours of the two being in a relationship.
Both Akanksha and Mika shared the same picture on their Instagram handles. This cozy picture is hinting at a lot of things and we all really wanted to know if there is something cooking.
Akanksha Puri On Relationship With Mika Singh
Talking to a news portal, Akanksha Puri shared that it is too early to reveal anything. Well, she didn't speak anything about the mushy picture or her relationship with Mika Singh but according to a lot of reports, the two know each other for a long time.
Akanksha Puri and Mika Singh are reportedly friends for 10 years now and share a great bond.
Don't Miss: Chahatt Khanna Finally Opens Up About Dating Mika Singh After #Quarantinelove Pictures Go Viral
Fans Guess If They Have Teamed Up For A New Project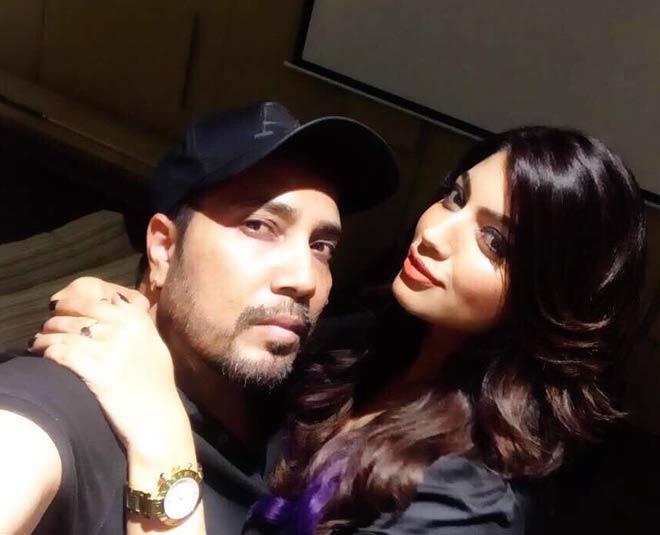 Ever since their pictures are going viral on social media, a lot of their fans are guessing that the two are coming together for a new project, maybe a music album and this is just a teaser to it. This can be also because earlier Mika Singh posted a couple of romantic pictures with actress Chahatt Khanna. Back then, news broke that the two were in a relationship but when their new album 'Quarantine Love' released, it was clear that it was just another way to bring their music album to the news.
Don't Miss: Paras Chhabra Talks About Akansha Puri, Says "She Has Used My Fame For Her Own Mileage"
Chahatt Khanna later in an interview confirmed that nobody knew the two were promoting their song. She said that people thought they are dating and that was their promotion plan so that it creates a question in everyone's mind. Chahatt further revealed that a lot of fans asked her not to date him and many others said that she looked good with him. She shared that Mika Singh is a really nice person and she had a lot of fun shooting with him.
Earlier, Akanksha Puri was in a relationship with Paras Chhabra who was a part of Bigg Boss 13. Paras Chhabra got really close to his co-contestant Mahira Sharma and decided to breakup with Akanksha Puri. It all turned ugly between the two when Paras Chhabra announced the breakup on national television. Later, there were a lot of reports which stated that Akanksha Puri had to pay a lot of his bills while he was inside the Bigg Boss house. On the other hand, Paras Chhabra denied all these statements. There have been rumours of Akanksha Puri becoming a part of Bigg Boss this season, however, she has still not confirmed it. If she really gives a nod to the show, we are sure it is going to add a lot of drama to this season of the show.
Coming back to Mika Singh and Akanksha Puri, we can only guess till either of the two give any other statement about this mushy picture they had put online. What do you think? Are these two in a relationship or this is just another promotional stunt for their upcoming project? Share your thoughts with us! For more updates on this story, stay tuned!