This Is The Reason Why Nita Ambani's Home Antilia Always Has Freezing Cold Temperature
Here is an interesting fact about air conditioning at Nita Ambani and Mukesh Ambani's home Antilia.
Nita Ambani and Mukesh Ambani's residence, Antilia is one of the most talked about residences in the world. Located in South Mumbai, Altamount Road, the residence is 27 floor building which is valued at approxmiately $2 billion.
Antilia is one of the world' tallest residence but it isn't only talked about for how it looks from the outside. Nita Ambani and Mukesh Ambani's home is special in every way because it has features you might not have ever heard of.
Do you know the residence can withstand earthquake up to 8 richter scale? It has terrace gardens, a helipad, spa, ice cream parlour and snow room too. That's not all, there is so much more about this one of its kind residence. Every now and then we keep getting interesting details about the Ambani residence and honestly it cheers us up!
Recently, Scam 1992 actress Shreya Dhanwanthary revealed her experience of visiting Antilia during the show, The Love Laugh Live Show and we got yet another interesting detail of the Ambani home.
When Shreya Dhanwanthary Visited Antilia For The First Time
The actress shared that she visited Antilia for a shoot with celebrated designers Abu Jani - Sandeep Khosla. Sharing her experience on the chat show, she shared that the designers were celebrating 10 years in the industry and on the occasion, they released a book and about 50 models were called to grace the designs of the designers. Shreya Dhanwanthary was one of the models among the 50. The showstopper of the show was Amitabh Bachchan. She further shared how she had a great conversation with him.
Temperature In Antilia
The actress further shared how it was freezing cold in Antilia during the shoot. She shared that the residence has floor managers and she went up to the manager and asked if the floor temperature can be increased a little because she wasn't wearing too much clothing. However, she was told that the temperature can't be increased. Why? The floor manager shared that the flowers and marble need the temperature to be certain number. Interesting, right? Shreya Dhanwanthary then walked back after speaking to the floor manager.
Talking about her experience, she said, "And I am like, 'Oh, okay then,' and I walk back. This doesn't bother me in the sense that I find it fascinating when I meet people that say and do things and live a certain way that I can't imagine."
Other Interesting Details About Mukesh Ambani And Nita Ambani's House
Elevators With Mirror Work Details
Antilia is a 27-storey home and has huge elevators which can accomodate a lot of people at once. These aren't basic elevators. The walls of the elevators are beautifully decorated with mirror work. Now we know why the elevator is an all time favourite photo spot for guests visiting Antilia.
Don't Miss: Lesser Known Habits Of Mukesh Ambani's Wife, Nita Ambani
Snow Room To Cool Down
Antilia also has a snow room at one of its floors. The walls have been designed with man-made snowflakes. Just the perfect way to beat Mumbai's heat. No?
Own Luxe Theatre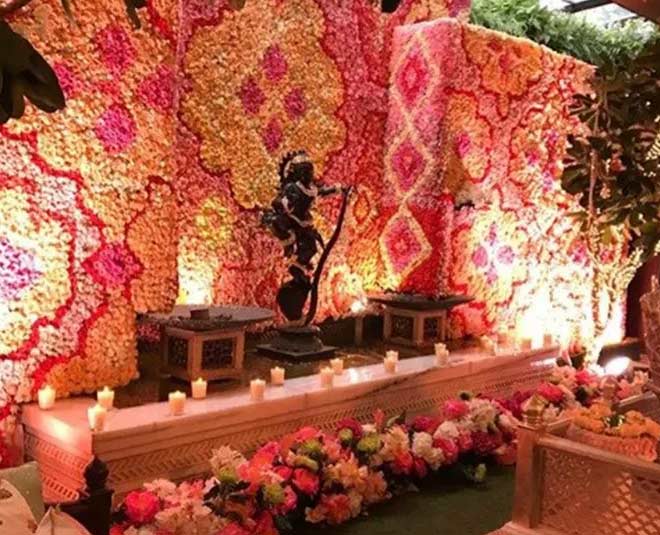 If you follow the Ambani clan, you know they love Bollywood. The Ambani family has their own theatre at one of the floors. The luxury home theatre can fit in about 80 people easily.
Don't Miss: Everything You Need To Know About The Ambani House In Mumbai
Ice Cream Parlour
There is also an ice cream parlour at the Ambani residence where the members can head anytime of the day to enjoy the dessert. We are sure they have an interesting list of flavours avaialble at the ice cream parlour.
Tell us your thoughts about such interesting features of the Ambani residence. For more such stories, stay tuned!
Image Courtesy: Vogue.com