During the Navratri days, each day has its own significance as each day is dedicated to a different goddess. On the 6th day of Navratri, the goddess worshipped is Goddess Katyayani, the warrior avatar of Goddess Parvati. She was named Katyayani as she was born in the house of sage Katya. Here is everything you need to know and must do to please the goddess and bring in more blessings.
The Significance
Going by the mythological folklore, Goddess Parvati had to kill the demon Mahishasura which is why she changed into the warrior goddess. She is depicted with 3 eyes, 4 hands and a ferocious lion as her vehicle. In her left hands, she is has a lotus and a sword, while the right hands are in Abhaya Mudra and Varada. The Aagya Chakra is said to help in proper guidance to the right path as per devotees.
It is believed that if you are able to devote yourself and channel with what the goddess signifies, devotees are able to get rid of their sins. It is also said that praying to the goddess also helps in the betterment of marital lives.
Flower: Marigold
Colour to be worn on Day 6: Green
Ruling Planet: Jupiter
Puja Vidhi
On this 6th day, worship the idol of the Goddess and a kalash. Sing the mantras with flowers in your hands and the stotra path. Finish the puja with the aarti dedicated to the Goddess and then worship Lord Vishnu and Brahma.
The Mantra
Vande Vanchit Manortharth Chandrardhkrit Shekharam
Sinharuda Chaturbhuja Katyayini Yashaswanim
Swarnaagya Chakra Stithtan Shashtam Durga Trinetram
Varabheet Karaan Shagpaddharan Katyayansutan Bhajami
Patambar Paridhanan Smermukhi Nanalankar Bhooshitam
Manjeer Haar Keyoor, Kinkini, Ratnakundal Manditam
Prasannvadna Ptrawadharan Kantakpola Tung Kucham
Kamniya Lavanyan Trivalivibhushit Nimn Nabhim.
Don't Miss: Navratri 2020: Here Is Why & How India Celebrates Navratri In Different Regions
Stotra Path
Kanchanabha Varabhayan Padyadhara Muktojjwalan
Smermukhi Shivpatni Katyayanesute Namostute
Patambar Paridhanan Nanalankar Bhooshitam
Sinhasthita Padamhastan Katyayanesute Namostute
Parmavdamyi Devi Parbrahma Parmatma
Paramshakti, Parambhakti, Katyayanesutenamostute
Don't Miss: Navratri Special: Make Singhaare Ke Samose For Snacks Or Serve Guests With This Recipe
The Aarti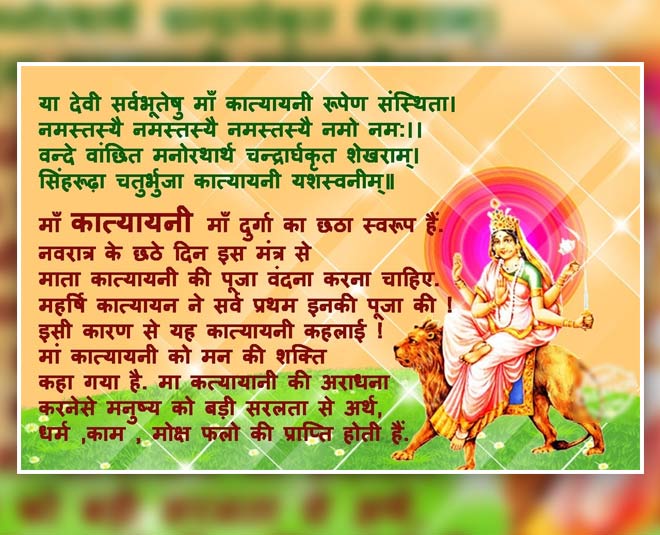 Jai Jay Ambe Jai Katyayni
Jai Jagmata Jai Ki Maharani
Baijnath Sthan Tumhara
Vaha Vardati Naam Pukara
Kayi Naam Hai Kayi Dhaad Hain
Yeh Sthan Bhi To Sukh Dham Hai
Kahi Yogeshwari Mahima Naari
Har Mandir Me Jyoti Tumhari
Har Jgh Utsav Hote Rehte
Har Mandir Me Bhagat Kehte Rehte
Katyani Rakshak Kaya Ki
Granthi Kate Mohe Maya Ki
Jhute Mohe Se Chhudane Vaali
Apna Naam Japane Waali
Katyayani Rakshak Kaya Ki
Granthi Kate Moh Maya Ki
Har Sankat Ko Dur Kregi
Bhandare Bharpur Kregi
Jo Bhi Maa ko Chaman Pukare
Katyayani Sab Kasht Nivaare
Wish you a very Happy Navratri and may all the Goddesses bless you.
Stay tuned to HerZindagi for more on Navratri 2020.