Society conditions one to dread getting older. Marriage, children, career milestones are all set out according to age, for most, and when you don't conform, you're questioned endlessly. When the latter years of one's life arrive, wrinkles are shunned, and grey hair is advised to be dyed black. 60-year-old Mukta Singh is proudly and glamorously defying these rules.
"When you're so scared of growing old, you put too much pressure on youth," said Singh, who embraced her greys and became a fashion model at 58.
She strongly believes that there is no such thing as "age-appropriate" clothing. "Age has to be relished and enjoyed," she said
It all started from an Instagram post featuring Mukta Singh slaying it in a metallic grey saree with grey hair at a relative's wedding. She got a call for a photo shoot from the boutique she bought the saree from, and soon after her pictures received tons of adulation on social media. Most of her projects and shoot offers so far have come in through Instagram. "Instagram has actually made my career. Everything has actually happened through Instagram."
View this post on Instagram
Being an 'Airforce wife'
Singh did not have any inclination towards modelling earlier. "I was a very studious kid, and my dad wanted me to be an IAS officer," she said. But, she met her husband during her master's and fell in love. He was a pilot in the Air Force. Soon after, they got married. Singh spoke about how marrying a fighter pilot meant "you can't really have a regular career." She further explained how all the fighter bases were in very remote areas unlike these days. "So, the question of having a career was totally out of the picture. I tried to be as good an air force wife as I could be."
Over the next several years, Singh got busy raising her children. It was only towards the latter part of her husband's career that they finally moved to larger towns and cities like Delhi and Bangalore, after which she began working. "I started working, whatever came my way, I wrote for magazines and I was into corporate training. I also worked for a publishing house," she said.
View this post on Instagram
Eventually, in 2006, Singh lost her father to cancer and asked her mother to live with her. By then, her husband had left the air force and become a commercial pilot and it was financially much easier for them. Singh had completely dedicated herself to take care of her ailing mother. She spent most of her time helping her mother combat depression while taking care of a school-going kid.
Don't Miss: Dr. Kalaiselvi Becomes CSIR's First Woman DG; Breaks The Glass Ceiling
Embracing her greys
By 2019, her mother's health had worsened. She went in and out of the ICU often. That is when Singh realised that her hair had started greying. "Since then, I used to colour my hair because I greyed in my mid-30s. But, the coloured hair was kind of troubling me," she said. Singh felt guilty that her hair care was taking up more time and priority than the other important things in her life. "So, I decided to go grey," she said.
Singh's mother and her college-going daughter weren't quite happy with the decision. "Both of them were very upset, and said you will look very bad, and be prepared for all the people addressing you as Mata Ji," she laughed.
Singh's daughter was also upset that like all the mothers in their 40s, Singh would stop taking care and give up on herself. Her daughter had asked her, "do you realise you are pretty young?" Singh had promised her then that she would be very stylish despite going grey.
View this post on Instagram
"I really took care and I tried to be more stylish, and I really took care of my body and skin, only the hair was going grey. My daughter would click pictures of me looking stylish, and we would post them on Instagram. And I would get a lot of comments about how stylish the grey looks. So it gives me confidence," she narrated passionately.
The first modelling gig
Then came the relative's wedding that eventually led to her first modelling gig. It was the first time Singh tried a traditional outfit with her grey hair. She came across the metallic saree while scrolling Instagram. "I saw a friend's daughter who's a famous model, wearing a very gorgeous metallic grey saree." She wanted to wear it because she thought it went perfectly with her grey hair.
"And it was a huge hit at the wedding. This really boosted my morale," she said. When the designer posted her pictures it received a phenomenal number of likes because it was rare to see a woman of her age doing something like this publicly.
It was in the middle of the pandemic lockdown when her first photo shoot offer came in, and she took it up. "That is how my journey began."
View this post on Instagram
Family stood rock-solid
Though she was breaking a stereotype and taking a road less travelled, her family and friends were very supportive. Laughing, she said, "they are very proud of me and very lovingly, they call me their celebrity."
Singh's husband and daughter have been her biggest support. Her daughter, who works in digital marketing, helped her with social media engagement. She is also Singh's stylist and fashion advisor.
Singh recently shot with her favourite brand Nicobar. "And it was so uncanny as I possess a lot of clothes from Nicobar. It was like an answer to a prayer when they reached out," she said.
View this post on Instagram
Don't Miss: Meet 'Village Fashion Influencer' Neel Ranaut Who Recreates Celeb Looks With A Twist
Loving Instagram and Gen-Z
While talking about how Instagram has been the biggest wing for her flight, Singh mentioned how she loves Gen Z, millennials, and the influencers on the platform. Most of her followers are from this generation. "Gen Z and millennials are lovely. They send me sweet messages. They call me queen and they say they look forward to their grey and wrinkles. They're my best friends," she said.
Singh thrives on social media due to her own uniqueness, she said, "Here is where I bring something new to the table. I bring something that your generation has no clue about. I bring in those atmospheres, smells, experiences," she said.
Singh never worried about numbers, she said. She was rather surprised by the kind of response she has been getting. Recalling one of her shoots, Singh said, "I had gone for a shoot where there were young models and they were all telling me that every colour that I wore looked good against my grey hair and it made the colour flourish. They even asked 'how does one get this colour?'"
"Age Has To Be Relished And Enjoyed"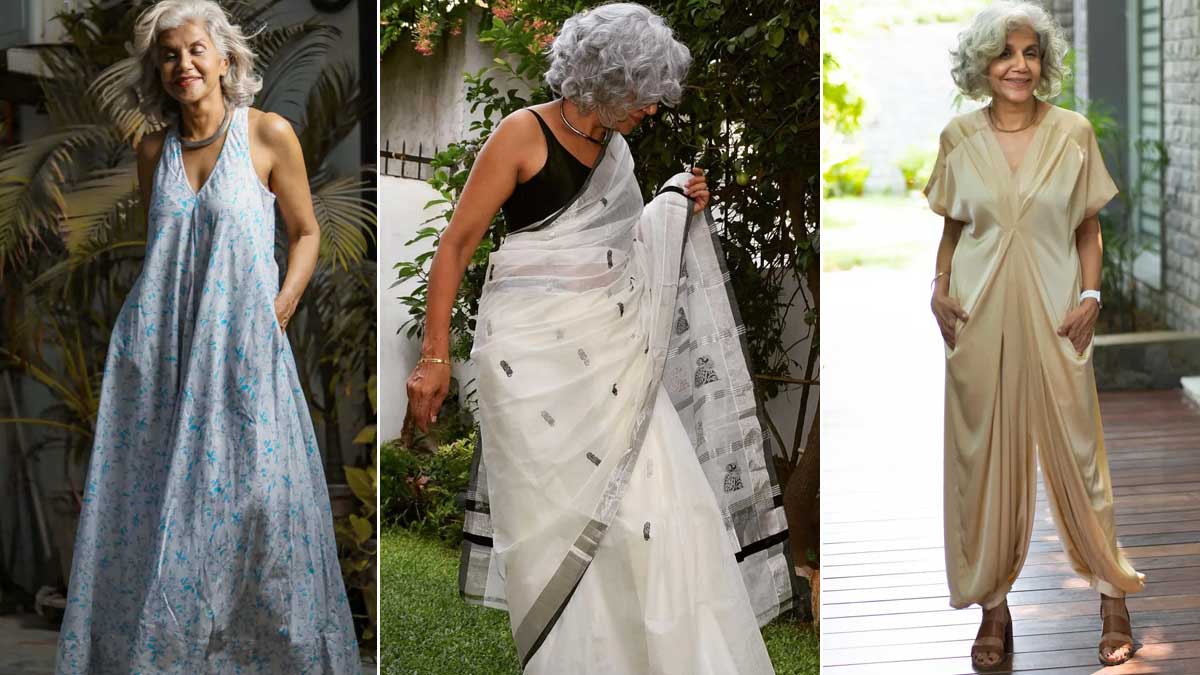 Talking about age-appropriate clothing, Singh said one should dress in anything he or she feels good in. She also said that some of her friends in the West, whom she met through Instagram, are also models in their 50s, and don't face these stereotypes that women in India do.
"They don't deal with what we deal with in India. You are cast as a mother or grandmother in a traditional scene, not as a woman. I recently went for a shoot and I just love how the woman who called me there wanted to project me only as a woman," she said. Singh added, "the entire shoot was for me and I loved it because she didn't stereotype me. Same goes for the first designer who came to my home, and I modelled for his sarees."
"Age has to be relished and enjoyed. If you're not living your dream, if you're not living the way you would want to see yourself in the mirror, then somewhere, you're depriving yourself of what is your right. When a woman feels beautiful, it's not bad. When a woman feels beautiful, and appreciated, she can do so much for society and people because she's happy and she'd like to do good for others. She should feel noticed and treated well and treated with respect," Singh said.
Did you like this article ?
Disclaimer
Your skin and body like you are unique. While we have taken all measures to ensure that the information provided in this article and on our social media channels is credible and expert verified, we recommend you consult a doctor or your dermatologist before trying a home remedy, quick hack or exercise regime. For any feedback or complaint, reach out to us at compliant_gro@jagrannewmedia.com