Ahead of Mithila Palkar's birthday, we thought of recollecting all the times she made us go 'Hey that is soo me!'. From her cheeky characters on screen to her sassy attitude off screen, everything she does garners much attention. She is widely known for her role in the TV series 'Girl in the City'. She earned mad popularity as her cup song 'Hi chaal turu turu' went viral. From then there was no looking back for her.
Today she is one of the favourite faces in the world of web series. She was recently seen in the web series 'Little Things' on Netflix where she stole hearts as she played the affable character of Kavya. In reel life, she is more often than not seen playing the girl-next-door and her instagram posts go on to prove that in her real life she is no different.
Sometimes in her witty captions and sometimes in her messy hair, all of us girls have at least once related to her if not more. So, here are the 5 reasons why Mithila Palkar is the girl-next-door we all can relate to.
Those Unkempt Hair Days
We all have those bad hair days wherein our hair simply refuses to tame down. Well, Mithila Palkar is someone who proudly flaunts her curly hair and carries it off extra sass. If you flip through her gram posts, you'll notice that she is someone who refuses to style and straighten her hair out. She loves the curls and waves of her hair and presents the real and raw version of self to the world out there. This is exactly why every girl would relate to her.

Flawed Selfie
Selfies are every girl's favourite pastime. God only knows the numerous selfies we've taken stealthily when no one was looking our way. Unlike how you'd expect the selfie of a celebrity to be, Mithila Palkar posts unfiltered and flawed selfies of herself. She doesn't make an attempt to even out her blemishes or her dark circles. It is rare to catch a celebrity in their imperfection moment. Well, Palkar is a league apart from such actors. She doesn't shy away from presenting her real self to the world to see.
Don't Miss: Hz Exclusive: The Only Gharelu Nushkha Mithila Palkar Uses For Her Curly Mane
Meeting Up Friends In A Oversized Shirt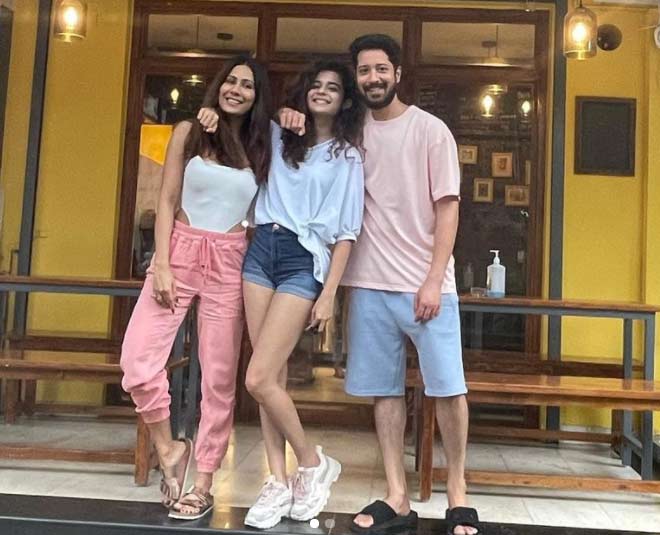 Oftentimes we are too lazed to get all dressed up and meet our friends, so we show up in an attire that requires bare minimum effort to put together. Well, it's certainly not just us. In her Instagram we can't help but notice she too very often dresses up in a casual pair of jeans and shirt as she hangs out with her buddies. She doesn't step out looking like a diva every single time she steps out of her home.
Don't Miss: Take A Look At Mithila Palkar's Top Looks For The Summer Season

Ethnic Love
Name a girl you know who doesn't love to show up in an ethnic attire every once in a while. You couldn't think of a single one right? That's cause our love for ethnic attire knows no end. No matter how many western outfits we have in our closets, we do need that perfect ethnic attire on special occasions. The actress has numerous pictures on her gram, clad in sarees that shows her love for ethnic attires.

As Happy As A Child
No one wants to let the little joys of life slip by. This picture shows that Palkar is just one of us who likes to let loose every once in a while and enjoy every moment as it passes by.
Stay tuned to HerZindagi to read more such stories!
Image Courtesy: Mithila Palkar/Instagram