Inside Madhuri Dixit's Simple Yet Versatile New Mumbai Home
Madhuri Dixit Nene has moved to a plush apartment on the 29th floor in Worli, Mumbai with her family.
Mumbai is home to our favourite Bollywood celebrities who reside in high-rise, swanky houses. We all have always wondered what their homes from the inside look like. Their life is every bit luxurious and their homes too speak of that. Recently, Madhuri Dixit Nene and her husband Dr. Shriram Nene moved to their new house in Mumbai
Madhuri Dixit Nene will now be residing on the 29th floor in a high-rise apartment with her family. As per reports, Madhuri Dixit and her husband have rented out this apartment in a high-rise building in Worli. The couple will reportedly be paying INR 12.5 Lakh per month for their new, plush apartment.
Madhuri Dixit and Dr. Shriram Nene chose team reD architects led by Apoorva Shroff to get their new abode designed. The team gave us a glimpse of how the house looked like before and how it was transformed as per the preferences of the power couple. It took the team 45 days to design the apartment.
A Home That Reflects Madhuri Dixit And Dr. Nene's Personalitites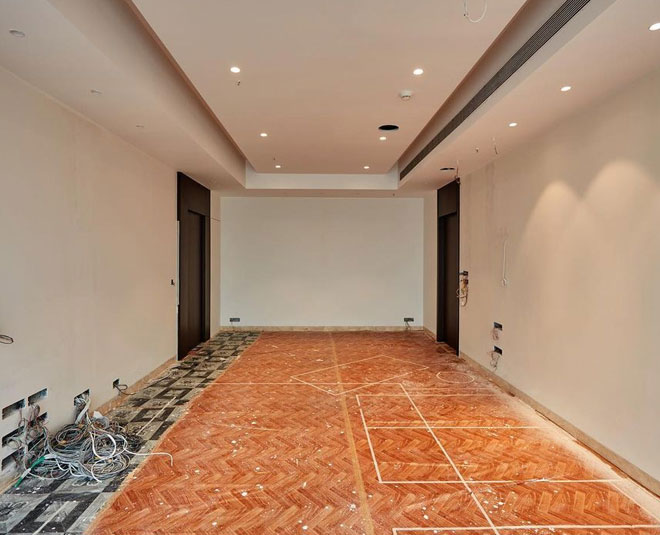 Image Courtesy: lythdesign
Designer Apoorva Shroff and her team worked on Madhuri Dixit and Dr. Shriram Nene's new home in Worli, Mumbai. Sharing pictures of the interiors before they kick-started their work, Apoorva Shroff shared that the house didn't need too many structural changes. She wrote, "It was all about getting the right vibe, a home that is warm, cozy and most importantly, reflects my clients' personalities!.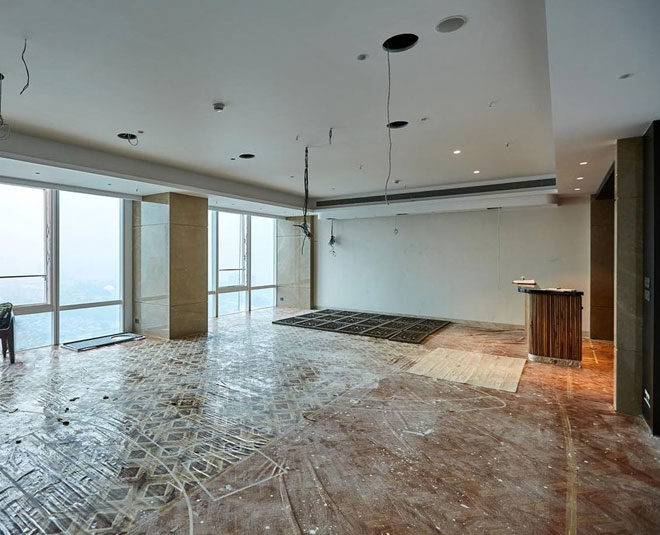 Image Courtesy: lythdesign
Sharing another picture of the home layout, Apoorva Shroff shared that the possibilities were endless and after sitting down with Madhuri Dixit and Dr. Shriram Nene, she understood their lifestyle, personalities and drew up a home that matches their versatility, glamour and yet reflects their elegance.
Don't Miss:Kajol, Ajay Devgn's Residence 'Shakti' Is Grand, Wood Work Is Unmissable
Inside Madhuri Dixit Nene's Colourful House
Image Courtesy: Indiatoday
Designer Apoorva Shroff in an interview with IndiaToday shared that the house is done in a lot of colours, from the living room to the quiet corners. A green veneer wallpaper is used in the living room where the blue suede sofa sits. The rugs are from Jaipur Rugs, Manchala series which have beautiful back stories of the weavers in rural India. The round teak table in the center holds everything together. A Burman sculpture adds to the little corner of the house.
Adjacent to the dining room are antique wood panels that have gold studded consoles. The den room has a soft blue textured wallpaper which sets the mood for an intimate family night.
Don't Miss: Kajol Buys 2 Lavish Properties Worth Crores In Mumbai, Here Are All The Deets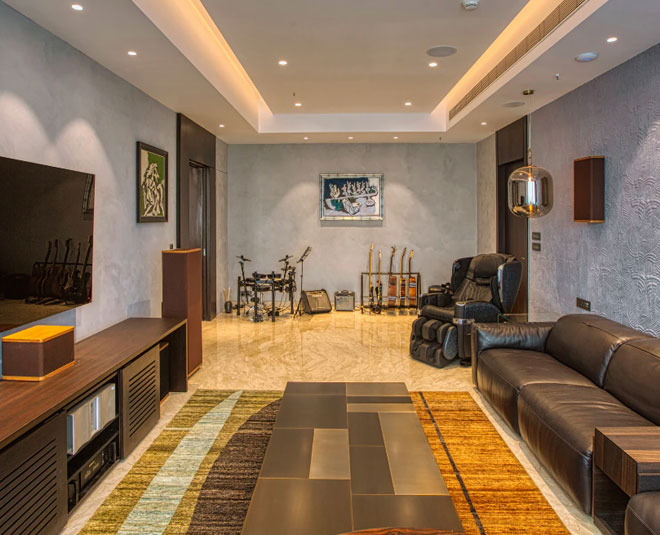 Image Courtesy: Indiatoday
Talking about Madhuri Dixit Nene's involvement in the home's interior design, Apoorva Shroff shared that she was completely involved and knew her mind. She was happy to take advice where she was unsure. She further shared that Madhuri Dixit Nene was a quick decision-maker. Lastly, she shared that both Madhuri Dixit and her husband Dr. Shriram Nene showered her with confidence and gave her complete freedom which only a few people do.
On the work front, Madhuri Dixit Nene is currently enjoying the success of her latest web show, The Fame Game which also stars Sanjay Kapoor and Manav Kaul in lead roles.
Tell us what are your thoughts on Madhuri Dixit's new Mumbai home on our Facebook page. For more such stories, stay tuned!