Wife of General Bipin Rawat, Madhulika Rawat was on board Mi-17V5 which crashed in Tamil Nadu recently. The chopper crashed minutes before reaching its destination, Wellington in Coonoor.
Both General Rawat and Madhulika Rawat were among the 13 killed in the chopper crash. Their demise is a monumental loss to the nation. While India's top military commander, General Bipin Rawat was known nationwide, not many know about his wife Madhulika Rawat and her achievements.
Madhulika Rawat - AWWA President
Mrs. Madhulika Rawat was the president of AWWA, one of India's largest NGO's. The NGO works to secure the welfare and future of families of defence members. The organisation also plays a key role in supporting families of martyred soldiers.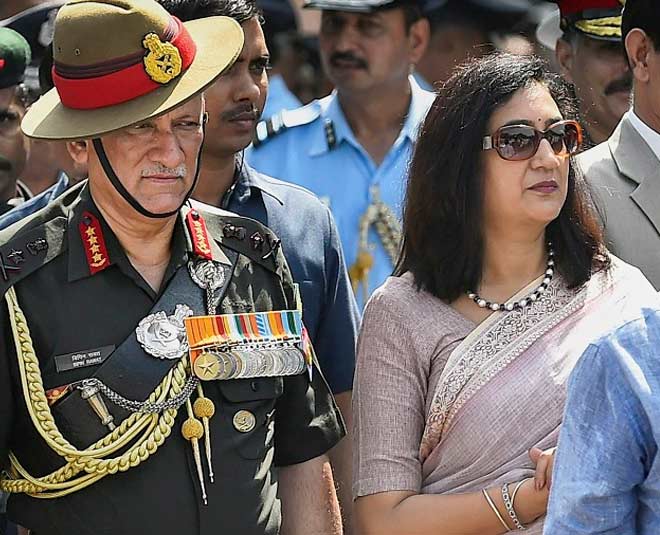 Not just that Madhulika Rawat was also the part of many welfare programmes and campaigns dedicated to army widows and differently abled children. Madhulika Rawat empowered Army wives by encouraging them to take up courses such as knitting, beautician courses, cakes and chocolates making, tailoring among others to make them financially independent.
Madhulika Rawat's Personal Life
Madhulika Rawat was a native of Madhya Pradesh's Shahdol. Madhulika Rawat did her schooling from Gwalior's Scindia Kanya Vidyalaya and then studied psychology at Delhi University.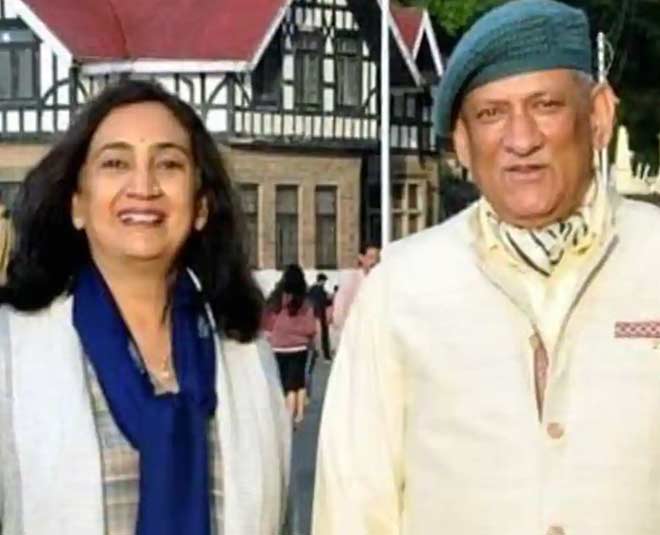 Her father was the iyasatdar of Shadol district's Sohagpur Riyasat. Between 1967 and 1972, he was Congress MLA from the district. Madhulika Rawat's brother, Yashvardhan Singh and his daughter are national level shooters. Madhulika Rawat's family resides in their ancestral residence, Rajabagh in the Shahdol district headquarters.
She got married to Bipin Rawat in the year 1986 when he was the captain in the Army. The two are survived by two daughters - Kritika Rawat and Tarini Rawat. Both their daughters never came in limelight. While one of their daughters lived in Mumbai, their other daughter resided with them.
Don't Miss: A Proud Win For 39 Women Army Officers Who Will Soon Get Permanent Commission
Politicians And Celebrities Express Sorrow
Madhulika Rawat was quite close to Chattisgarh Minister TS Singhdeo. After her demise, he tweeted, "Madhulika ji, wife of Late Gen Bipin Rawat was a close family associate. She was the daughter of Late Shri Mrigendra Singh ji of Suhagpur(MP) and used to visit us often in Bhopal. My heart goes out to their families. May they find strength to deal with this unimaginable loss."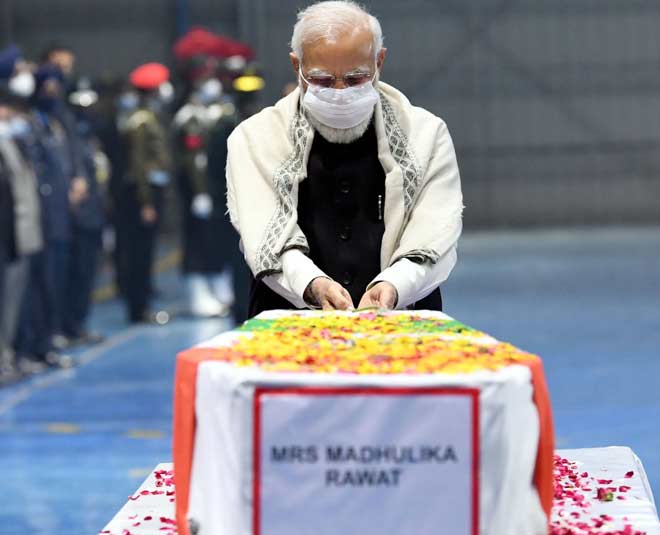 The mortal remains of Chief of Defence Staff General Bipin Rawat and wife Madhulika Rawat along with other killed in chopper crash reached Delhi recently. Prime Minister Narendra Modi and Defence Minister Rajnath Singh paid respect to all the 13 died in the crash at Palam Airport. He shared pictures from the airport where he paid his last respects on his Twitter handle and captioned it, "Paid my last respects to Gen Bipin Rawat, his wife and other personnel of the Armed Forces. India will never forget their rich contribution."
Don't Miss: Captain Tania Shergill To Lead Men In Army Day Parade, Makes History!
Many Bollywood celebrities took to their Twitter and expressed their sorrow over the death of General Bipin Rawat, Madhulika Rawant and 11 others died in the chopper crash.
Ajay Devgn took to his Twitter and wrote, "Grieved to know about the untimely demise of Gen. Bipin Rawat, his wife Madhulika Rawat, and his troops of the Indian Armed Forces. My deepest condolences to all their families. 🙏"
"Extremely saddened on hearing about the tragic death of CDS General #BipinRawat, Mrs. Madhulika Rawat and 11 army personnel," Tammanah Bhatia tweeted.
Vivek Anand Oberoi tweeted, "Deeply saddened to know about the demise of Gen #BipinRawat and his wife Madhulika Rawat. Sir, we salute you for 4 decades of selfless service to our motherland. I join our nation in mourning the loss of one of India's finest soldiers. #RIP #OmShanti."
The untimely demise of General Bipin Rawat, Madhulika Rawat and 11 other Armed Forces personnel is indeed devastating. What are your thoughts? Share with us on our Facebook page. For more such stories, stay tuned!