What Women Want: 'A Seat At The Table' Says YouTuber Lilly Singh
On a TED Talk, Lilly Singh talks about her life and work experiences, women empowerment, equal opportunities and more.
Lilly Singh is a famous Canadian-born YouTuber, Comedian, Actress and Talk Show Host. She is the first woman of Indian descent and from queer community to host an NBC late-night show, A Little Late With Lilly Singh. In 2016, the actress ranked in the Forbes list of the highest-paid YouTubers. Recently, she appeared on the TED Talk to share some of her personal experiences on gender equity and more.
The Story Of Lilly's Birth
The famous YouTuber started the talk with a story of her birth. She began by sharing that the news of her birth disappointed her grandparents and great grandparents back in India in 1988.
She added, "It was not because phone lines were jammed or they were not available. It was because there was a complication with my birth. And that complication was being assigned female at birth."
The Canadian comedian said that her mother was expected to give birth to a son. She already had given birth to a daughter, and Lilly's birth was not worth any congratulatory notes or sweets. The actress added, "Just the reality that from the moment I came into this world, I was already a disappointment to so many people."
She also added that this was not only her story or lived experience, but a story of millions of girls across several countries and cultures on this earth. She made it the mission of her life to prove to everyone that she was 'enough'.
Lilly's Career Trajectory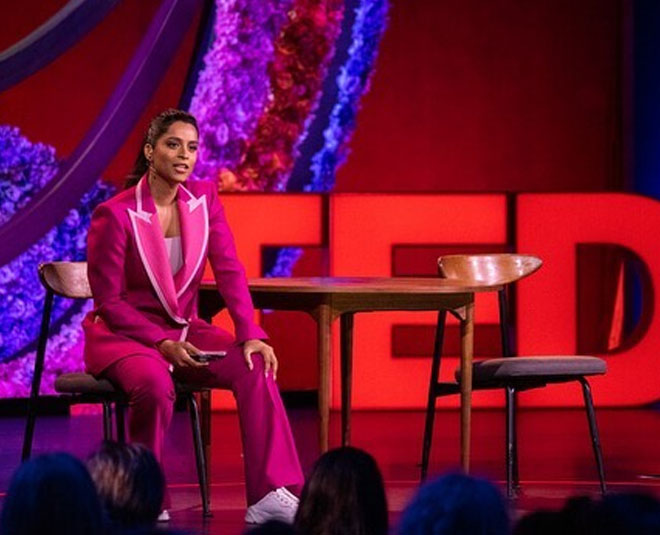 Image Courtesy: Lilly Singh/Instagram
Lilly told the audience that all she wanted was the equal treatment of a woman in a society where the birth of a girl child was not perceived as good news. She shared that it is the mission of every woman. Lilly added, "Us girls, what we desperately want is a seat at the table."
She was clear on her mission, "Get a seat at this coveted table by any means necessary. And that has been the driving force behind her career." She started her YouTube channel, Superwoman, because she could not find a woman on the platform that looked like her. She added, "I saw a seat up for grabs."
She shared with the listeners, "I taught myself to write, shoot and edit my own content. And I worked really hard." As soon as she got the hang of how it all works, she started posting two videos in a week. That is how we all know her to be a successful woman. She uploaded videos on relationships and taboo subjects, and in many, she dressed like her parents.
In 2015, she announced her tour in India and was set to fly to Punjab. She visited her grandfather for the first time in her adult life. To her astonishment, he welcomed her with a garland and showed her all the newspaper clippings that had her name and face printed. He admitted to her that he had been wrong, and Lilly had made their family proud.
She said that of all billions of views that she had received, she was proud to change one view (her grandfather's). At that moment, she added, "I finally got the seat on the table alongside men." Encouraged by her grandfather, she decided that she would talk at this table and make important conversations.
She added that she thought to chime in with people who talked about their success and money. However, whenever she talked about her success and money, she found people becoming "a little uncomfortable". She pointed out the gender gap in the Forbes list for online creators. She had appeared on the same list previously.
She faced backlash for her opinions, which made it clear to her, "you can be on the list, but don't try to start any conversation about the inequality on this list." She observed that there was an invisible gatekeeper around us - culture. "The table is smack dab in the middle of it."
In 2019, Lilly made history by becoming the host of the late-night show - A Little Late With Lilly Singh on NBC. She said that all the headlines across all media outlets had the same headline - 'Bisexual (Queer) Woman Of Colour'. She thought to herself, "Now, I have been invited to the big table. And now things will be different."
She shared that the budget of the show was not based on its importance, significance or historic nature. "It was based on the 1:30 A.M. time-slot we had." Therefore, the budget and writing team was small. She shot 96 episodes for the first season in three months.
She was shooting at least two or three episodes a day, where the network had the policy to shoot one. She did it with a team of half a dozen writers, while others had double the number of writers than her. She tried to break the monotony with creative writing, but she received notes.
"Don't be too loud. Don't be so big. Don't be so angry. Smile more." Her all-time favourite is, "Don't over-index on the South Asian Stuff." In the second season of the show, she talked about Kamala Harris becoming the Vice President of America and Farmer's protest in India. She said that none of her addresses made it to the mainstream media.
She observed that every time she tried to join a conversation, talked about something important or asked for the support of her seat, people said, "Be grateful to have a seat in the first place." Because everyone else who looked like her was waiting for their turn.
Calling her seat wobbly, she says that in order to maintain it in the upright position, a person cannot bring 100% to the table.
Lilly Singh On Equity For Woman
She said that women were conditioned to believe that success was to grab a seat at the table. However, whether the chair fit or it remains wobbly, women do not have the luxury to fix it. "But we try it anyway. We take on that responsibility, and we shoulder that burden."
She observed that trying to fix the seat did not fix the problem. "Because the table was never built for us in the first place." The solution is to "build better tables."
Lilly's Guideline: How To Build A Table That Does Not Suck
The assembly requires more than one person or multiple people to build a table that can fit. "It's gonna take everyone."
Don't Weaponise Gratitude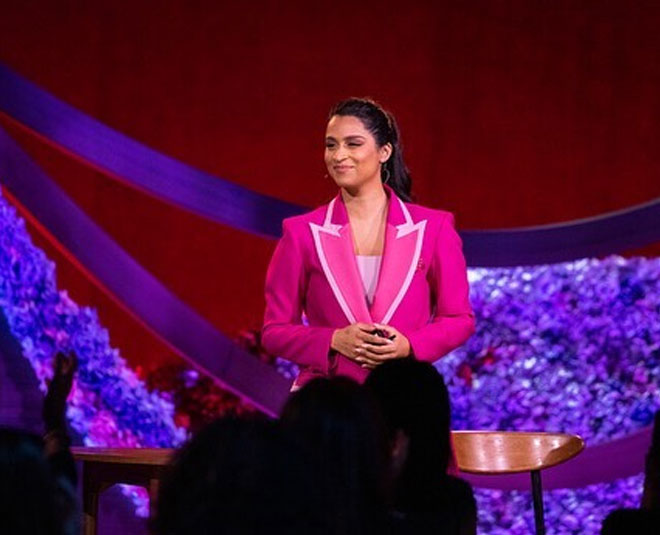 Image Courtesy: Lilly Singh/Instagram
The term is not a form of currency. According to Hive, women work 10% harder than men in offices today. They are assigned 10% more work than men. The research says that most of these tasks are non-promotable. Lilly Singh emphasised this. Their work goes unrewarded and unrecognised.
The work that men do not want to do is handed to women. This work actually helps with the growth of the organisation. It promotes inclusivity, equity and diversity in the workplace.
Lilly said, "A woman should not be grateful to sit at the table. She should be paid to sit at the table." Besides gratitude, a woman must receive fair pay, opportunities and promotions. She added, "Being grateful and being treated fairly are not mutually exclusive."
Invest In Potential
The actress and comedian asked the corporations to invest in women to empower them and give them a voice. Firms must offer support to women. "Cultural change takes time and money," Lilly added.
"A true investment is one that values potential over proof." Lilly observed that proof did not exist for women. She says that it was not because we were not qualified but because we had not got the opportunity yet.
She asked the corporation hiring women or underprivileged people to drop the 'prove yourself' ideology. Addressing racism workplace, she said, "White men tend to get by on just their potential." Employers must provide a table where employees can thrive and contribute to the table, "and they will make it better."
Make Space For Us
According to a report in The Washington Post, in a political office of the United States, there are three men opposed to one woman. In a 2019 report in The Economic Times, the ratio of male to female employees in India was 10:1.
Emphasising the same, the YouTuber said, "People are so used to more men showing up that they plan for it…When more men show up, the table gets longer." However, when a woman reserves a table or RSVP for a seat, "She is encouraged to compete against the only other woman," Lilly added.
The solution to this is to build multiple seats for multiple women so that instead of competing with other each other, women can support each other. According to several reports, gender and racially diverse companies perform better and earn a higher number of profits.
Lilly said, "We have to get rid of the scarcity mindset and champion each other." What is better? "Me sitting at a table or us sitting at a table?" Women must not be convinced to fight for one spot, but they must fight for multiple spots. It would promote women empowerment.
Upgrade The Table Talk
"Stories are how we understand ourselves, how we understand others and how we understand the world," Lilly added. Since media controls the narrative and impacts the culture; therefore, there must be more stories centred around women. However, the actress said that it was hardly the case.
The stories that impact women must also be driven by women. "We need to be driving those stories and dimensionalising our own experience." If we add more people to the table, it would make the conversation smarter and more productive than before because it would have more than one point of view.
Don't Miss:Sterilisation And The Right Of Women To Choose Motherhood
Why Is All The Work And Effort Necessary?
View this post on Instagram
Lilly said, "This is about creating a world where half of the population can thrive." It is all more than just women in the workspace. It will entitle the girls in future generations to "equitable access and opportunity."
Don't Miss: Pink Tax: Learn Everything About The Extra Tax That Only Women Pay
Lilly concluded that men, women, media outlets, small and big companies and all of us can help each other create such a future. "A future where we have longer tables and more seats that actually work, instead of fighting for a seat at the old ones that don't. A future where everyone is seated at the table equally. And a future where being assigned a female at birth is not a disappointment or disadvantage."
Stay tuned with HerZindagi for more updates.