Kashmera Shah and Krushna Abhishek are one celebrity couple we absolutely adore. Parents to two twin boys, Krushna and Kashmera have been setting relationship goals ever since they got married.
However, we are sure not many of you know how the two met, fell in love, and got married. Do you know they kept their wedding under wraps for a few years?
Here, we thought of taking you through their beautiful story of love. Read on.
Kashmera's Troubled First Marriage
Many don't know that Kashmera Shah was first married to a Hollywood Producer, Brad Listermann. The two were married for 6 years. According to a report by Bollywoodshaadis.com, Kashmera and Brad's wedding came to an end because the producer got more involved with his work.
Kashmera Shah then decided to get divorced. She flew back to Mumbai and settled in the city permanently after separating from her partner.
When Kashmera And Krushna First Met
Kashmera Shah and Krushna Abhishek first met on the sets of Aur Pappu Pass Ho Gaya in Jaipur. Krushna Abhishek had a thing for Kashmera from the very first day but when he got to know about her marriage, he was disheartened.
Later, Krushna Abhishek got to know that Kashmera Shah had separated from her husband and was single. This made him take more interest in Kashmera's life.
Kashmera Shah was going through a rough patch back then and Krushna Abhishek supported her as a friend all this while.
The Beginning Of Krushna And Kashmera's Relationship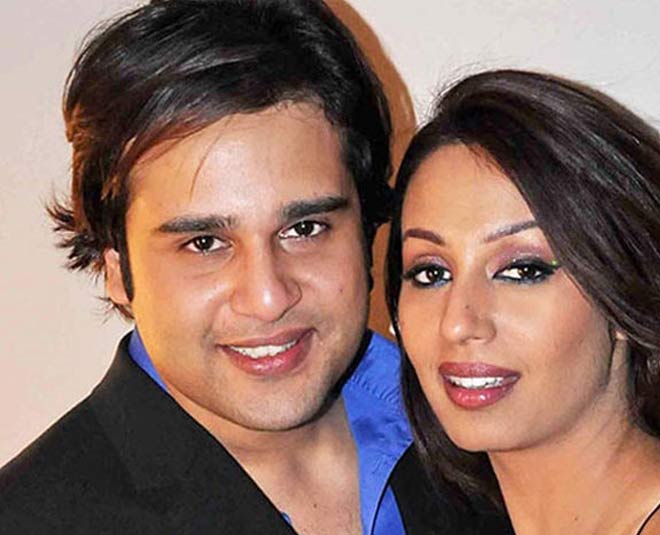 Krushna and Kashmera became good friends. Krushna Abhishek was madly in love with Kashmera and he didn't really care that she was 10 years elder than him. Their relationship officially had begun.
However, their families didn't accept their relationship at all. As per a report by Bollywoodshaadis, Krushna's uncle, Govinda didn't talk to him for almost a year.
Rumours Of Krushna's Relationship With Tanushree Dutta
While Krushna and Kashmera were dating, there were rumours of him getting close to actress Tanushree Dutta. However, Krushna was just good friends with Tanushree Dutta. He couldn't really make Kashmera understand the same.
To prove his love to Kashmera, Krushna Abhishek proposed to her on the reality show, Nach Baliye and she accepted the proposal.
Don't Miss: Here Is Why Arti Singh Mother Wanted Her Out Of Bigg Boss 13
Krushna And Kashmera's Secret Wedding
Kashmera Shah and Krushna Abhishek decided to keep their wedding a secret for almost a year. The two got married in the year 2013 in Las Vegas. Interestingly, they got married at the same place where Kashmera got married to her first husband Brad Listermann.
Almost a year later, Kashmera was snapped wearing sindoor and that's when the news broke. Their family didn't support their marriage initially but eventually, everything fell into place. The two got married in a traditional setting with their friends and family in attendance.
Don't Miss: The Kapil Sharma Show: Can You Guess The Salary Of The Entire Cast?
Krushna Abhishek and Kashmera Shah became parents to twin boys in the year 2017. Their kids were born through surrogacy. In an interview, Krushna Abhishek talked about how his life changed after the birth of their kids. He shared that he has become more responsible and is no longer carefree.
On the work front, Krushna Abhishek was last seen as a part of The Kapil Sharma Show. However, the show went off air in the month of February. The show is reportedly scheduled to make a comeback in the next few months. Kashmera Shah on the other hand is busy with her photoshoots these days. She recently surprised everyone with her transformation. She was last seen on Bigg Boss 14 as a challenger.