Due to the ongoing pandemic, many things have been put on hold but there are some things that can't keep waiting for a long time. A lot of couples have waited to get married for the past one year but it is difficult to hold such ceremonies any longer. Therefore, people are opting for intimate wedding ceremonies at home as some of the Covid-19 restrictions have been lifted.
The question that arises with home weddings is how to decorate? This question can be a bit tricky as the space is less and homes are very different from wedding halls or farmhouses. Therefore, we are here to help you by giving you some amazing home wedding decoration ideas.
String Lights
If we are talking about weddings, then we can never forget lights. Weddings are all about light and brightness. Therefore, add string lights to your décor to create an ambiance. You can hang them from the terrace or ceiling or trees. This will surely look amazing and at the same time, provide good lighting for your photos.
If you want to add more elements for light, then you can go for candles, neon signs, tea lights and many more. All these elements will work as visual aid and totally transform the space. If you feel that the lights are too expensive, then you can always rent these from your local vendor.
Biodegradable Paper lanterns
In order to give a soft glow to the space, add these eco – friendly and biodegradable paper lanterns to your home. You can hang them from the ceiling and these will surely make your place feel like a fairytale movie set.
Flowers
This may sound cliché but flowers are necessary. So, don't forget to add a lot of flowers to your wedding décor. You can either stick to a theme or experiment with different types of flowers. You can add these to each and every corner of the house and it won't look messy or over the top.
My favourite are marigold flowers as these give a 'desi' vibe as well as look beautiful. You can hang them from the ceiling, put them in matkas, put them around centerpieces, and many more. The ways you can add flowers to your home wedding décor will never end, so experiment as much as you want.
Don't Miss: Here Is How You Can Plan The Most Romantic Date In The Lockdown
Backdrop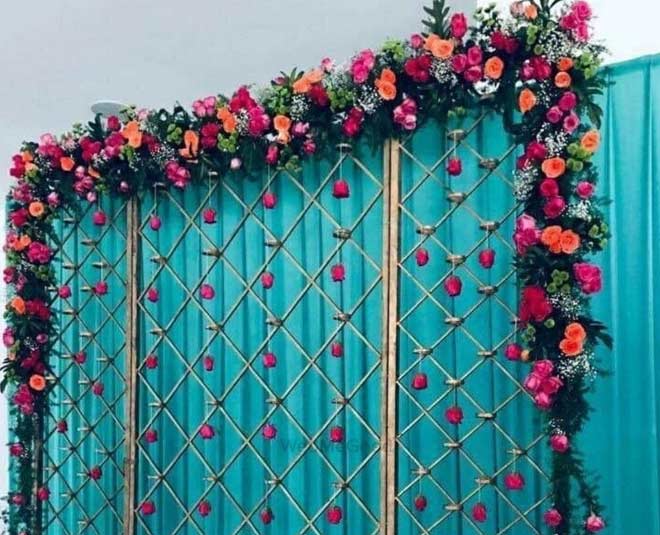 This is one of the most important things. Add a beautiful backdrop where the bride and groom are going to sit. You can use flowers, lights (fairy light decor ideas), drapes, etc. for this element. However, remember to make it the most prominent thing as all the pictures of the couple during the ceremony will be in front of this.
Don't Miss: Some Amazing Hacks To Reduce The Cost Of Your Interiors
Props For Photographs
Add special props to the décor like cycle or rickshaw or auto decorated with flowers. This will surely attract all your guests and there will be a line to click pictures with these props. Apart from making your pictures look lovely, these props add to the décor of the place.
Apart from this, you can also bring small props for photographs (wedding photography tricks) like wigs, quirky glasses, signs with funny quotes and many more. This will add a fun element to the wedding as well as make your pictures stand out.
Do try these and let us know which one is your favourite. For more such stories, stay tuned to HerZindagi!