She is a part of the youngest crop in Bollywood with films like "Dhadak" and "Gunjan Saxena: The Kargil Girl" to her credit. She sure has a long way to go in her career but the daughter of the late legend Sridevi lives in a luxurious house with her sister Khushi Kapoor and father Boney Kapoor. Actress Janhvi Kapoor has been giving many glimpses to what her house looks like from inside from her living room to the area where she practices dancing to her cool makeup room. Here are some pics which walks us through her abode's interior which may just give you some inspiration especially if you love pink and other vibrant shades.
Pink It All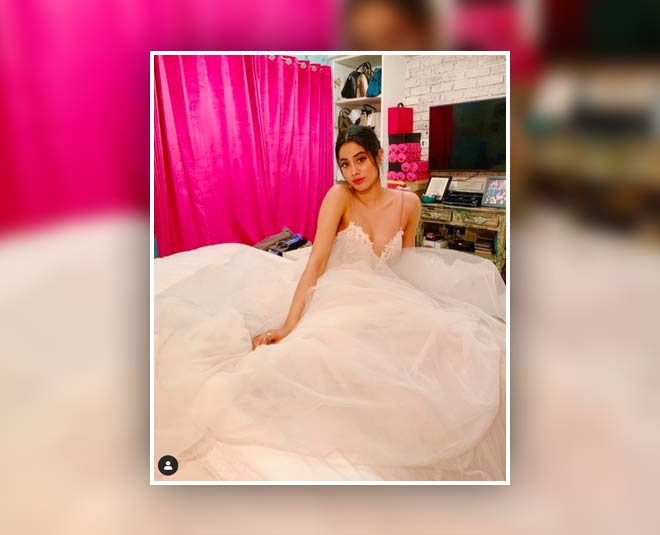 A pink curtain and props and a white wall in the background which has a rough on the bricks paint look to it makes a perfect picture backdrop. What I could not miss were the shelves of purses in different colours. Also, the TV cabinet has an old wooden finish something you can take inspiration from for your own home.
The Living Room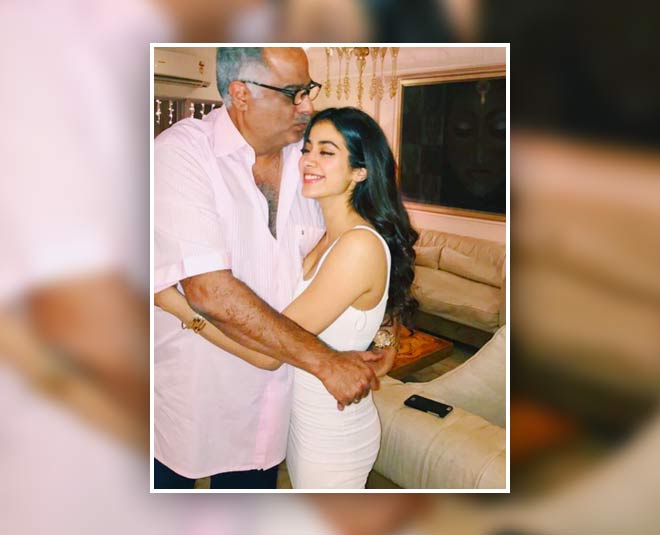 Ivory and beige long sofas, a life-size painting, and golden crystal chandelier drops give us an idea of what theme the house may have. One key point is that white does make your house look bigger and the combination of white and golden which exudes royalty.
Don't Miss: Manish Malhotra Serves Perfect Style Guide With Biggest Bridal Trends & Lehenga Designs For Fall 2020
The Other Room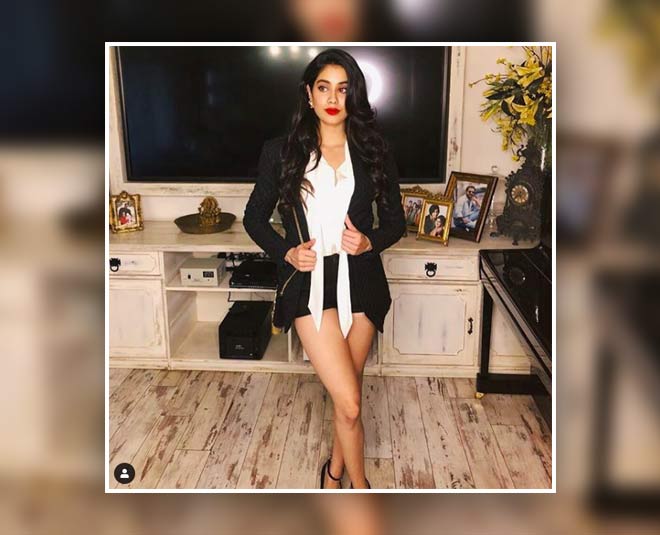 The house seems to have a lot of wooden work and ivory is definitely the main theme. Here we can't help but notice that the TV cabinet here as well, has an old woodwork finish with the floor having a similar look. The cabinet top is full of frames, capturing the family's lovable moments. Also, on the right, can you notice the piano in black? We don't know if anyone plays it or not but sure gives a very luxurious look to the room something we saw in Deepika Padukone's house as well.
Another Side Of The Living Room
What I like here is that the wooden carved parting has divided the living room into two different sections. One is the white and beige one and this one has more vibrancy to it. The flooring is marble and the wall as well is white but this gives the option of putting up colourful paintings like the red one here. The sofa set here is navy blue with light blue floral printed cushion covers.
Khushi Kapoor's Room
The other room I shared before might just be Janhvi's sister Khushi Kapoor's other room. This pic gives us a better look at the interiors. The curtains in this room are cream in hue and the table lamp is brown which is a rather tasteful combination. The huge ceiling lamp gives the room an otherworldly look I am definitely digging.
The Printed Cupboard
On the left is a better look of the living room with white lights on but on the right, I am in love with the printed cupboard. The ancient theme with a chandelier and text on the panels is giving me wardrobe goals. You don't have to go with a similar theme but could try some other that resonates with your personality and keep it in mind when you get the house renovated or want a change in the way your room looks. There are so many options out there today that some research is better. However, this is perfect if you have a big room. If your room is small and you want some similar work then keep the rest of the furniture of one subdued shade so that your room does not look stuffy.
The Makeup Room
Which girl would say not to a room which is totally dedicated to her makeup and dressing. Although it looks small and compact, I am definitely loving the space.
The Corridor Of Mirrors
Want a place in your house which adds to your photoshoot? A place with so many different mirrors would be just perfect! Taken in a perspective, this corridor is certainly inspiring. The mirrors also add depth to your room and give it a classy touch.
Stay tuned to HerZindagi for more such celebrity homes.