They say the way to a man's heart is through his stomach. True that. But what about women? We are foodies too. We would also like to be wooed with expressions of romance by men exhibiting their culinary prowess. And what about the singles? Well, they don't need to worry. Whipping up some delights to satiate their foodie desires can be the best way of showing self love isn't it? So on this Valentine's Day, begin with a spicy strawberry salsa on the tongue, tease with some garlic chicken, move onto a kesari kulfi to send the taste buds into ecstasy and finish off with an Ashwagandha Latte to seal the deal.
Strawberry Salsa With Avocado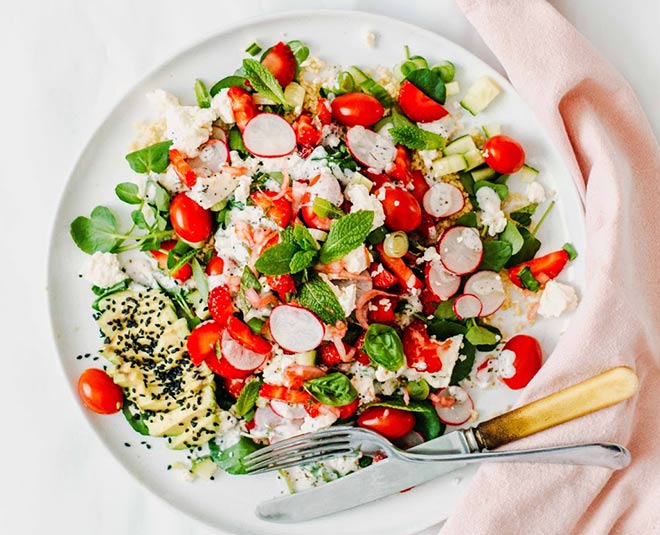 Image Courtesy: www.oandrajos.blogspot.com
Celebrity chef Shilpa Shetty's Strawberry Salsa With Avocado can be the perfect starter to a romantic meal. While Avocado's high vitamin E content can give you a youthful appearance, Strawberries are definite aphrodisiacs as they amp up oestrogen production and are loaded with minerals like potassium, magnesium and folate that boost your sex life.
Ingredients
Chopped strawberry-1 cup
White onions-Two, finely chopped
Green chilli-One, deseeded and finely chopped
Finely chopped jalapeno-1 tbsp
Finely chopped mint leaves-1 tbsp
Lemon juice-1 tsp
Olive oil-1 tsp
Feta cheese-1 tbsp
Ripe avocado-1
Method
To make the strawberry salsa, just mix together all the ingredients except the avocado and cheese. Now cut the avocado in half and de-seed it. Place the mixed salsa in the seed area and top it up with feta cheese. Your Strawberry Salsa With Avocado will be ready in 5 minutes!
Garlic Chicken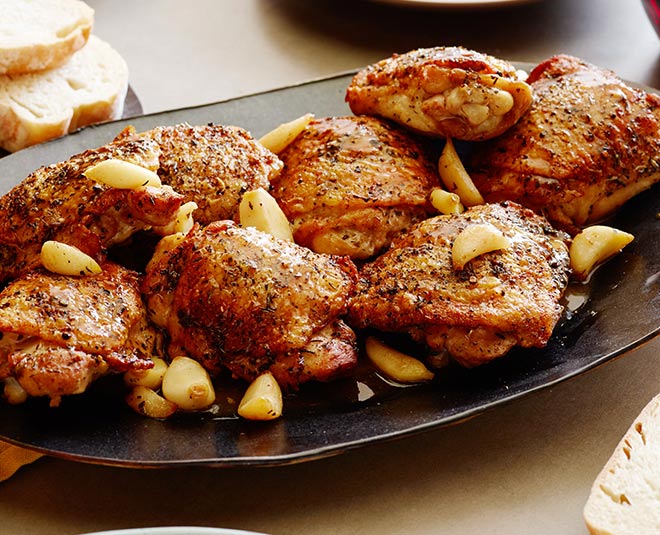 Image Courtesy: www.keeprecipes.com
Garlic for a romantic dinner may sound like a no-no but oh yes it does have aphrodisiac properties that can help you fire up your partner's desires. You can easily make this simple yet robust Garlic Chicken dish for the main course of your dinner along with rice, roti or noodles.
Ingredients
Garlic cloves-1cup
Chicken-750 grams
Onions-2 medium
Oil-3 tbsp
Green chillies-7 to 8
Fresh coriander leaves-A few
Yoguhrt-1/2 cup
Cumin seeds-1/2 teaspoon
Cumin powder-1/2 teaspoon
Garlic chopped-1 tablespoon
Salt to taste
Juice of 1 lemon
Method
Make a fine paste of chopped onions , 2-3 green chillies, coriander leaves and yoghurt.
Mix the chicken with the ground masala in a bowl
Heat oil in a pan, add cumin seeds and let them splutter. Sauté the garlic cloves and add the leftover green chillies which have been slit into half. Sprinkle some salt and sauté till garlic turns golden yellow.
Add cumin powder, marinated chicken and water. Cover this after mixing well and cook on medium heat. At last, add the chopped up garlic, lemon juice and mix well.
Don't Miss This: Know All About Alia Bhatt's Keto Love
Kesar Badam Kulfi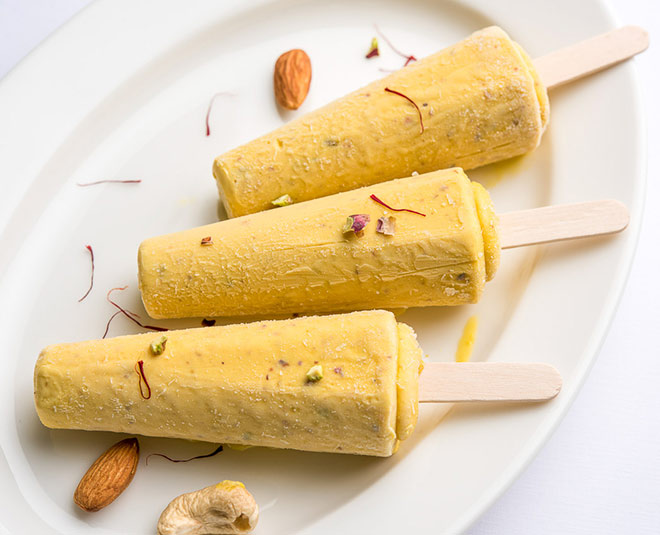 Image Courtesy: www.archanaskitchen.com
Kesar or saffron is known to boost libido so how about finishing off a romantic Valentine's Day meal with a sugary dose of saffron in a badam kulfi?
Ingredients
Full Cream Milk-2 and 1/2 cups
Condensed Milk-1 tbsp
Sugar-1/2 cup
Almonds-10 nos
Pista-5 nos +1 tsp chopped
Cardamom-1 whole
Saffron-A big pinch
Method
Make a coarse mix of soaked almonds with pista, cardamom, sugar and saffron in a blender.
Thicken the milk in a pan for 15-20mins and add the nuts mixture when it becomes creamy.
Add the condensed milk and let it simmer some more till it becomes thick. Turn off the gas and let this cool down.
Freeze this in kulfi moulds and garnish with rose petals before serving.
Ashwagandha Latte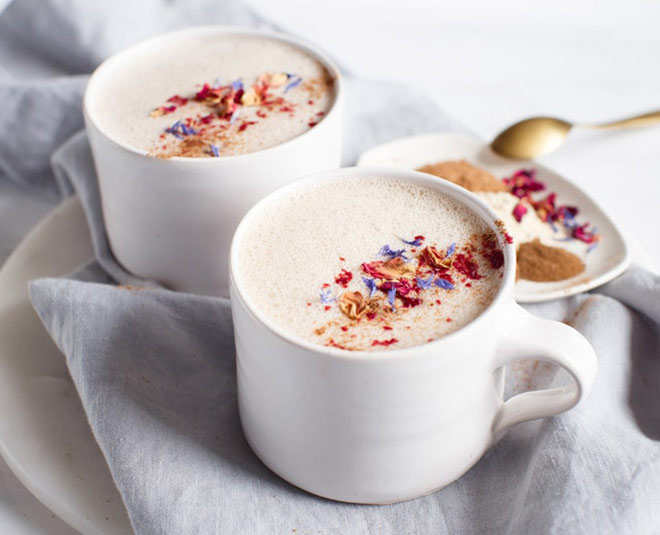 Image Courtesy: www.ascensionkitchen.com
The Indian ginseng or Ashwagandha reportedly improves stamina and has other benefits for love life too. So ditch the boring haldi-doodh glass and end the day with a warm Ashwagandha Latte instead.
Ingredients
Milk-1 cup
Ashwagandha powder-1 tsp
Cinnamon powder-1/2 teaspoon
Maple syrup or honey-1/2 teaspoon
Method
Mix the powdered spices and maple syrup or honey in a cup of warm milk
Stir well and add more honey if needed. Use sugar, if your partner does not like maple syrup or honey.
Such a hearty meal is sure to ignite the passion on Valentine's Day or leave you at least with a warm and fuzzy feeling if you are pampering yourself! To know more about delightful dinner recipes or romantic desserts that can sweep you off your feet, keep reading Her Zindagi.