Are you bored with the regular setup of your bedroom and planning on giving it a makeover for a comfy and cozy feels? Well you have arrived at the right place because we are here to give you some tips that will give your basic room a stunning appearance and amp up your room while staying within your budget. After all, a bedroom should be a place where you love spending time and a place where you can relax from the stresses of the day. Here is how you can decorate your room for the most gorgeous look.
1. DIY Frame
Is your wall looking a little too plain? You can hang DIY paintings or frames on the wall for a decorative feel. DIY framework does not require much work or does not cost much. All you need are some inexpensive market frames and a photograph of any scenery to make a background. Beautiful tissue papers can be used as a background and will give a beautiful look. Take multiple frames like these and style them however you want.
2. Fairy Lights
Fairy lights can turn any room stunning. You can decorate these sweet twinkling lights in your room which will give the room all the cosy and comfy feels. There are numerous ways you can set these lights to turn the room right for yourself.
You can hang fairy lights from a hook screwed into the ceiling for some charming brightness in one of your dark corners of the room. Or you can drape fairy lights over the top of any furniture of the room to put your furniture in the spotlight. You might also hang some cute polaroids on the wall to complement them with these lovely fairy lights. There are numerous other ways to use fairy lights to decorate a room and it's impossible to go wrong when it comes to fairy lights.
3. Indoor Plants
Growing tired of a lifeless interior? The cute looking indoor plants can provide just the right amount of intrigue to your room. These plants are organic and free-form, as well as clean and sculptural. These plants are said to improve one's mood, freshen up a place, and delight anyone with their gushy appearance.
Some indoor plants are really attractive and can create a natural ambiance in your space. These splash of green when put on at the right places, can increase the appeal of the place in no time.
Don't miss: Five Handy Décor Tips To Style The Perfect Master Bedroom
4. Artificial Hanging Leaves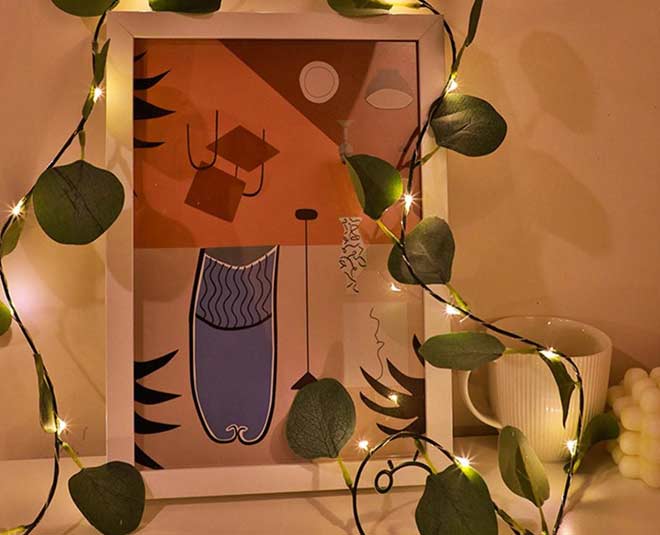 Artificial Hanging Leaves or artificial foliage can give your area a very nice decorative look. All you need to know is how to put them together properly. Hanging them with fairy lights can give them a lovely appearance. You can even drape them around the mirror or half mirror, or hang them from the ceiling. This will give your home a wonderful appeal while also giving it a new and fresh look.
5. Wall Stickers
Update your walls with your favourite wall stickers. Wall stickers are not just for the children's room but they can enhance any of the room's look. You can choose anything from minimalist design, charm or drawings, comic book heroes or just lovely cute butterflies. Stickers with 3D effects have also gained much popularity over the years. Decorate your walls with beautiful wall stickers and create a perfect ambience of your room with them.
Don't miss: Design Your Living Room Like The Hamptons With These Home Decor Tips
6. Lighting
Lit up your room with perfect lights. Replace the lights of your room if you think it is not providing appropriate lighting. You can also add various beautiful and decorative lamps in the room. Well lit room sets the tone of the room and gives a beautiful appearance.
7. Update Your Cushions
Replace the throw cushions in your bedroom for instant satisfaction. Play around with the different sizes, patterns, and colours of cushions. Changing the cushions in your bedroom is the easiest and most cost-effective makeover you can do, and it will instantly change the appearance of your space.
Give your room the makeover it deserves and arrange it in the most beautiful way possible. Your bedroom is your personal place, so keep it as creative and smart as you are.
For more such stories, stay tuned to HerZindagi!