For years now, women often touch the feet of their husbands' in respect in Hindu marriages. It is only now that many have started to question why this respectful and loving gesture is only one sided.
The idea is so deep rooted that at times one even starts to question themselves if touching each other's feet in mutual respect is even okay. No?
Well, times are changing. Every now and then we see grooms breaking stereotypes and promising their wife an equal parternship. Recently, after the saath pheras, when the bride tried to touch the groom's feet, he refused but he quickly touched the bride's wedding to mark respect.
Groom Bows Down To His Wife
In this Instagram video which is going viral on the net, one can see the bride first bowing down to touch the groom's feet and then the groom touching her feet. The gesture was totally unexpected for the bride and she can be seen jumping back.
The video is getting a lot of love from the netizens and has already got about 34 million views.
View this post on Instagram
The newly married couple is being showered with a lot of love and the groom is being praised for breaking stereotypes on his wedding day. These days we are seeing a lot grooms smashing patriarchy and supporting their life partners in every way possible.
वरमाला का कार्यक्रम पूरा हुआ तो दूल्हे ने दुल्हन के कदमों में अपना सर झुका दिया तो शादी समारोह में उपस्थित समस्त घराती और बाराती स्तब्ध रह गये।

दूल्हे ने जवाब दिया:

1. मेरी वंश को यही आगे बढ़ाएगी
2. मेरे घर की लक्ष्मी कह लाएगी
(1/4) pic.twitter.com/vy2CkuszLO

— Dr. Ajit Varwandkar (@Varwandkar) May 29, 2021
This is not the first time a groom did sucha gesture, earlier this year, another groom had bend down to touch his bride's feet. When he did so, he left all the attendees present at the wedding hall and when asked for the reason, he shared that his wife will now carry on his lineage, give him children and build the foundation of his house.
Real Life Vivaah
For those who have watched Shahid Kapoor and Amrita Rao starrer Vivaah know how the protagonist ends up marrying his lady even on the day of wedding even after she gets burn in an accident.
Sometime back, the bride fell down the staircase while trying to save a child and suffered from a severe spinal injury. The doctors shared that she will be bedridden for many months and might even end up being disabled. The conservative members of her family offered Aarti's sister's hand to the groom but the groom said he would not ditch his wife and support her through the bad phase.
Don't Miss: Meet Kamala Sripada, The Bride Who Walked Side By Side With Groom
When A Groom Wore Mangalsutra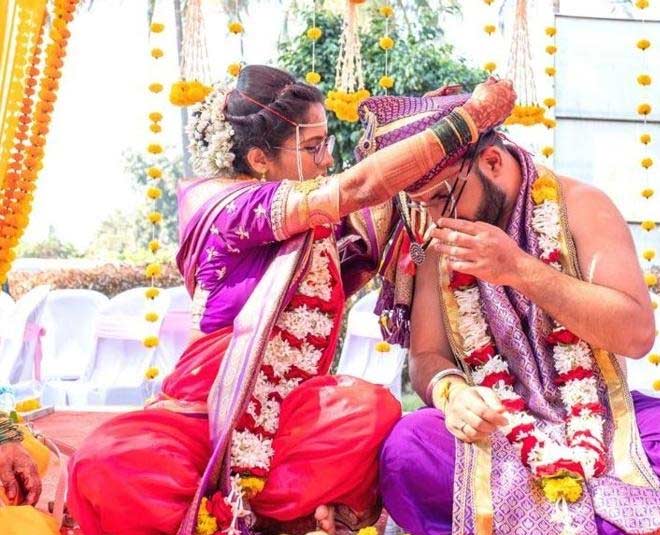 Shardul and Tanuja had a COVID wedding last year. Shardul decided to wear a mangalsutra on his wedding day and break the age-old ritual of only the bride wearing it. In an interview with Humans Of Bombay, Shardul said, That's when I told Tanuja, 'Why is it that only a girl has to wear a mangalsutra? It makes no sense!' We were both equals, so I announced, 'Even I'll wear a mangalsutra on our wedding day!'"
Don't Miss: No Kanyadaan, No Bidaai: Inside Dia Mirza And Vaibhav Rekhi's Wedding
In the interview, he also shared how he went to Tanuja's parents and asked them to split all the costs of the wedding.
Shardul and Tanuja exchanged mangalsutras on their wedding day and their story went viral. However, the two got a mixed reaction from the public. While some were happy to see him supporting equality others felt it was inappropriate.
Tell us your thoughts on these grooms breaking stereotypes and offering their partners an equal partnership with us on our Facebook page. For more such stories, stay tuned!