From Kanyaadan to Bidaai, Indian weddings are all about elaborate rituals. However, over the years, weddings are taking the modern route, breaking stereotypes and setting trends for many.
Dia Mirza and Vaibhav Rekhi are one such couple who made small, thoughtful decisions with their recent wedding to bring in change and equality. Their wedding wasn't a regular marriage ceremony that takes place in India. A female priest performing the wedding rituals, sustainable ceremony, no bidaai, there wasn't just one highlight of their beautiful wedding..
No Kanyaadan And No Bidaai
For those who don't know, Kanyaadan is an Indian ritual where the bride's father gives away his daughter to the groom. The custom literally means 'gifting the girl' and is being performed for ages now.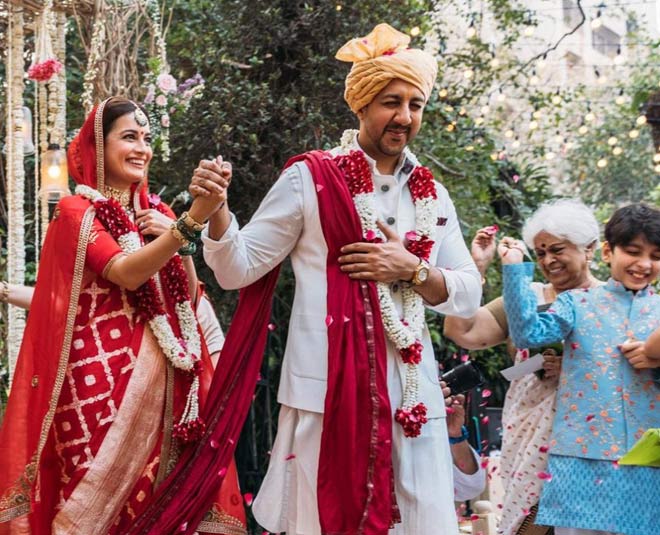 Generation Y is quite woke and fears nothing when it comes to refusing sexists wedding rituals and ceremonies which have existed for the longest time now. Women are often termed as 'paraya dhan' or 'someone else's property which clearly means we have been positioning women as a commodity for ages.
Also, the 'bidaai' marks the farewell from her home, her family. It is the 'goodbye', the most emotional ritual of any Indian wedding but does that mean the role of a daughter ends there? It is indeed a new beginning but no one ever said it means she has to put an end to all her previous relationships.
Dia Mirza and Vaibhav Rekhi have given us all an opportunity to see Indian weddings in a new light. Their decision to take the non-traditional route by skipping the 'bidaai' and 'kanyadaan' ceremony is being lauded by people all across the country.
Don't Miss: Dia Mirza To Vidya Balan, Bollywood Actresses Who Wore Sarees On Their D-Day
Sustainable Wedding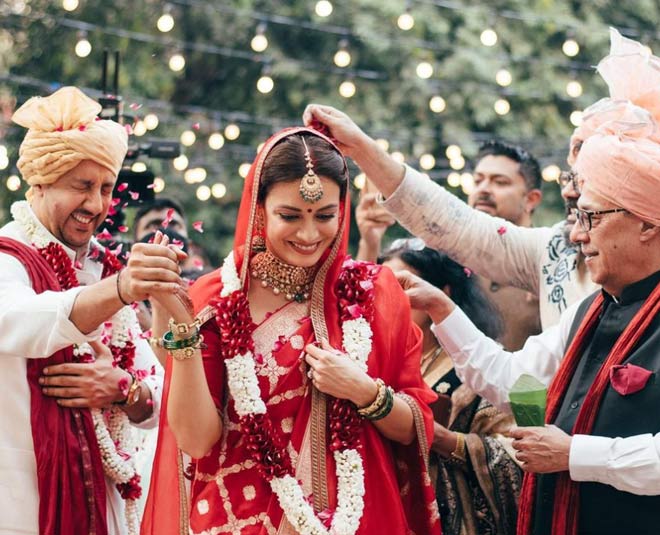 With time, modern couples are making the right choices for their nuptials. So many of them have been putting in extra effort to plan a sustainable, environment-friendly wedding. Dia Mirza and Vaibhav Rekhi's intimate wedding ceremony was a sustainable ceremony with no plastics or waste. The materials used for the minimal decor at Dia Mirza's house were completely natural and biodegradable.
Don't Miss: Meet Kamala Sripada, The Bride Who Walked Side By Side With Groom
Vedic Ceremony Performed By A Woman Priest
For years, male priests have been carrying out the traditional Vedic ritual. However, Dia and Vaibhav performed their wedding rituals performed by a woman priest, Sheela Atta. Dia Mirza shared that it was a gift by her friend Ananya who had a similar wedding years ago. By taking this step, she wanted to encourage more couples to make this choice. Her friend took training so that she could assist the priestess and translate all the shlokas.
On her Instagram post, Dia Mirza shared how this is one moment which left her overwhelmed. She wrote, "It was such a privilege and a joy to be married this way! We do hope with all our heart that many more couples make this choice. For it is a woman's soul that contains love, wonder, benediction, magical energy, tenderness and deep empathy for all that lives. It is time for women to own their own agency, their divinity, their power and to redefine what is old and birth what is new. As Charles Bukowski said, "there is no lie in their fire." So what can be more uplifting and empowering than to see the sacred fire within a woman's heart and soul taking centre stage at a wedding? I am still overwhelmed by the magic of this one moment."
We wish Dia Mirza and Vaibhav Rekhi our heartiest congratulations as they embark on this new journey together!
What are your thoughts on Dia Mirza and Vaibhav Rekhi's unusual Indian wedding, share with us!