We all have old kadhais that have thinned down, pots which we are bored of so what do you do with them? Instead of selling them for peanuts why not do something creative with them? There are many uses these old once upon a time pots and pans have. Take a look, they are very easy and fun as well.
Urli
You do get brass or marble urlis in the market but you can always make use of the old kadhais for the same. Just paint them with acrylic colours or let it be so that it looks earthy and real and fill it with water, marigold/mogra/rose petals and floating candles in your drawing room or even the bathroom for a personal touch. Clean them thouroughly once and then use it.
Bird Bath & Drink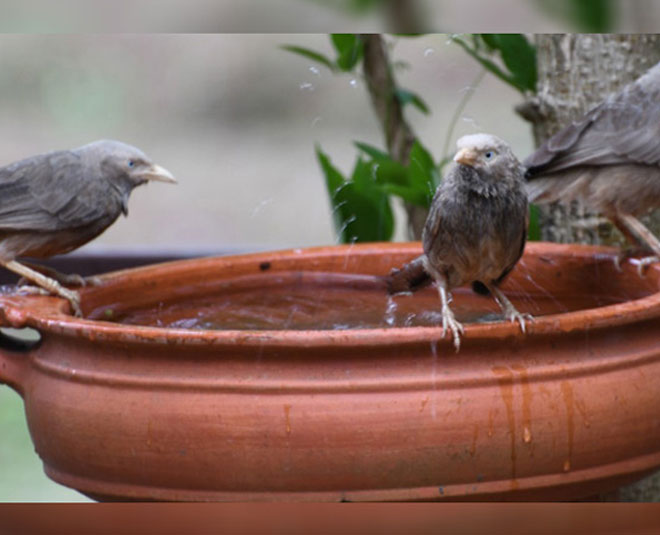 In the summer heat, that time of the year is back when the scorching sun dehydarates us. We still have access to water at home but what of the birds? So do a good deed. Fill the pots or kadhai with water and keep it outside in the balcony or anywhere outside where you know birds come and once they know you are gone, you will see them drinking it or having a bath to freshen up. It is seriously warms your heart that you did something for someone else who truly needs it. Do change the water everyday and keep the kadhai clean like you would for yourself.
Kitchen Decor Art
One cool use could be that you paint it and use it as a decoration piece.Take your time and create something really pretty. You could also paste borders and bindis or sticken stones on it and turn it into an object of conversation.
Snack Kadhai
Paint the kadhai and serve chips or makhanas in it and that too will become a piece of conversation! You can decorate it or just paint it a plain hue, make designs, the art world is your oyster, and make full use of the kadhai which is no longer of use for cooking. Have many guests coming over? Empty 3-4 packs of chips and pass it on. You could also cut up homemade spring rolls and place them in a pattern inside the kadhai and season with shredded cabbage. Keeo some sauces on thee side and voila!
Don't Miss: Paint Old Trunks With These DIY Ideas
Garden
If nothing else comes to mind, use it in your garden. For a planter it may not be agood idea as it does not let the plant breathe but you could always turn it intp a holder! Place it in the middle and if you have guests coming over, you can fill the empty sides with marigold for an added drama and keep it in your drawing room or wherever it may catch the eye.
Don't Miss: Small Space Storage Hacks For Your Tiny Bathroom
Sink
I am myself planning on making full use of a brass kadhai that I have for a wash basin! Get a whole cut in the middle and get it fixed instead of a porcelain sink. It has depth so do not worry about that. It wil look really different and shall give your bathroom that ethnic creative touch no doubt!
If you have more ideas, share it with us on our Facebook page and stay tuned to HerZindagi for more such cool ideas.