Dia Mirza who is known for her relentless efforts to uplift underprivileged and distressed children, announced the birth of her son Avyaan Azaad through social media today. A note, on behalf of Vaibhav and Dia, was uploaded with a picture of a baby's hand on her Twitter and Instagram handles. The note mentioned the name of their son as Avyaan Azaad Rekhi and his date of birth as 14th May 2021. Take a look at the below article to know more.
Dia Opens Up About Her Son's Premature Birth
"Our heartbeat, our son Avyaan Azaad Rekhi was born on May 14th. Having arrived early, our little miracle has since then been cared for by tireless nurses and doctors in the Neonatal ICU." wrote Dia on social media.
Dia Mirza went through an appendectomy(a surgery to remove the appendix when it is infected) during her pregnancy and this further lead to a severe bacterial infection. As a result of her precarious condition, the doctors decided to conduct an emergency C section. However, as Dia wrote in her note, her son was under the supervision of the hospital staff after a safe delivery and was being cared for over there.
Dia On Accepting Parenthood
"As we watch this tiny being, this Zen master in awe and wonder, we learn from him, in all humility, the true meaning of trusting the universe and of parenthood," said the social media note. And further explaining how her little one had managed to fight all the odds with courage and taking the lead from him, his parents, Dia and Vaibhav had been hopeful and strong throughout, Dia also expressed her heartfelt gratitude for her fans and well-wishers who helped them hold on to resilience.
Dia Will Be Taking Her Son Home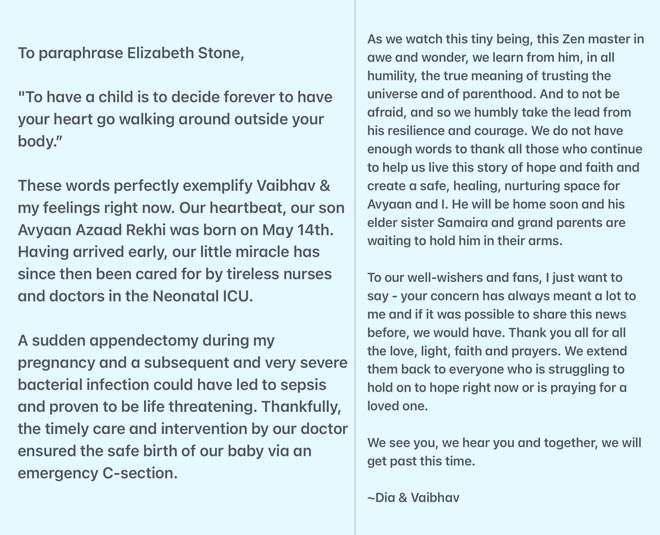 Excited about bringing her son home soon Dia mentioned how everyone else in her new family including her in-laws and stepdaughter Samaira, also are looking forward to welcoming Avyaan. The actress wrote, "He will be home soon and his elder sister Samaira and grand parents are waiting to hold him in their arms."
Concluding the message, she thanked her fans and supporters for all their concern, and prayers, and extended warmth and hope for all those who are struggling with despair. Many famous celebrities including Aditi Rao Hydari, Bipasha Basu, Masaba Gupta, Malaika Arora, Riddhima Kapoor Sahni, etc also commented on Dia's post in order to show support and love.
Don't miss: Dia Mirza Speaks Up About Sexism In The Society
Dia's Pregnancy Announcement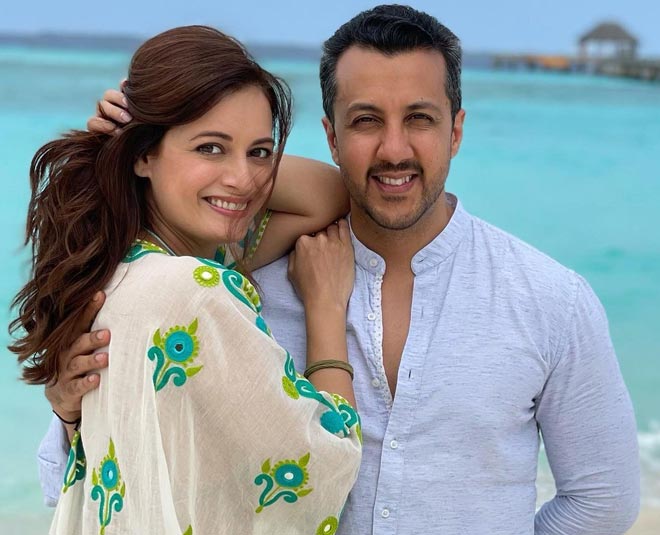 Earlier in April 2021 Dia Mirza announced her pregnancy through an Instagram post and wrote, "Blessed to be… One with Mother Earth… One with the Life Force that is the beginning of everything... Of all stories. Lullabies. Songs. Of new saplings. And the blossoming of hope. Blessed to cradle this purest of all dreams in my womb."
However, many people then accused Dia of getting married to Vaibhav Rekhi just because she was pregnant with his child. But put to rest all the accusations and rumours Dia wrote, "We didn't marry because we were having a baby together. We were already marrying as we wanted to spend our lives together," while replying to a user on Instagram. Dia and Vaibhav tied a knot on 15 February and we hope the couple gets past all the problems in their lives.
Don't miss: Mom-To-Be? Take Outfit Inspiration From Dia Mirza's Maternity Closet
Do reach out to us with your feedback and stay tuned to Her Zindagi for more such articles.