India's most popular television reality shows, Bigg Boss is going OTT this time. This one was to be the 15th season of the controversial reality show, however, the makers have decided to first release it on OTT.
For this digital debut, the show makers are planning to introduce a lot of new twists to the show. Bigg Boss OTT will be hosted by ace filmmaker, Karan Johar and will begin on 8th August 2021.
First, let's quickly introduce the contestants entering the Bigg Boss house this time.
The names of the first two contestants entering Bigg Boss OTT are already out.
Neha Bhasin
Singer Neha Bhasin became the first confirmed contestant of Bigg Boss OTT. A source with Indianexpress confirmed that the makers of Bigg Boss wanted Neha Bhasin to be a part of the reality show for a long time but she wasn't keen on doing it because of the long commitment. However, when she got to know that the OTT version will only be for 6 weeks, she decided to come aboard this season.
For those who don't know, Neha Bhasin first rose to fame after she won a reality show. Later, she got limelight in Bollywood with the song Kuch Khaas Hai from the movie Fashion. The celebrated singer has participated in reality shows like Jhalak Dikhhla Ja. She is married to music composer, Sameer Uddin. Have a look at her participation announcement:
View this post on Instagram
Karan Nath
Son of producer Rakesh Nath, Karan Nath is a Bollywood actor who has been a part of movies like Tera Kya Hoga Johnny, Guns In Banaras among others.
View this post on Instagram
Many other celebrity names have been doing rounds who might enter the Bigg Boss house this season. The list includes Anushka Dandekar, Aashika Bhatia, Ridhima Pandit, Zeeshan Ali, Manasvi Vashist among others. There are reports that for this OTT season, a lot of influencers and social media stars have been approached.
Inside Bigg Boss House
Another interesting thing about this digital season is that the Bigg Boss has been designed very differently. Some pictures of the house are going viral on social media.
The inside pictures of the Bigg Boss house are proof that the makers are planning to take a very different route this season. It looks quite modern as compared to the design in the past few seasons.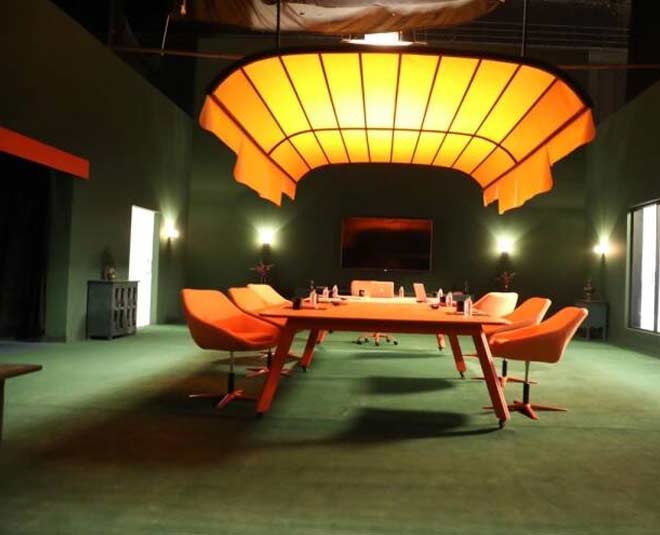 Image courtesy: Indianexpress
There is a giant dining table in this new Bigg Boss house with a beautifully lit roof. Interestingly, the dining table has 7 chairs. We wonder if this season we will witness a lesser number of contestants entering the Bigg Boss house.
Don't Miss: Bigg Boss 15: It's Commoners Vs Celebs Again, All You Need To Know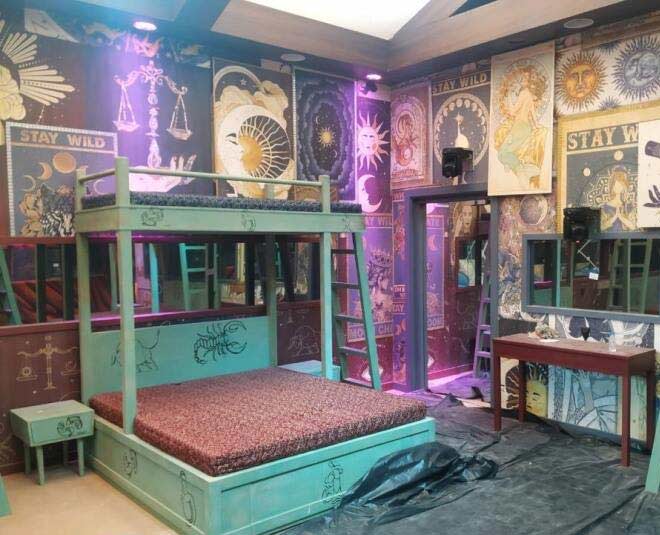 Image courtesy: Indianexpress
Also, we can see bunk beds instead of regular beds for the contestants this season.
Don't Miss: Transgender Community Member And Social Media Star Pooja Sharma Approached For Bigg Boss 15
Image courtesy: Indianexpress
According to a report by India.com, Bigg Boss OTT set is in Filmcity, Mumbai. The show that will premiere later this week will air on the digital platform 24X7.
If reports are to be believed, after this digital launch, the show will move to television as Bigg Boss 15 and will be hosted by Salman Khan.
Are you excited to see Bigg Boss OTT? Who all are you expecting to be a part of the show this season?
Also, tell us your thoughts on the inside pictures of the Bigg Boss house on our Facebook page. For more updates on Bigg Boss OTT, stay tuned!