Mehendi is a very important function at any wedding. It has music, dance, designs and a million other fun-filled activities. However, these days, any function is determined by the decor that has been put up. People have moved beyond just dressing the bride up and putting beautiful mehendi on her hands. Now, mehendi is not just a ceremony but a full-fledged function that requires elaborate decoration.
When it comes to decoration, the most important one is to decorate the place where the bride-to-be will be sitting to get her mehendi made. It should be comfortable, since she will be sitting there for quite some time and also be beautiful, to make her feel special and get the best photographs clicked.
her e are five ways in which you can decorate the seating at the mehendi ceremony.
Floral Halo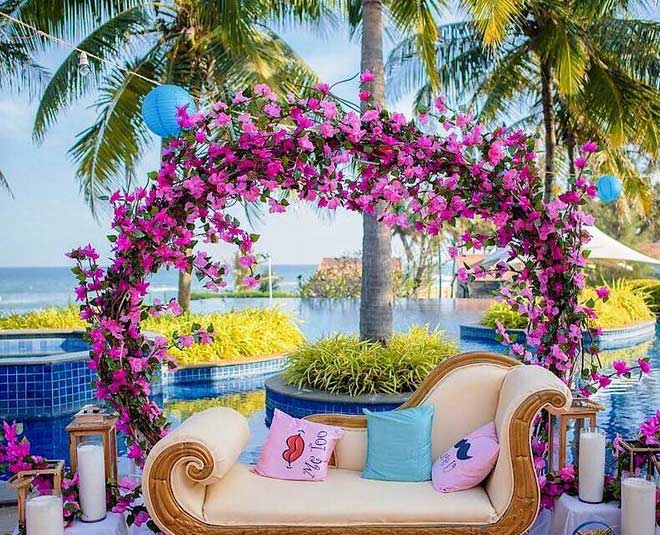 Image Credit: images.shaadisaga
Isn't the bride-to-be the most significant person for the function? She deserves to feel extremely important. What better way to make her feel special than creating a floral halo around her head? Make sure that the sofa where the halo will be attached is of a simple colour so that the attention from the flowers is not diverted. Pick pretty flowers, preferably the ones that she adores. If you want to give it a more dramatic touch, match the flower colours to her attire!
A Colourful Flower Decor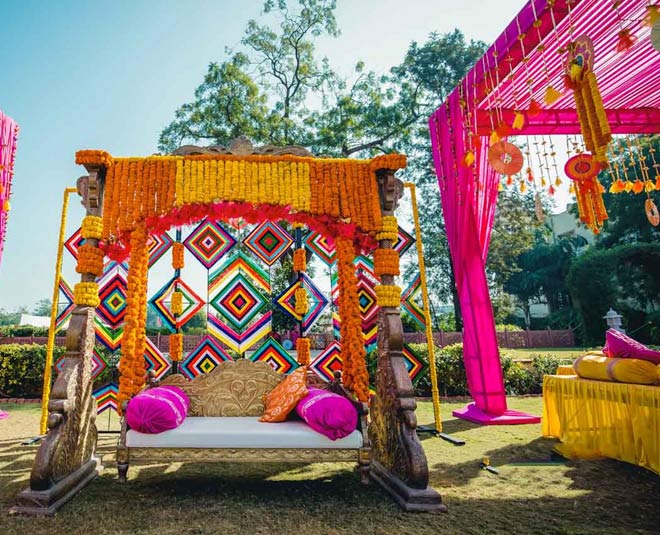 Image Credit: s3-us-west-2.amazonaws
Our go-to flowers for any function are marigolds! This genda phool will completely elevate the look of your celebration and give it a very celebratory vibe! You can mix and match these orange and yellow flowers with shimmery cloth materials. Ideal for day functions, this is the safest yet a very beautiful seating arrangement idea that can be made for the bride to be!
Swing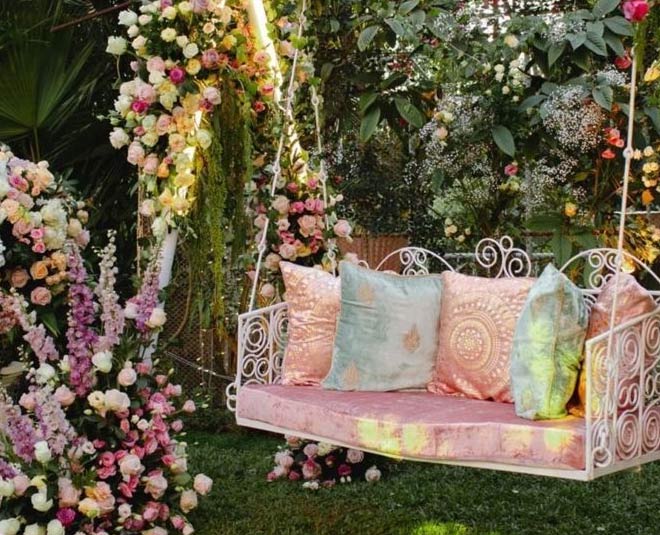 Image Credit: i.pinimg
Give the bride-to-be a complete feel of being a princess! Arrange her seating on a swing, preferably a white one, decorate it with roses(pink and white) or other flowers of her choice. The point of this look is elegance, so we suggest you to not overload the swing with tacky colours and bright flowers. Keep the colour combination to white, silver, pink and light blue.
Don't Miss- Brides To Be, Here Are Some Tips To Know For Your Bridal Mehendi
Floral Tent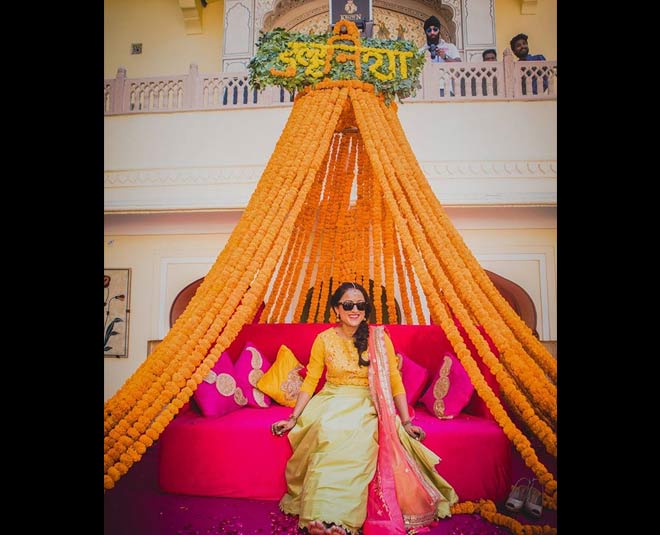 Image Credit: wedwise
Make the girl feel safe, sound and special by making her sit in a tent of sorts made with flowers. This design is pretty easy to make and looks absolutely gorgeous! It is great for clicking solo pictures of the bride-to-be since the tent will not leave much place for the other relatives to sit next to her at all times, an opportunity you must not miss!
Don't Miss- Did You Know The True Meaning Behind These Indian Wedding Rituals?
Decorate The Wall
If you are opting for a simple function, at home, without calling many people, we understand that the above-mentioned ideas might seem like a little too much. At times like this, you can make the bride-to-be- sit with her back facing a plain wall. Hang dupattas or any other pieces of clothes on that wall. Make sure these clothes have bright colours like red, yellow or pink. On that dupatta hang tassels to make it look more lively. Border it with fairy lights and hand a 'Bride-To-Be' or 'Dulhaniya' board on the top. This will be the perfect photo booth(read about photography poses at the wedding) for the bride!
We hope you will be implementing these ideas at your mehendi ceremony! If you wish to read more such articles, stay tuned to HerZindagi!