Gemstone jewellery has its own charm. It looks beautiful and makes us feel close to royal unless you are a royal, and it makes our entire look stand out. Some of us even wear them for their benefits especially those who believe in astrology. Like a pearl is worn often by those who have enger, emerald, an Ambani clan favourite brings in wealth and fortune, Ruby is said to work on your status boost, and so on. The same goes for Navratna jewellery which has 9 gemstones together and jewellery pieces made using them look stunning! Even Mira Kapoor own a gigantic navratna neckpiece which she even wore at her wedding and has also repeated it with other outfits. But what are its benefits?
Astrologer and gemologist Mr. Pankaj Khanna, Founder and MD of Gem Selections, Khanna Gems Private Limited told HerZindagi that "In Vedic Astrology, all living beings are influenced by nine planets i.e., Navgrahas that have a profound impact on the life of an individual. Every planet has a gem associated with it and with the help of these gems one can control the impact of both negative and positive energies in their lives."
He shared that "navratna as the name suggests, is the blending of nine precious stones. The word "Navratna" is derived from two words - Nava which in Hindi means "Nine" and Ratna which means gemstone. Gems carry mysterious powers, which can affect one's physical health, wealth, and emotional wellbeing. The Indian Vedic Literature- "Garud Purana" and "Indra Purana" have revealed about the uses of the 9 primary Gems.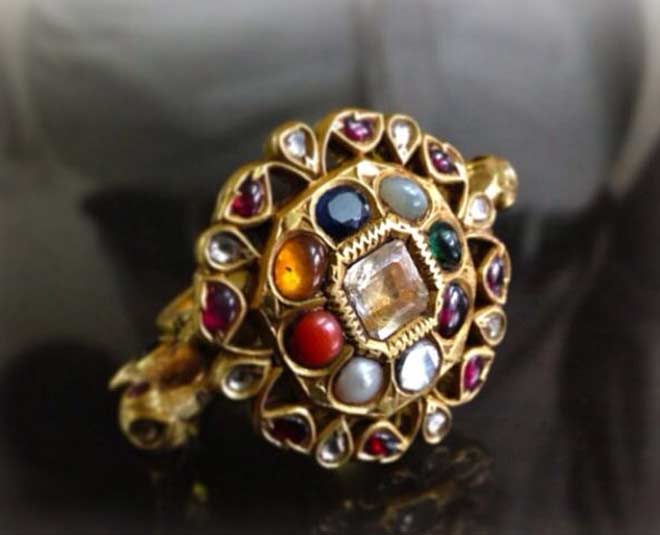 Image courtesy: exoticindia
"These nine Gems are worn for drawing additional energy from the respective planets. All the nine Ratnas have a significant mention in the Hindu, Buddhist and Jain cultures. They are recognised as sacred and royal throughout Asia. Each Gemstone that is part of the Navratna has a set of unique powers and when stud together they offer overall protection.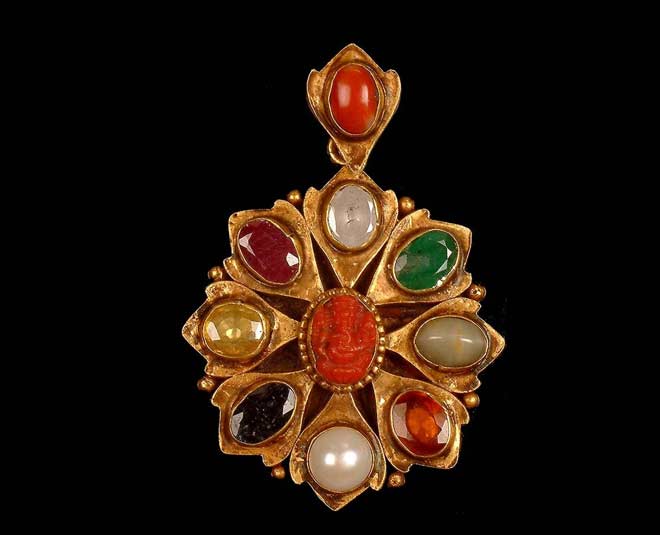 Image courtesy: exoticindiaart
"Some people use Navratna for the betterment in their life. While some others use it for getting rid of the negative influence of the planets.These gemstones together represent the nine planets and create a positive collaboration in such a way that the wearer receives only the benefits of these gemstones."
Benefits of the 9 gemstones in Navratna are as follows:
Ruby For Surya (Sun)
Sun is the source of all energy. It's associated with improved leadership, independence, and focus. It also protects you from negative energy, psychic attack, and the draining of your energy.
Pearl For Chandra (Moon)
Moon governs the intellect and mind and wearing pearl helps you stabilize all the negative and unwanted thoughts and bring emotional stability in one's life. It also fosters loyalty, faith, integrity and trustworthiness in an individual.
Red Coral For Mangala (Mars)
Mars is a fiery planet and hence wearing red coral helps develop focused energy and courage in an individual. It helps you achieve victory and success in your journey. Additionally, it will help you have a balanced personal and professional life.
Don't Miss: Wear Coral If You Have Jaundice, To Ward Off Evil Spirits, Stimulate Energy & More
Emerald for Buddha (Mercury)
Mercury is planet that is a representative of communication, strong intellect, and a good humor. Wearing the gemstone helps improve your memory and enhances all the mentioned skills. Wearing the stone generates a stronger pathway to success and growth.
Don't Miss: See Pics: Tina Ambani's Jewellery Closet Is Full Of Pearls, Emeralds And More
Yellow Sapphire For Brhaspati (Jupiter)
Jupiter is the governing planet for goodness and knowledge. The gemstone develops energy bubble for the growth of wisdom and compassion in one's life. Also, it is a very effective gemstone for fostering wealth and good fortune.
Diamond for Shukra (Venus)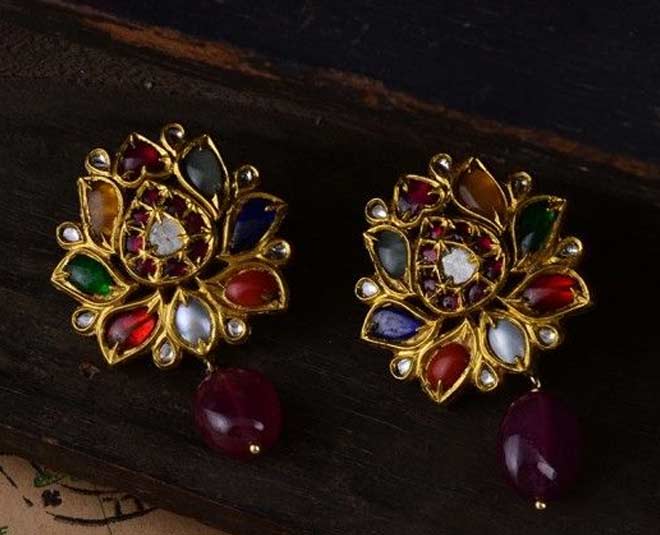 Image courtesy: symetree.com
Venus is a planet that compliments all that is beautiful and luxurious. The diamond in the navratna helps to increase health and wealth in your life. If you aim to be successful go for the gemstone that is also loved for its cut and energy.
Blue sapphire for Shani (Saturn)
The Karmic planet Saturn is closely related to hardship and hence the blue sapphire in the navratna aims at bringing maturity and tolerance in your life. It helps one in developing humbleness and promotes durability.
Don't Miss: Boost Your Status, Health, Confidence By Wearing Ruby!
Hessonite for Rahu (The Ascending Lunar Node)
Rahu directs self-understanding and is known as a perilous celestial body. Wearing Hessonite resolves the pessimistic energy intrinsic in rahu. It is deeply associated with help from mental-emotional troubles such as despair and strong anxiety.
Cat's Eye for Ketu (The Falling Lunar Node)
The cat's eye gemstone in the Navaratnam aids to deliver clarity of idea. It also enhances one's image in the figurative sense and promotes spiritual realization. Do not be astonished if you also notice a sharper instinct and creative energy after wearing it.
So invest in a navratna jewellery piece and see how it works on you.
Stay tuned to HerZindagi for more on gemstones and their benefits with expert inputs.