Given the current situation, most of us are stuck in our homes. While it is best to stay indoors to remain protected, on the other hand, it is becoming monotonous. The easiest way to make your home a better place to live is by doing a couple of changes.
We know, revamping the entire house can turn out to be an expensive affair. If you are on a budget, you can avoid transforming the complete house, and simply add a few comfier pieces. Such as by adding a cosy couch in your bedroom, you can make the space look aesthetically pleasing and comfortable.
Hard Wedge Arm Baby Pink Sofa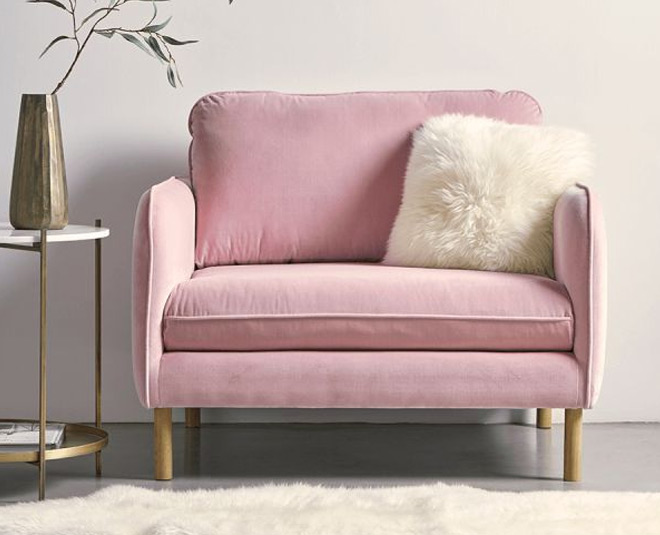 If you are more into adding subtle pieces in your bedroom, something like this sweet and simple hard wedge arm sofa will suit you. You can work on this for long hours and can also binge-watch your favourite shows. Baby pink is a versatile colour that will go with not just like coloured rooms, such as white, light green, light blue, grey, etc, but also with dark hues, for instance, dark blue, scarlet red, purple, mustard yellow, etc. Add funky cushions along for more drama.
Grey Loveseat
Many have a taste for classy and chic accessories. For them, comfort can be found in things that look high-fashion. If you are someone like this, the grey loveseat will please you for the best. It is a long sofa, on which one can work, sleep, eat and do anything or everything. You may hardly need any extra cushioning, once you get used to the grey loveseat. We love the smooth and stunning finish of this piece that is likely to enhance the appearance of any room.
Slaty Modular Sofa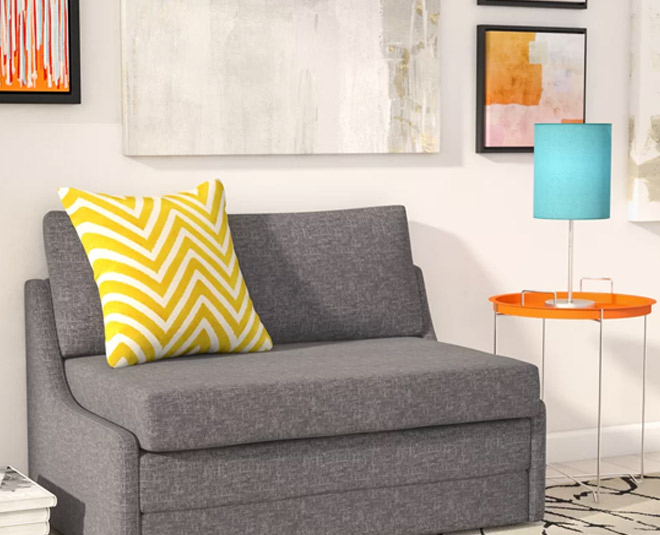 Modern houses have a unique charm that tends to bewitch people. Further adding extra-ordinary pieces, such as this slaty modular sofa can make others sit and take notes. If you are not a fan of arm sofa, this is the couch you want to add to your collection. Decorate it with contrasting cushions, side tables, lamps, vases, or other items to create a peaceful and cosy place in your bedroom.
Ash Grey Round Sofa
Who doesn't want elements in their homes that can give a unique touch! While you must have come across several square or rectangular sofas, you know nothing can beat the glamour of a round piece. It looks regal and high class, which enhances the look of the room instantly. However, if your bedroom is packed with many furniture already, a round sofa may look disproportionate in the space.
Don't Miss: Vastu Expert Tells The Right Way To Keep Peacock Feather At Home
L-Shaped White Sofa
If it's all about aesthetics for you, an L shaped sofa will serve as the ideal furniture. It looks uber-chic and is super comfy to sit and do your daily task. Depending on the colour of your room, you can change the colour of your couch. Beautify it by adding cushions, rugs and side lamps. There is no way you wouldn't be making statement with something as gorgeous as this!
Don't Miss: Guests Coming Tomorrow? Here's How To Make Your Room Look Presentable Overnight
Do let us know which among these are your favourite pieces by commenting on our Facebook page. Stay tuned to HerZindagi for more such stories.