Every bride has several memories when it comes to her wedding functions. Especially when she is marrying the man she always wanted to spend the rest of her life with. Here is a Marathi bride, Soumyashree Kulkarni who married her best friend Chandra Sekhar Meesaraganda, in a traditional Maharashtrian wedding, shared her memories with HerZindagi as the HZ Real Bride. From her attire to the rituals to all the fun the lawyer couple had, let's join her and take that lovely trip down the memory lane.
Being a Maharashtrian, I always wanted to have a traditional Maharashtrian wedding. The simplicity of Maharashtrian weddings and rituals was always something I loved. My husband is from Andhra Pradesh but he and his family were on board for a full Maharashtrian wedding. I met my husband in the 2nd year of Law School and we decided to tie the knot after dating for 6 years. His father was instrumental in getting his side of the family to agree to a Maharashtrian wedding.
Different Wedding Functions & Planning
We had a few functions that we celebrated at home with close family and friends such as havan puja, mehndi, and haldi ceremony.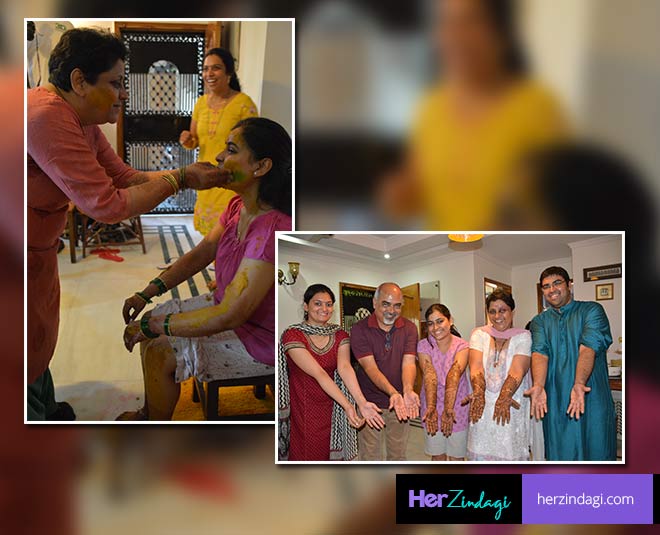 The evening before the day of our wedding, we had a Seemant Pujan ceremony, which is regarded as the start of the wedding festivities. The groom and his family are invited by the bride's family to the wedding venue. The bride's mother welcomes them with an Aarti. Meeting of the family also takes place during this function. We jazzed it up with performances by friends and family as well as one by us.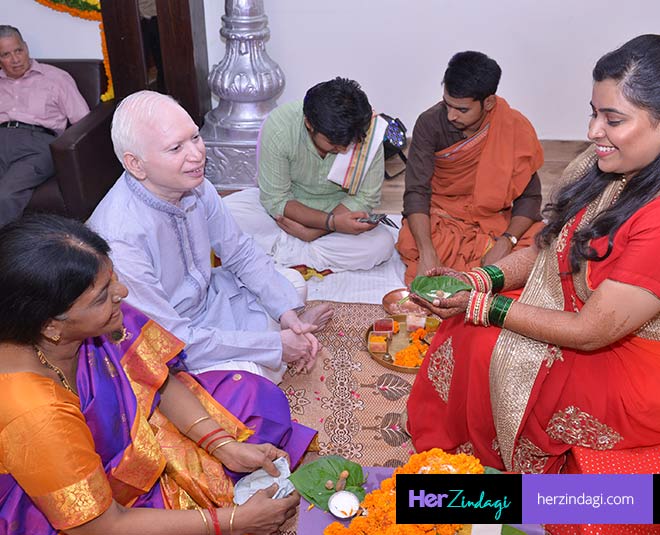 Usually, Maharashtrian weddings take place in the morning hours, however, after matching our horoscopes, our auspicious wedding time (muhurt) was in the evening. The groom is ushered by the bride's family to the venue. The bride is then escorted to the wedding venue by her maternal uncles for the Antarpat ceremony.
During this ceremony, a curtain is kept between the bride and groom and after reciting shlokas (chantings), the curtain is lifted exactly at the muhurt signifying their bond of marriage and guests shower the couple with rice grains.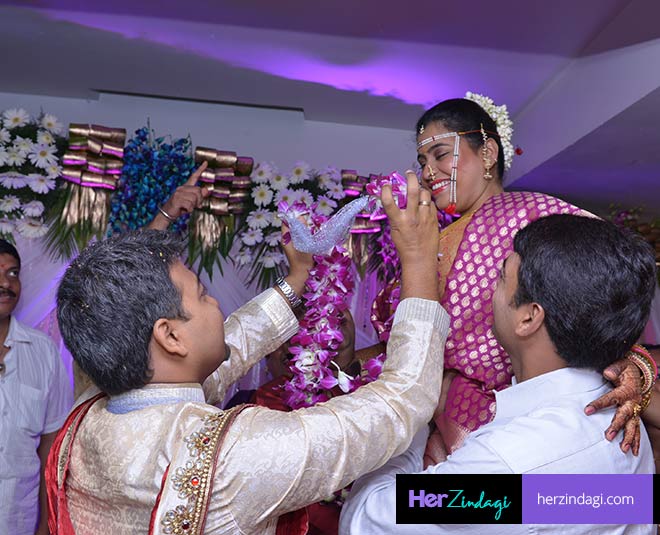 Jai maala is exchanged afterward where for fun, my brothers lifted me up to make it difficult for the groom to place the garland on me. Then we had the remaining rituals of mangalsutra, pheras and Saptapadi.
At the end of the Saptapadi, the bride and groom are made to touch their heads together signifying mutual decision making for life. Our wedding was followed by a reception and dinner.
The Wedding Look
I wanted to keep my look traditional yet modern and knew that I wanted to wear sarees. I did my saree shopping in Delhi and Pune with my husband and mom in tow. I didn't do a whole lot of research but went with the flow. Don't tell my husband but he has a really keen eye and always picks lovely clothes for me to try. While browsing the store, he was the one who found my red saree for the main wedding.
I got a yellow saree traditionally worn for the pooja before the wedding and a traditional Paithani saree in pink for my wedding reception that followed my evening wedding. My mother had already purchased traditional jewellery for me, and I also wore some beautiful pieces of jewellery that were from my parents' wedding.
Brides and grooms wear a pearl ornament on their foreheads called 'mundavalya'. I also bought a Nath (for the nose) which is traditionally worn by Marathi brides and got a traditional mangalsutra for my wedding.
Tips For Brides-To-Be
I think it is crucial that all grooming activities should be done in advance (maybe 1 week or so) to make sure that there are no adverse reactions caused by it. If there are any such reactions, they usually settle within a week. Secondly, it is important to get trials from several make-up artists before deciding to go with one.
I was very particular that my make-up should be simple and I told my make-up artist that from the very beginning. My make-up artist wanted to do much more because "it's wedding make-up" and make-up ought to be 'loud'. In my wedding, I had to change my saree a couple of times, so I was sure to request my salon artist in advance to accompany me so that my saree could be tied by a professional.
Outfit Coordination
We didn't necessarily talk about it but somehow, we always unconsciously manage (on almost an everyday basis) to match our outfits even though we never plan it. I got my attire first. All my sarees were selected and then we shopped for my husband's attire.
My shopping easily lasted a couple of months while he picked his attire in one afternoon. We accompanied each other for wedding shopping so we were always discussing each other's wedding looks.
Wedding Trousseau
I loved my wedding shopping, however, it became very hectic all thanks to Delhi traffic. I have always been about comfort more than style. I wanted to make sure that whatever I wear should not make me regret my decision later on.
Wedding Theme, Venue & Decor
I did not have any theme for my wedding per se apart from it being a Maharashtrian wedding. With respect to the rituals, since my husband and I live in Delhi, we knew we were going to get married in Delhi too. When we were deciding venues for our functions, something our family friend told us stuck with us. She told us to keep the venue close to our residence and guests who care for you will come wherever you invite them. She was right!
Traditional Wedding Ritual She Loved The Most
My husband and I both loved the Saptapadi ritual especially the touching of heads after making lifelong promises of love and togetherness to each other. He jokes that that's the closest we got to kissing at a Hindu wedding.
In Marathi weddings, the bride and groom are also made to recite couplets (called 'Ukhane') which contain the spouse's name. My husband made one for me on the spot. It was a very special moment for me.
Don't Miss: HZ Exclusive: Kerala Brides! Get Inspired By This Gorgeous Bride
Tips For The Perfect Wedding Pictures
The one thing I realised after having horrid pictures of my engagement ceremony was that when it comes to make-up, lesser is better. Pictures really bring out the caked-up make-up look to the forefront making you realise that you don't even look like yourself on your very special day.
Second thing would be, always always smile, even if you feel like a fool because the cameraperson keeps clicking without letting you know, and if you don't keep smiling the wedding pictures turn out with the bride looking serious on a day which is supposed to be a joyous occasion.
What Could Have Been Tweaked In The Wedding Planning
I would have fewer guests, and celebrate my wedding only with close friends and family.
Don't Miss: When Love Conquers All: Real Bride Shares The Highs & Lows Of Her Interfaith Wedding
Advice For Brides Getting Married During The Pandemic
The only thing I would say is that this pandemic is providing such a wonderful opportunity to celebrate your special day with the people you love and care for. A private and intimate wedding definitely trumps a wedding with hordes of guests, half of whom you don't even know.
Always remember there are always some people who are never satisfied with the arrangements. Do not bother about them, do your best and enjoy your day. You can never satisfy all your guests and its best to try and zone them out and enjoy these special day(s) yourself.
Most Prized Memory
As a surprise for my in-laws, I had prepared to sing a Telugu song 'jagame marinadi' during the Seemant Pujan function. My husband joined me in singing the song and that is something my in-laws and my husband's relatives, to this day, look back on and talk about fondly.
The couple now has an adorable daughter and HerZindagi wishes the family a lot of love and togetherness forever.