Harshaali Malhotra as Bajrangi Bhaijaan's Munni won our hearts at once. This little, 12-year-old girl shared the screen with superstar Salman Khan in Kabir Khan's movie back in the year 2015. In the movie, she played a speech impaired child who got separated from her mother while she visited India from Pakistan.
Litte girl, Harshaali Malhotra managed to take away all the limelight from the superstar Salman Khan himself. She acted so well at such a young age and also went on to win several awards for her performance in the movie. Harshaali won big awards like Star Guild Awards, Screen Awards, Most Entertaining Child Actor award among others. Do you know, Harshaali got selected after the makers auditioned 5000 girls?
Harshaali's beautiful performance will always be etched in our hearts. We wish to see her back on the big screen and let's hope that happens soon. Till then. We recently took to her Instagram handle and saw her latest pictures and she doesn't look the same.
Recently, Harshaali Malhotra shared a couple of pictures on the occasion of Diwali. She looked quite grown up in all the pictures. Have a look.
View this post on Instagram
At 11, she looks such a grown-up. She is no more that little Munni. It looks like she was out to attend a wedding with her parents.
Harshaali can be seen wearing a brown and golden lehenga. Her hair done in a fishtail braid, Harshaali looks so pretty as she poses for pictures.
View this post on Instagram
Recently, Harshaali's beautiful picture, dressed in a white top and black shorts was shared on her Instagram handle.
Don't Miss: 5 Times Munni From Bajrangi Bhaijaan Proved She Is The Cutest Star
On Salman Khan's birthday, Harshaali Malhotra shared a throwback picture with him and captioned it, "This is my favourite pic and will always be close to my heart...our first meeting Happiest birthday @Salman uncle ... love sooooooo much @beingsalmankhan." How cute does she look here!
She isn't that little girl anymore but she looks adorable as a grown up!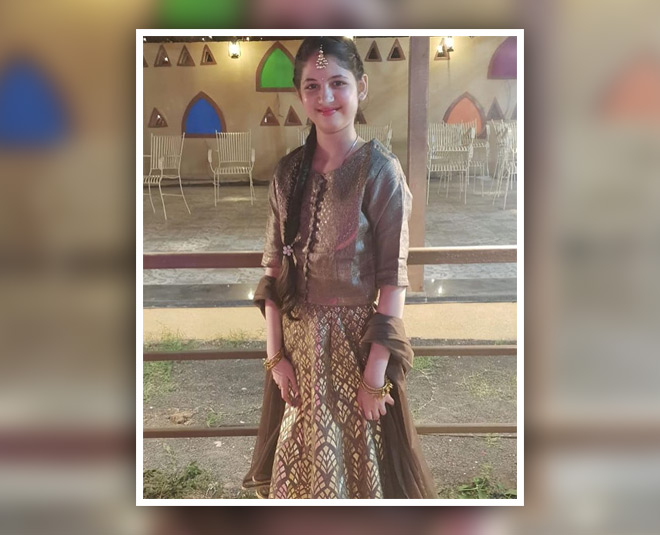 Harshaali's mother posted another picture with her where she can be seen wearing a pista green anarkali suit.
Harshaali is growing up so quickly. We are surprised to see her transformation.
Here, Harshaali can be seen posing for a picture at the airport as she leaves for a wedding event with her family.
Last month, Harshaali Malhotra won an award at the Global Business Awards. She received the award from her idol Madhuri Dixit and she posted pictures from the event too. She captioned the picture, "This was like a dream come true to receive an award from #Madhuridixitnene ma'am."
Don't Miss: Bigg Boss 13: Salman Khan Loses His Cool Again, Shares The Truth About Paras Chhabra & GF Akanksha
Though she played a mute girl in Bajrangi Bhaaijan, Harshaali is a very talkative girl in real life. The young kid has big goals, she wants to become a star like Salman Khan. Harshaali shared a close bond with Salman Khan and Salman has reportedly contributed a big amount for her education.
After Bajrangi Bhaijaan's success, Harshaali was offered a couple of TV shows but her mother didn't want her to shift to the medium right now. She was earlier a part of TV shows like Qubool Hai, Laut Aao Trisha, and Saavdhan India. but now it looks like we will get to see her on the big screen only. There are reports that she has shot for a movie called Nastik with Arjun Rampal, hopefully, we will get to see her soon! For more transformation stories, stay tuned!