Bollywood Celebrities Ranbir Kapoor and Alia Bhatt recently returned from a vacation in Rajasthan, where they celebrated Ranbir Kapoor's 39th birthday together. They stayed at the Sujan Jawai Camp at the Jawai Bandh, a luxury resort that costs around Rs. 91 Thousand per night.
Sujan Jawai Camp, located at the Jawai Bandh is an extremely lavish resort. It is set in a way that leopards roam wild and free, and coexist with humans.
According to Website's Description:
"Amongst spellbinding, billion-year-old granite rock formations, where leopards roam wild and free, coexisting comfortably with the charismatic communities, is the pioneering SUJÁN JAWAI. Spectacularly set in a dramatic wilderness, the camp celebrates the great outdoors with panache. Spend unforgettable days in the wilderness tracking leopards and other wildlife. Blending sophistication and ecology, there is no better place to discover one of India's most enchanting and breathtakingly beautiful landscapes. A wander with the charismatic Rabari herdsmen is a great chance to immerse yourself in the local culture and gain insight into some of our exemplary conservation and community projects."
View this post on Instagram
The website also mentioned that the Resort will be reopening on October 1st. The resort appears to have made special arrangements for Ranbir Kapoor's birthday celebrations.
The site has 'tents and suites' as well as 'experiences' such as 'wilderness drives,' 'walks with Rabari tribes people,' and a 'temple path.' The luxurious resort will provide everything with a price of around ₹91,000 a day.
Read More: 10 Historic Forts In Rajasthan That You Must Visit
View this post on Instagram
Alia Bhatt recently shared a post on Instagram with the caption, "Happy Birthday my Life" along with a heart emoticon. The post was a picture of Alia Bhatt along with boyfriend Ranbir Kapoor. Alia Bhatt and Ranbir Kapoor can be seen sharing a romantic moment while watching the sunset over the lake and hills. Alia is holding Ranbir's hand and resting her head on his shoulders with their backs to the camera.
The couple is rumoured to be planning a wedding. They were recently photographed in Jodhpur, and speculation has it that they have been hunting for a location to get married. In fact, Ranbir stated in an interview last year that if the pandemic had not occurred, he would have been married by now."I don't want to jinx it by saying anything. I want to tick mark that goal very soon in my life".
As revealed earlier by Lara Dutta. Ranbir Kapoor and Alia Bhatt are likely to tie the knot this year. Talking to Times Now, she said, "I believe that they are getting married this year" when she was asked about Alia and Ranbir's wedding plans.
Don't Miss: Alia Bhatt & Ranbir Kapoor Are All Set To Tie The Knot This December? Deets Inside!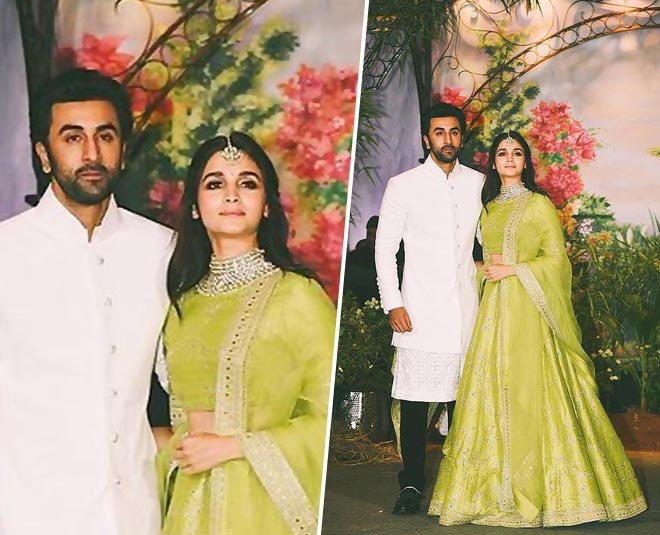 Ranbir Kapoor and Alia Bhatt have been dating for almost four years now, and their fans are now eagerly waiting for their wedding.
What do you think about the 91k per night suite and about the rumours about Alia Bhatt and Ranbir Kapoor's Wedding? Do tell us on our Facebook Page.
For more such stories, Stay tuned!