Have you invested in some of the state-of-art furniture for your living room, but not feeling satisfied with the complete look? Well, you actually need to also have a stunning décor, alongside the most beautiful sets of furniture. To make the space look lively, the colour of the walls, the lighting of the room, the hues of your cushions and upholstery plays a significant role. Other than all of these, there should be one centre point that can bring everything together. The coffee table or the centre table is what we are talking about here. While doing your living room never underestimate the changes that this piece can bring. However, not just a lavish table, but the right décor ideas are imperative to even allow the centre piece to do the magic. Try these simple décor tips that will uplift the aesthetics of your living space in no time!
Steal Ideas From Your Living Room
If you don't like too many colours and random objects then play smart and steal ideas from your living room to decorate the coffee table. This means if there is a brief wooden work in your room, you should keep wooden bowls, coasters, and a fruit basket in the centre. It will give a balanced look. Integrating your coffee table and the items in your display with the rest of your space actually can never go wrong. When the mind is able to connect dots in a confined space, it automatically feels much relaxed.
Don't Miss: Bring Home These Plants For Positive Energy
Decorate As Per The Season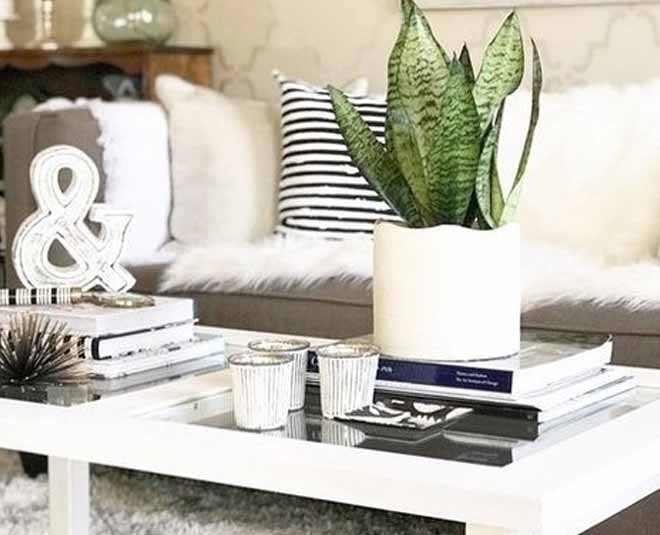 When it comes to home-décor being up-to-date and creative is something that counts the most. While you can't actually keep on changing the colour of your walls and furniture all the time, you can very much keep updating the décor of the coffee table. Rotating the look of the centre piece according to different seasons is actually a great thing to do. You can play around with fruit or small plants. I personally prefer small plants because the greens look more pleasing to the eyes. You can research and install any indoor plants (air cleaning indoor plants) on your coffee table.
Try A Tray
Using a tray to organise your coffee table is trending nowadays. Especially, those who are investing in a velvety coffee table are placing a tray to bring hue balance. Also, it serves both as a practical as well as a stylish piece. You can use a metallic, wooden, or a ceramic tray, all of them will help to give a structure and symmetry to a freeform table that might otherwise seem unorganised.
Don't Miss: White Room: Give Your Dull Room A Chic Makeover With These Home Décor Ideas
Table With Pull Out Seats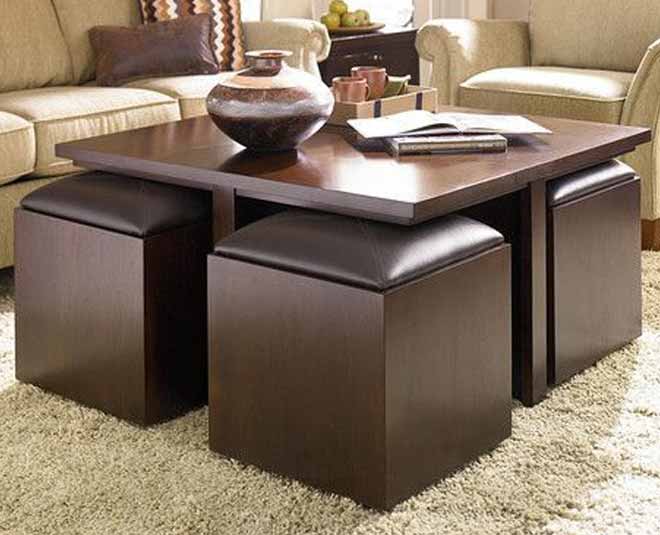 This is for those, who are planning to invest or considering giving their old tables a new look. A pair of petite accent chairs that slide inside and can act as extra seating is a clever way to dress up a pared-down coffee table. Not only it looks aesthetically amazing, but it is highly convenient, especially if you have a huge family with a couple of kids. After all, who doesn't want some cute yet sophisticated child-sized seating along with sofas (ways to arrange cushions on your sofa) in their living room to make it more welcoming!
Coffee Table With Built-In Planter
Who needs extra plant pots when you can use your very own coffee table as a small indoor garden! A built-in planter is a great and a smart idea to add that wow factor in your home décor idea. If you have an old wooden table that you were planning to discard, with this idea, you can very much use it again in the most stunning way. Just ask your carpenter to install a box in the bottom to create a pot-like room for plants and voilà you'll be ready to enjoy your very own miniature garden.
If you liked this article, do comment on our Facebook page. Stay tuned to HerZindagi to read more such stories.