No matter what the season, throughout the year one can gorge on eggs and create a variety of delicious recipes for breakfast, lunch, dinner and even for a lil snacking. While we usually end up making the typical omelettes, anda bhurji, egg biryani, anda parantha and poached eggs, there's more to the nutritious and tasty anda than meets the eye. Let's have a look at some interesting egg recipes that you can try out this winter.
Egg Chaat-For A Quick Evening Snack
Image Courtesy: www.pinimg.com
Want to have a nutritious chaat? Then go for the tasty and light Egg Chaat or Anda Chaat which you can make in a jiffy. All you need is a few boiled eggs diced into small pieces, some diced tomatoes and onions along with some chopped coriander leaves. You can sprinkle some chaat masala and boondi over this or make a tangy chutney and pour it all over the chaat to make a tangy mouthful.
Omelette In A Mug-A Lazy Brunch Recipe
Image Courtesy: www.simplyrecipes.com
To make omelette in a mug, you need a coffee cup which is microwave safe. Smear the insides with butter and beat an egg in it with a fork. Microwave this for a minute and add salt, chopped onions, tomatoes, capsicum or anything else. Microwave it again for 30 seconds to a minute and sprinkle pepper or chaat masala, as desired. Garnish this in an interesting way and it can be one of your starter recipes for a party too.
Egg Curry-A Twist For Your Lunch Cravings
Boil 3 eggs and 2 potatoes, slice them in half and fry them a little. Make a paste of tomatoes+green chillies and onions+roasted til seeds. Saute zeera seeds, the onion-til paste, ginger-garlic paste and add red chilli powder, haldi powder and dhaniya powder. Now add the salt, the tomato-chilli paste, some boiled peas and add some garam masala powder when the oil starts to separate. Add chopped dhaniya leaves and water if you want a runny gravy. Add the eggs and potatoes, cook them for a while and then your dish is ready to serve.
Read More: These Easy Mexican, Italian Snack Recipes Are Bound To Impress Your Guests
Egg In A Basket-A Unique Dish For Breakfast
Image Courtesy: www.blogspot.com
Now this is one breakfast recipe that looks as nice as its tastes. All you have to do is take a slice of bread, cut a round shape (or your favourite shape) out of it, toast it lightly with butter, break an egg in the hole and cook it until it is poached properly. Flip the entire thing after a minute and sprinkle a little salt and pepper over it.
Steamed Egg Custard-Chinese Take On Eggs For Dinner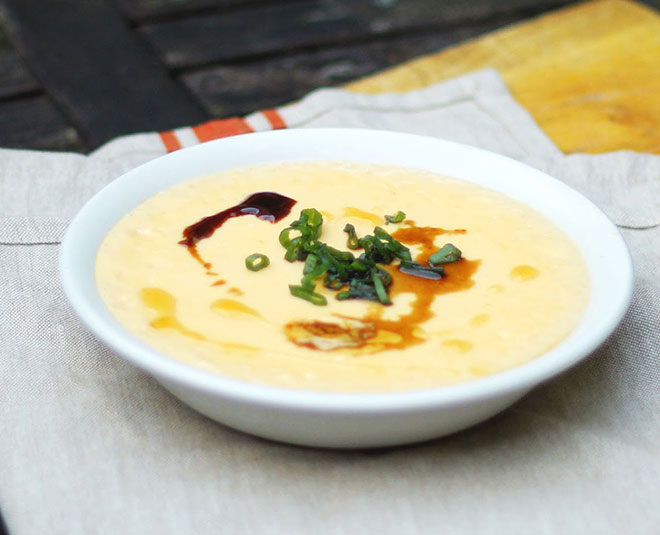 Image Courtesy: www.blogspot.com
Mix warm water and salt into 2 beaten eggs in a bowl. Now cover the bowl and steam this in a container with water for 10 minutes on low heat. Pour a few drops of sesame oil, your favourite sauce, seasonings like parsley or chives and veggies over it. Voila! Your Chinese Steamed Egg Custard is ready.
Egg dishes make for a nutritious and healthy meal and are easily digested in winter time so you can have fun making something new every day. For more egg recipes, egg curry recipes or winter recipes, keep reading HerZindagi and also don't forget to share your recipes with us.