Pulses are part of the legume family i.e. any plants which grow in pods. The term pulses refers to only the dried edible seeds within the pods. Pulses include all beans, peas and lentils such as baked beans, chickpeas, kidney beans etc. Pulses are very popular in a lot of developing countries but are increasingly becoming recognized as an excellent part of a healthy diet throughout the world. Pulses have a rich and colorful history; nourishing cultures all over the world!
Indian cuisine has widely adapted and incorporated pulses, lentils etc. as an active source of protein and is used in a variety of ingredients when it comes to our home cooking styles. Most of us must be fond of rajma chawal, chauli masala, vatana ka usal and the list goes on and on! Looking at a broader perspective of pulses too; we have seen that various countries have included a few of the pulses in their soups, salads, stir fry recipes, curries, stews, dips and even for baked dishes.
Health Benefits Of Pulses
Pulses are a rich source of proteins, high in fiber and have a low glycemic index.
Pulses help in weight loss and are also heart healthy foods provided they are made and consumed correctly.
Pulses are also energy boosting foods and good to be added in various forms into our day to day diets.
Pulses help in optimal brain functioning and also a good source of essential vitamins and minerals.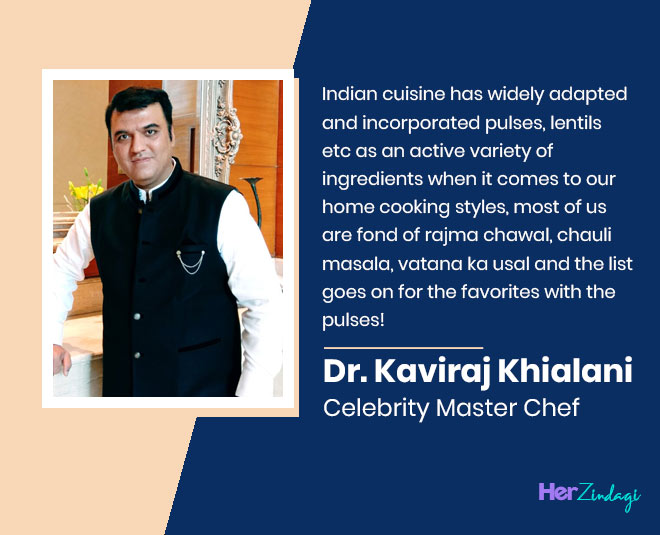 Pulses aid in digestion and also boosts our metabolism.
Pulses help to control diabetes and also lower blood pressure.
Pulses are a helpful source of zinc as well for our body, and also helps lower cholesterol.
Here are a few Simple- Healthy and Nutri-Rich Recipes with Pulses to add into our Menus and Meals!
Don't miss; Try These 3 Delicious Desserts In A Jar By Chef Kaviraj Khialani
Healthy Pulse Salad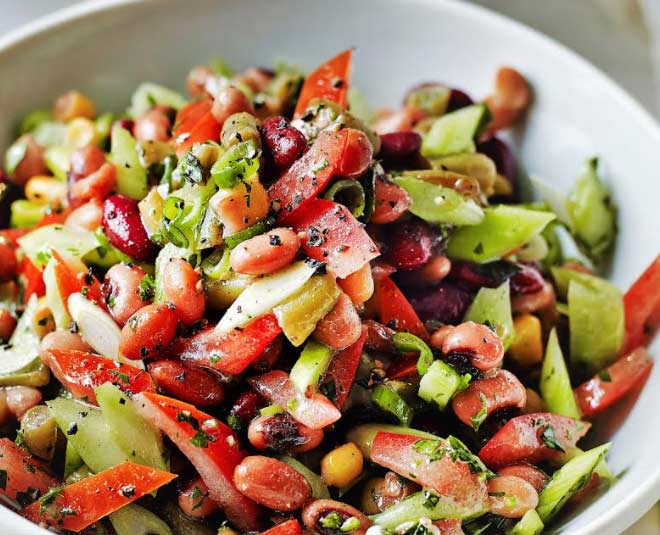 Ingredients:
For the base of the salad:
Assorted salad leaves/ lettuce leaves- 1 cup
For the body of the salad:
Kidney beans/ Black eyed peas- 1 cup boiled.
Onion-1/2 no cubes
Tomato-1 no cubes
Green chili-1 tsp chopped
Coriander leaves-2 tbsp. chopped
Green capsicum-1/2 no cubed
Cucumber-1/2 no cubes
Sweet corn-1/2 cup boiled.
For the dressing of the salad:
Olive oil-2 tbsp.
Lime juice-2 tsp
Mustard paste-1/2 tsp
Dates- 3- 4 chopped
Salt and crushed black pepper to taste
Mint leaves- 8-10 leaves
Honey-2 tsp
Chaat masala-1/2 tsp
Sunflower seeds/ melon seeds-2 tsp
For the garnish of the salad:
Fresh herbs as available- 2 tbsp.
Micro-greens -2 -3 tbsp.
Cherry tomatoes- 3-4, cut 1 x 2
Method:
1. Prepare all the ingredients for the salad.
2. Arrange the base of the salad on a serving plate/salad bowl.
3. In a mixing bowl combine together the ingredients for the dressing and mix well.
4. Add in the body of the salad from the boiled beans/peas to all other ingredients and give it a nice mix.
5. Arrange the salad on the serving bowl and garnish appropriately and serve immediately.
Don't miss; Bake Eggless Cakes Using Different Methods Shared By Chef Kaviraj Khialani
Aatishi Chana Masala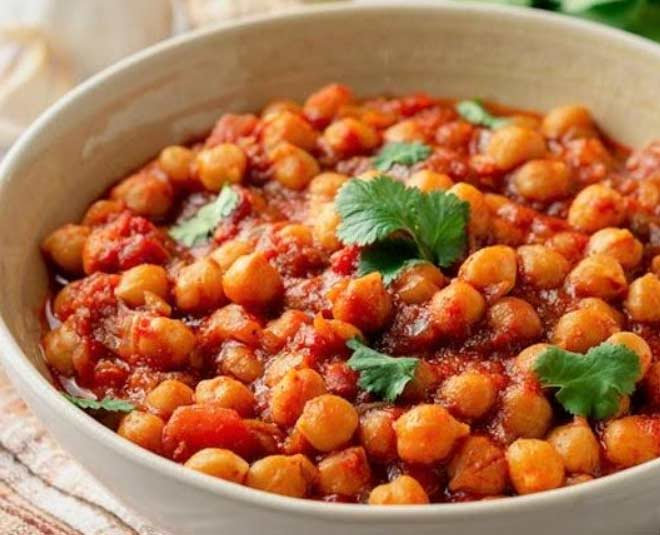 Ingredients:
Oil-1 tsp
Butter- 1 tsp
Bayleaf-1 no
Cloves- 3-4 no
Garlic-1 tsp chopped
Ginger-1 tsp shredded
Green chilies- 1 tsp slit
Onions- 1 cup puree
Tomato-3/4th cup puree, fresh
Boiled chickpeas/ kabuli chana- 1 and a half cup.
Salt to taste
Turmeric powder-1/2 tsp
Red chili powder-1/2 tsp
Coriander powder-1 tsp
Garam masala powder-1/2 tsp
Kasuri methi-1 tsp
Cashew paste-2 tsp
Water-1/2 cup
Coriander leaves- 2 tbsp. chopped.
Lime juice-1 tsp add and serve hot.
Method:
1. Heat oil and butter in a pan, add in the whole spices and flavor the pan. Add in the onion puree first and saute it well for 4-6 mins. Add a little water if needed to prevent sticking, add in the garlic, ginger and chilies as well.
2. Next we add in the tomato puree, salt to taste, all the powdered spices, kasuri methi and bhunao the masala well for 2-3 mins.
3. Add in the boiled chickpeas and cook it with the masala for a couple of mins, stir well, add in the cashew paste, a little water and simmer the chickpeas for 10-12 mins.
4. Add fresh coriander leaves and garnish the recipe, add a splash of fresh lime juice and serve hot with rotis, naans, parathas.
Don't miss; Chef Kaviraj Shares Benefits Of Having Water Chestnuts
One Dish Pulse Meal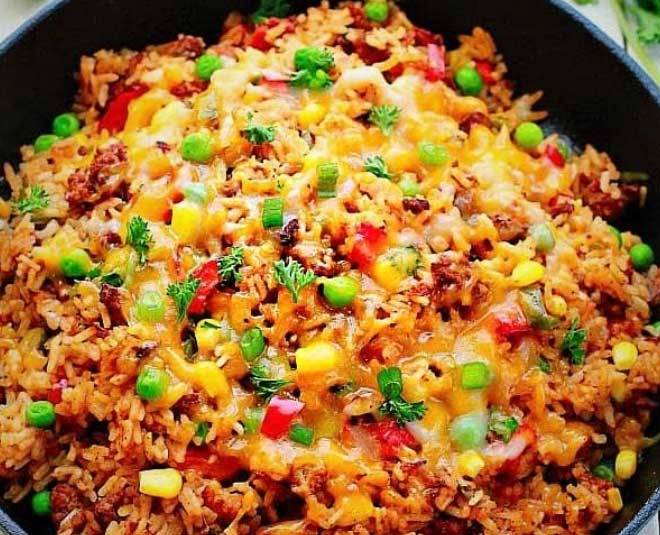 Ingredients:
Oil-1 tsp
Butter-1 tsp
Cinnamon stick-1-inch piece
Black peppercorns- 4-5 no
Garlic-1 tsp chopped
Lemon grass- 4-5 pieces
Fresh basil- 8-10 no
Salt and pepper to taste
Ginger-1 tsp shredded
Spring onions- 3-4 sliced
Boiled sweet corn-1/4 cup
Boiled assorted pulses- 1 cup
Tomato puree-1/4 cup
Soy sauce- 2 tsp
Tomato ketchup-2 tsp
Schezwan sauce- 2 tsp
Garam masala powder-1/2 tsp
Mixed herbs and chili flakes to taste
Water-1/2 cup
Cheese- 2-3 tbsp. grated to garnish.
Cooked/boiled white/brown rice- 2 cups
Assorted vegetables like sliced mushrooms, broccoli, zucchini, bell peppers, green peas, baby corn, paneer etc can be added for the veg options.
Boiled shredded chicken/ sliced chicken sausages/ tuna fish from the can/boiled cubed eggs/ cooked chicken liver/ sliced salami etc can also be added for non-veg options.
Method:
1. Arrange all the ingredients for the one meal bean pot.
2. Heat oil and butter in a pan, add in the cinnamon stick and peppercorns, add in the sliced onions, garlic, ginger and chilies and cook for 1 minute.
3. add in the cooked assorted pulses, salt, pepper and all the powdered spices, herbs, chili flakes, sauces and mix well.
4. Add a little water to ensure even cooking, also add in your choice of veg or non-veg ingredients for the recipe and cook on a medium flame for 8-10 mins, add in the cooked rice and cook for 3-4 mins.
5. Finally add in some fresh herbs and grated cheese to garnish the pot meal and serve hot with a portion of salad.
Celebrity Chef Kaviraj Khialani has a varied experience with hotels and airlines. He is also a consultant, food designer and food stylist. For more recipes by Chef Kaviraj; stay tuned to HerZindagi.