Holi one of our most traditional festivals in India since ages, it marks the arrival of the spring or summer season and also the victory of good over evil. I remember having heard these mythological interesting stories from my grandparents during childhood about the divine child prahlad and his firm belief in lord Vishnu and the tale of hiranyakashyap and his evil karma which led to holika dahan and thus is the message for the world that goodness is bound to revive and stand upfront against all evils.
This festival also marks the arrival of the summer season and harvest time of the winter crop which is celebrated with pomp and prosperity across the country and for Hindus worldwide it is yet another reason to meet, greet, and of course eat delicious homemade delights from namkeen to meetha and come together and strengthen the bonding among families and friends. H- Happiness, O- Occasion, L – Love, I - Integrity
Here are some of the most popular all-time favorite foods eaten on Holi.
Thandai
One of the most popular beverage consumed on Holi besides bhang, it is an Indian cold drink made with a mix of almonds, milk, sugar, fennel seeds, watermelon kernels, poppy seeds, cardamom, saffron, pepper, and rose petals, it is very refreshing and a must in many homes during Holi.
Gujiyas
interesting half-moon shaped sweet delights made during Holi and they are delicate, mild with a filling of milk solids like mava, khoya, nuts and also with little coconut at times, it is fried made up of whole wheat flour, also called as ghughra and karanji across different states in India.
Namakpara
Also called as nimki is a savoury snack crunchy in texture and yummy to enjoy especially during Holi also referred to as mathhri in some parts of Punjab and Uttar Pradesh. These are ribbon like strips of pastry made up of maida delicately seasoned with ajwain and cumin seeds in puree ghee/oil.
Chaats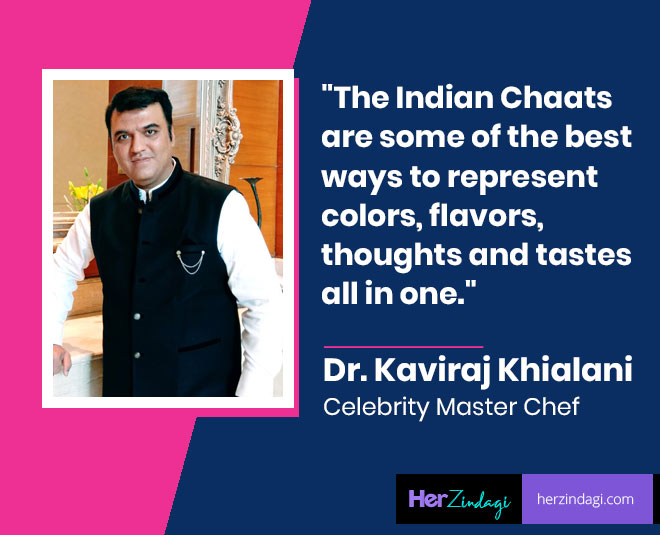 These need no introduction as they are so very well- known and popular across the world, the Indian Chaats are some of the best ways to represent colors, flavors, thoughts and tastes all in one. The variety is just never ending from the Puchkas, gol guppe, pani puries, to the Papdi chaat, chana chaat, aloo chaat, katoris chaat, dahi bhallas, palak pakoda chaat, kachori chaat and more! These are best prepared fresh from a live counter during get-togethers and it is so much fun doing them for your loved ones not to forget we do them in fusion as well with a mix- n- match concept too!
Don't Miss: Some Simple, Tasty Green Pea Recipes By Chef Kaviraj Khialani
Makhane Ki Kheer
This is one of my all-time favorite sweets during Holi, lotus seeds as they are called full of nutrients and benefits for us, add them to some nicely reduced sweet elaichi and touch of kesar wala milk and mava, simmer it to perfection, serve it chilled or warm, garnish with assorted nuts it is a vow sweet!
Here are some of my festive recipes for HOLI!
THANDAI AUR KHAJOOR KI PHIRNI
Ingredients
Milk- 1 lit.
Sugar to taste
Milkmaid/condensed milk-1/2 can
Mava- 100gms
Green elaichi powder-1/4tsp
Khajoor-4-5 chop
Cashews- 1 tbsp. sliced
Rice paste- 50 gms raw rice, soaked for 30 mins and ground to a fine paste using little water.
Thandai syrup- 3-4 tbsp.
Rose petals- 10-12 no. for garnish.
Method
1. In a thick-bottomed saucepan, heat the milk, add sugar to taste, mava, and simmer, allow to reduce a little, stir constantly to prevent sticking at the base.
2. Add in the rice paste, keep stirring, add elaichi powder and cook on a low flame 20-25 mins.
3. Now check the sweetness add little condensed milk for a nice flavor and texture, mix well and allow it to cool until room temperature.
4. Add in a few nuts of your choice, add thandai syrup, mix well, set the phirni into serving bowls, dishes, and garnish with rose petals, chill for 3-4 hours and serve.
Don't Miss: Celebrity Master Chef Kaviraj Shares Uses Of Oats In Kitchen And Bakery
Mavedaar Nutkhut Gujiyas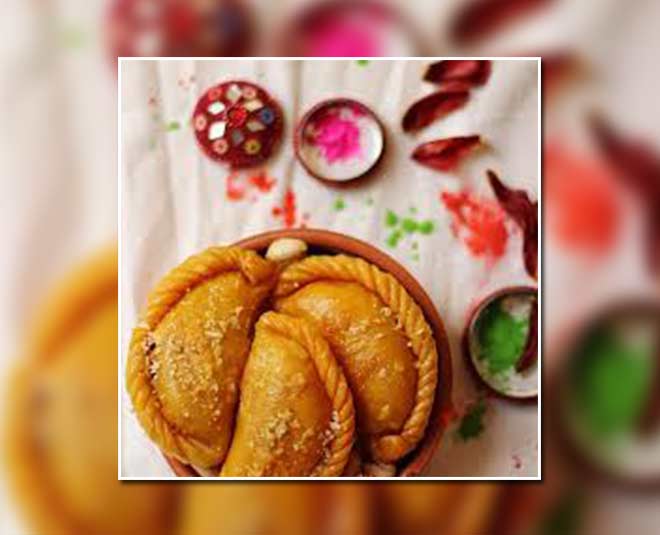 Ingredients
For the dough:
Maida-1 cup
Salt -1 pinch
Ghee-3 tbsp.
Water- 2 tbsp.
For the filling:
Khoya- 100gms
Grated dry coconut- 50gms/desiccated/fresh
Chironji- 2 tbsp.
Raisins- 2 tbsp.
Powder sugar- 2 tbsp. + sugar syrup- to glaze
Green elaichi powder-1/4 tsp
Oil/ghee- for the frying.
To seal the Gujiyas- use maida-water thick paste.
Method
1. Prepare the dough first, use little water and make a nice firm texture dough, cover with a damp kitchen cloth and keep aside for 20 mins.
2. Meantime prepare the filling, crumble the khoya and saute it until light pinkish in color, cool and add the other ingredients and mix well.
3. To prepare further, roll out the dough, cut into circles using a cutter round shape and place the filling, cover it, seal it well and make sure filling doesn't come out, deep fry in medium hot oil until golden coloured.
4.Remove and dip in thick sugar syrup, garnish with chopped nuts/varq and arrange on a serving tray and serve.
Kali Mirch Wale Namakpare
Ingredients
Maida- 1 cup
Atta-1 cup
Salt to taste
Ajwain- 1 tsp/jeera- 1 tsp/ toasted white til- 1 tbsp.
Black pepper- 1 tbsp. Crushed
Warm water- ½ cup or as needed
Ghee- 3 -4 tbsp. + oil for deep frying.
Method
1. In a mixing bowl combine together the maida, Atta, salt, ajwain, pepper, ghee, and rub in the ghee well into the flour using your fingers and it should look like breadcrumbs.
2. Using little warm water at a time knead a well firm smooth dough, cover with a damp kitchen towel and allow to rest for 30-45 mins.
3. Divide the dough into 4 equal parts and then roll up each part into a circle, not very thick not very thin, around ¼ inch thickness works well.
4. Using a knife/pizza cutter cut the sheets into diamonds, meantime heat oil on a medium flame, and start adding the Namakpara into the oil for frying, keep turning the sides gradually in order to get even color on all sides to a golden brown shade.
5.Remove and drain oil on kitchen paper, allow to cool to room temperature, store in an air-tight container. Serve with hot chai!
Dr. Kaviraj Khialani is a Celebrity Master Chef. He is a Mumbai-based author, food designer, creative cuisine specialist, food writer, and consultant. Through his journey in the airline and hotel industry, he has mastered around 33 international cuisines.