Oats are one of the most commonly known cereals known to us for a long time now and are commonly eaten in various forms like oatmeal, rolled oats and now we even have oats milk getting popular these days. They have a range of potential health benefits which we must tap in order to get a good balance in the nutri-support system in our body.
Packed with starch, fiber, protein, minerals, and vitamins, a lot of people have been moving towards oats as a choice in various ways from breakfast to dinner and dessert options as well, from cakes to cookies and even bread. Oats have numerous uses in food, most commonly they are rolled up or crushed into oatmeal which makes it easy for us to use in various recipes, we also have oat flour these days.
Porridge is one of the most common uses of oats but we must explore variations. They also form a part of various combinations like muesli and granola. Due to its low-fat content and rich in protein content, it helps us to live a healthy lifestyle and also boosts our energy levels to a great extent.
Interestingly they are not only good for the tummy but are also filling, satisfying & versatile helping us curb hunger pangs. Oat milk is a popular dairy-free and vegan milk substitute and has come at the right time for all of us to include in our diets and enjoy the benefits yet another way into our shakes, smoothies, and health punch shots. It is basically made by soaking and blending rolled oats with water and strained through a cheesecloth to separate the milk from the oats. It is creamy a delicious plant-based dairy-free milk with numerous uses and benefits for us.
Oat flour is a nutritious whole grain flour made from oats that have been ground to a powder. It is naturally gluten-free and full of flavor and nutrition, adds moisture and fluffier texture to recipes.
Health Benefits of Oats
Incredibly nutritious, rich in anti-oxidants.
Oats enhance the immune response to diseases.
Oats contain a powerful soluble fiber good for our body.
They can help us lower cholesterol levels and also help blood sugar control.
Oats are good for skin, bones and helps in weight loss.
It is vegan, free of nuts and soy and lactose.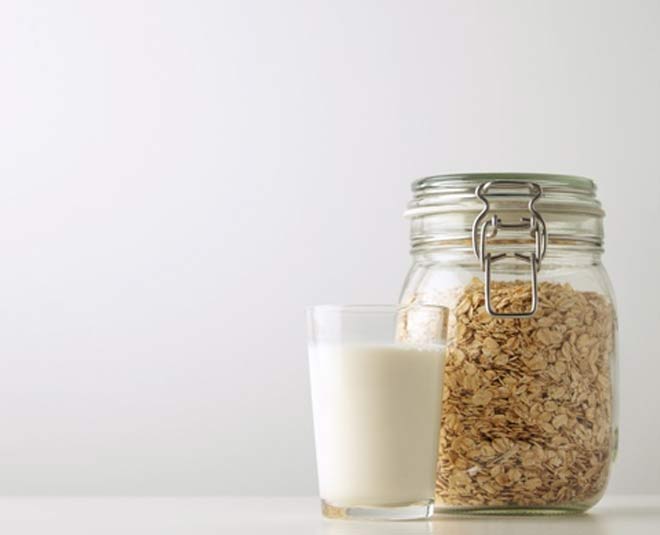 Uses of Oats in the Kitchen And Bakery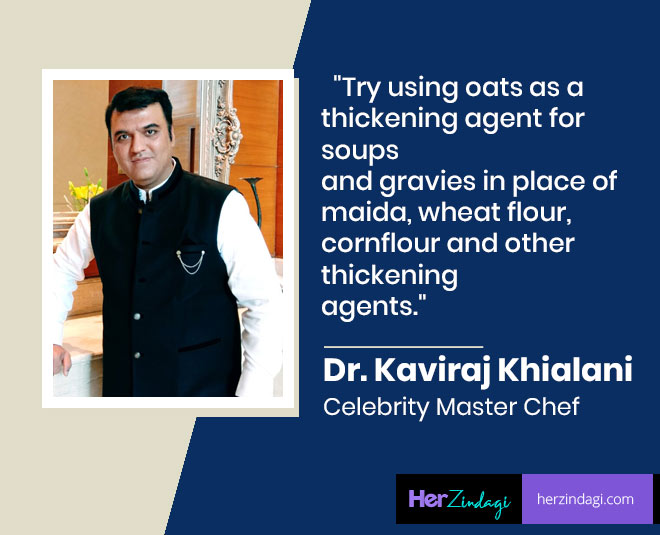 We often come across oats being used in making oats khichdi, idlis, parathas, shakes, smoothies, short bread, pancakes, oats khakra, oatmeal bars, oats risotto, chocolate oat cookies, oats roti, and uttapams.
Try using oats as a thickening agent for soups and gravies in place of maida, wheat flour, cornflour and other thickening agents.
Oats combined with vegetables enhances their overall value in our diets, hence combining them with basic veggies like carrots, beans, peas, cauliflower, greens like methi, spinach etc will help us add variety into our daily meals.
I often try innovating with oats in various ways and recently I tried it with fresh mushrooms in an Italian style risotto concept with vegan cheese.
Do also try oats with little mashed potatoes with a few greens and shape them like hash brown concept I served them with Ragda in a chaat form too, good for a mini meal, brunch, or side dish.
Based in Mumbai, Dr. Kaviraj Khialani is a Celebrity Master Chef. He is a Food Designer, Creative Cuisine Specialist, Author, Food Writer, and Consultant. He has managed to master 33 International Cuisines and has featured on various food shows on Star Plus & Colors Television through his journey in the industry. For his contribution to the Food and Hospitality Industry, he has been awarded several National Awards and received global recognition.