This quarantine or self-isolation has brought out the inner chefs of many people including celebrities who have been posting so many Instagram stories while cooking in their kitchen, baking something healthy and tasty even if it is something really simple. These days sitting at home sometimes makes us want to binge a lot and we cannot eat chips all the time, 'Kuch alag chaiye roz'! So we at HerZindagi decided to help our readers cope with it in different ways every day and encourage you to take up a challenge until this lockdown lifts. In this article, I have put together a list of 21 snacks that you can try each day, ranging from 5-minute recipes to one hour long cook time recipes, fried to just vegetable cuts and more. So let's dig into them.
Apple Moons
Ingredients
Total time: 10 minutes
1 apple
Peanut butter
Granola (oats, nuts and/or seeds)
Method
Cut the apple into slices and then apply a layer of peanut butter and sprinkle granola on it.
Olive & Cheese Tuxedos
Total time: 10 minutes
Ingredients
Olives
Cheese sticks
Wine
Parsley
Method
Cut cheese into thin sticks and fill them in the olives and toss it olive oil, vinegar, and parsley.
Parmesan Potato Skins
Total time: 1 hour
Ingredients
Potatoes peeled, save the skin
Cayenne pepper
Red chilli flakes
Cheese
Method
Take potato skin and wash it thoroughly.
Now, bake it with a layer of cayenne pepper, paprika and cheese.
Serve it with a dip.
Hummus with toasties
Total time: 30 mins
Ingredients
1 cups chickpeas
1/2 chopped tbsp garlic
1/2 tbsp coriander
2 tsp lime juice
1 tbsp olive oil
Salt and pepper
For garnish Coriander leaves and olive oil
Method
Soak the chanas overnight and boil them. Drain them in the morning.
Blend them into a thick paste.
Don't throw the water and add some of the drained chickpea water when blending.
Pour in a serving bowl.
Serve with a toast cut into pieces.
Bread Masala
Total Time: 20 minutes
Ingredients
4 bread slices
1 finely chopped onions
2 finely chopped tomatoes
1/2 tsp chilli powder
1/2 tsp - coriander powder
1 tsp turmeric powder
1/4 tsp oil
2-3 tsp salt to taste
Method
Cut the slices into small cubes.
Take a pan and heat oil in it.
Saute the onions.
Add chilli powder, tomato, coriander powder, turmeric powder, and salt and cook for 2-3 mins.
Add the bread cubes and sprinkle a little water and mix it all.
Garnish with coriander leaves.
Goli Baje (Mangalorean)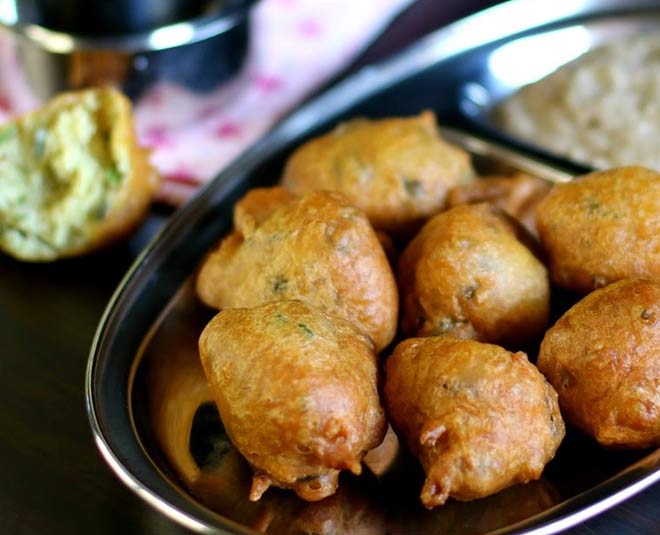 Total time: 1 hour
Ingredients
1 cup all-purpose floor
2 tbsp ground rice flour
1/2 cup curd
3/4 cup water
1 inch piece ginger
1 green chili
1 spring curry leaves
1 medium stalk coriander powder
1/4 tsp sugar
A generous pinch of baking soda
Salt to taste
Oil for frying + 2 tbsp
Method
Wash green chillies, ginger, and curry leaves.
Remove the skin and chop the ginger into small pieces.
Remove the stalk and make a long slit in the green chilies and chop into pieces.
Chop the curry leaves.
Chop the coriander leaves
Now, mix all-purpose flour, little water for the batter, salt, rice flour, and sugar in a bowl.
Set it aside for an hour.
After one hour, the batter will be a little bit loose
Heat oil in a pan.
Now, take a small portion of the batter and make them into balls and drop in the oil.
Once it comes to light golden brown shade, remove from oil with a slotted spoon.
The goli bajje is ready.
Serve with coconut chutney and enjoy.
Nippattu ( Karnataka style crispi)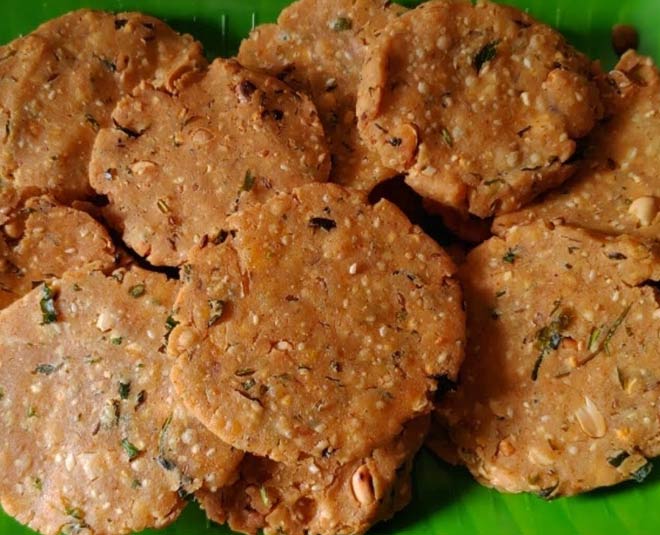 Total Time: 50 mins
Ingredients
2 cups rice flour
2 tbsp fine rava
2 tbsp maida
10 curry leaves
3/4 tsp cumin
1/4 cup dry coconut gratings
¼ cup fried gram
½ cup roasted peanuts skinned
½ tsp asafoetida
2 tsp red chilli powder
2 tbsp hot oil
Salt as per taste
Water as per taste
Oil for deep frying
Method
Take a mixer jar, add cumin, dry coconut gratings, curry leaves, roasted gram, roasted peanuts and grind.
Now, in a mixing bowl, add fine rava, rice flour, maida.
Add previously ground coarse mixture.
Add salt, red chilli powder, asafoetida and mix well.
Now add hot refined oil, mix with fingertips to get crumbs.
Add little water and prepare a stiff dough.
Keep the prepared dough for 15 mins.
Take small balls of dough and roll into thin rotis.
Now take a circular mould and prepare nippattu.
Pierce with fork.
Heat oil on medium heat, deep fry this prepared nippattu.
Serve with chai.
Don't Miss: #21DayChallenge: Bring Out Your Inner Chef & Cook These 21 Tasty Immunity Boosting Recipes Each Day
Dahi Kabab
Total Time: 35 mins
Ingredients:
2 tbsp black pepper seeds
2 tbsp coriander seeds
1 cup besan
1 cup onions, chopped
4 green chillies
1 tsp chopped ginger
7-8 raisins
5 cashew nuts
2 tsp salt
1 tsp paneer
2 cups hung curd
2 tbsp red chilli flakes
2 tbsp coriander leaves
1 cup grated paneer
1/2 cup cornflour
Method
In a pan dry roast black pepper and coriander seeds and then grind them into a powder.
Take Besan in a pan and roast it for a while.
Now, take a bowl and add chopped onion in it.
Add green chillies, cashew nuts, the roasted black pepper, chopped ginger, raisins, and coriander powder, salt, and paneer.
Mix them.
Prepare Kebab: Take hung curd in a bowl, roasted black pepper, add salt, red chilli flakes, green chillies, coriander leaves, coriander powder, and grated paneer, roasted besan and corn four.
Mix all the ingredients together.
Now, make round pieces from the dough and fill the filling.
Fry the round pieces in a pan.
Serve.
Gobi 65
Total Time: 35 minutes
Ingredients
15 florets of cauliflower
½ tsp salt
4 cup hot water
2 tbsp curd
½ tsp garam masala
½ tsp coriander powder
1 tsp ginger garlic paste
1 tsp Kashmiri red chilli powder
¼ tsp turmeric
1 tsp lemon juice
Chopped few curry leaves
2 tbsp chopped coriander
1 tsp oil
½ tsp salt
¼ cup cornflour
¼ cup rice flour
oil, for frying
3 tsp oil for tempering
½ tsp cumin
1 inch chopped ginger
2 cloves chopped garlic
2 dried broken red chilli
1 tbsp curd
½ tsp Kashmiri red chilli powder
¼ tsp salt
2 tbsp chopped coriander
Method
In a large bowl take 15 florets gobi and ½ tsp salt and hot water and blanch for 5 minutes.
Drain off the water and take the gobi in a large bowl.
Add 2 tbsp curd, ½ tsp coriander powder, 1 tsp ginger garlic paste, 1 tsp chilli powder, ¼ tsp turmeric, ½ tsp garam masala and 1 tsp lemon juice.
Add few curry leaves, 2 tbsp coriander, 1 tsp oil and ½ tsp salt.
Mix well and marinate for 30 minutes.
Now add ¼ cup cornflour and ¼ cup rice flour.
Mix well coating flour uniformly.
Deep fry in hot oil stirring occasionally.
For the tempering: heat 3 tsp oil and splutter ½ tsp cumin, 2 dried red chilli, 1 inch ginger, 2 clove garlic, and few curry leaves.
keep the flame on low and add 1 tbsp curd, ½ tsp chilli powder and ¼ tsp salt.
Saute well.
Add in fried gobi and mix well.
Add 2 tbsp coriander and enjoy gobi 65.
Gobi Manchurian
Total Time: 45 minutes
Ingredients:
For Florets
1/2 cup corn Flour
5 tbsp maida
1 medium-size Cauliflower
1/2 tsp garlic paste
1/2 tsp ginger paste
Oil, for deep frying
Salt
1/2 cup Water
For Saute:
1½ tsp garlic and ginger paste
2 chopped green chillies
1 large chopped onion
1 small chopped green capsicum
1 tbsp soy sauce
1/2 tbsp chilli sauce
2 tbsp tomato ketchup
2 tbsp oil
2 tbsp chopped spring onion
Salt
Method
Boil the cauliflower florets in salted water over medium flame for 3-4 minutes and then drain and pat dry.
Mix maida, corn flour, 1/2 teaspoon ginger paste, 1/2 teaspoon garlic paste and salt in a bowl.
Add water little by little and stir to make a batter.
Add all florets in the batter and mix well.
Heat oil in kadai (frying pan) over medium flame.
Carefully drop or slide 6 to 8 florets in oil and deep fry over medium flame.
Now, heat 2-tablespoons oil in a wide, thin-bottomed pan and add 2 teaspoons ginger paste, chopped capsicum, 1½ teaspoons garlic paste, chopped green chilies, and chopped onion.
Saute for 3-4 minutes.
Add soy sauce, tomato ketchup, chilli sauce, and salt.
Stir continuous and cook for a minute
Add deep-fried florets.
Toss and mix deep-fried florets with other ingredients in a pan for 1-2 minutes keeping flame on high.
Transfer it to a plate and garnish with spring onion.
Hara Bhara Kebab
Total Time: 40 minutes
Ingredients:
2 cups spinach
2 medium boiled potatoes
3/4 cup green peas
1 roughly chopped green chilli
1/2 tsp chopped ginger
2 tbsp chopped coriander leaves
A pinch of turmeric powder
A pinch of green cardamom powder
1/4 tsp garam masala powder
3/4 tsp amchur powder
2½ tbsp roasted Gram Flour
3 tbsp breadcrumbs
Salt to taste
1 teaspoon + 2 tablespoons Oil
Method
Boil potatoes in salted water until soft.
Blanch the spinach and then roughly chop it.
Heat 1-teaspoon oil in a pan over medium flame.
Add green peas, spinach, and salt.
Stir and cook spinach and green peas mixture until almost moisture is evaporated and it turns dry.
Add coriander leaves and a pinch of turmeric powder.
Take green chilli and ginger in a small chutney jar of a mixer grinder and grind until medium coarse texture.
Add cooked spinach-green peas mixture and grind.
Mash the boiled potatoes in a medium-size bowl.
Add crushed greens, cardamom powder, breadcrumbs, garam masala powder, dry mango powder, roasted gram flour, and salt to taste.
Mix all the ingredients.
Grease your palms with oil and divide mixture into 8 equal portions.
Take each portion and give it a round shape of ball and flatten it.
Heat 1-2 tablespoons oil in a non-stick pan and then put 2-3 tikkis at a time and shallow fry.
Flip each green tikki and shallow fry another side until light brown.
Transfer each kabab to a plate.
Serve.
Don't Miss: These Extra Crispy, Easy & Anytime Onion Rings Are To Die For, Learn The Recipe
Crispy Eggplant Chips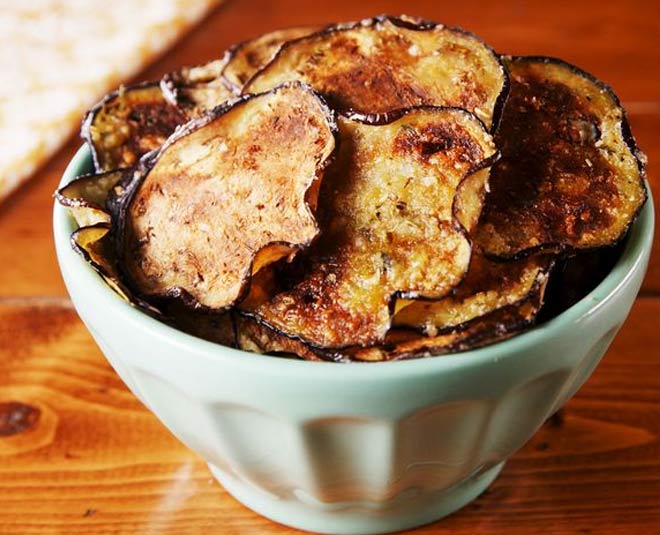 Total Time: 50 minutes
Ingredients
1 medium eggplant
Salt
2 tbsp extra-virgin olive oil
1/4 cup freshly grated Parmesan
1 tsp Italian seasoning
1 tsp garlic powder
Freshly ground black pepper
Method
Preheat oven to 350°.
Cut eggplant into very thin rounds and lay on paper towels in an even layer.
Season with salt, then let sit for 10 minutes.
Transfer the slices to a large bowl and toss with oil.
Add Parmesan, Italian seasoning, and garlic powder.
Season with black pepper and toss until slices are evenly coated.
Arrange eggplant slices in an even layer on a large baking sheet.
Bake until golden and crisp, for 18 minutes.
Let cool and serve.
Zucchini Parmesan Chips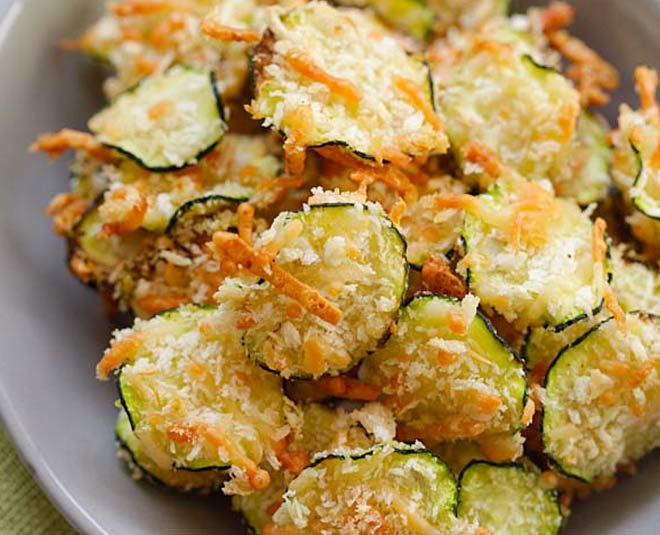 Total Time: 35 minutes
Ingredients
2 large thinly sliced zucchini
Salt
Freshly ground black pepper
1 cup freshly grated Parmesan
Method
Preheat oven to 400º and line a baking sheet with parchment.
Arrange zucchini slices on the baking sheet and season with salt and pepper.
Top each with Parmesan.
Bake until deeply golden and crisp, 20 to 25 minutes.
Serve.
Gold Coins
Total Time: 20 minutes
Ingredients
4 bread slices
1 grated and boiled potato
1 finely chopped onion
1 grated carrot
1 finely chopped capsicum
1 tsp soya sauce
2 tsp tomato sauce
Salt to taste
1/2 tsp black pepper powder
1/4 tsp red chilli powder
Method
In a nonstick pan add onions and water and cook the onions till they become soft and the water dries up.
Now add vegetables and cook for 2 minutes on low flame.
Reduce the heat and add potatoes, tomato sauce, soya, salt, pepper, and the chilli powder, cook for 3 minutes and keep it aside.
Next, take a biscuit cutter or a sharp lid and cut out small 2-inch diameter rounds from the bread.
Spread that potato mixture we made on the bread and press.
Now place them on the grill and bake on 180-degree celsius for 8 minutes till it becomes crispy.
Serve once done.
Cheesy Tomato Boats
Total Time: 20 minutes
Ingredients:
2 big tomatoes
50 grams grated paneer
1 tbsp chopped coriander leaves
1/2 inch piece of ginegr but grated
1 tsp lemon juice
2 crushed peppercorns
Salt to taste
Method
Cut a thin slice from the top of the potato to scoop out all the pulp with a knife or scooper, whatever works for you. Make sure you don't cut the body of the tomato.
Now rub a bit of salt inside and keep them inverted for a few minutes.
Now mix the grated paneer with all the other ingredients and stuff into the shell and press well.
Cut each tomato into 4 pieces lengthwise and garnish with cut olives, coriander.
Mini Suji Uthapams
Total Time: 25 minutes
Ingredients
1 cup sooji
3/4 cup curd
1 finely chopped tomato
1 finely chopped capsicum
1 finely chopped green chilli
1/4 tsp pepper
1/2 tsp chili powder
1/4 tsp turmeric
Salt to taste
Water as required
1/4 tsp Eno
Method
In a bowl mix sooji and curd and then add water and mix.
Now, let the sooji soak in water and yogurt for half an hour. (We want a medium-consistency mixture)
After 30 minutes, add all the vegetables and spices, then mix well.
Now, add Eno and mix in one direction.
Heat non stick Uttapam mini-pan or a normal pan and add little oil.
Pour a ladle full of batter into the tava to make mini uttapams.
Cook until they turn golden brown from both the sides.
Serve with green-coriander chutney
Dal Seekhs
Total Time: 2 hours 15 minutes
Ingredients
1/2 cup Chana dal
1/4 cup Urad ki dhuli dal
A small piece of cabbage
1 small capsicum
1 small onion
10 baby carrots
2 tbsp coriander
1 small green chili
2 cloves of garlic
1 tbsp ginger
For the Masala
1 tsp garam masala powder
1.5 tsp coriander powder
2-3 thin strands of javitri
1/4 tsp nutmeg powder
1/2 tsp crushed black peppercorns
1 tsp roasted cumin seeds
1/4 tsp elaichi powder
1/2 tsp red chili powder
Salt to taste
1/2 cup besan
2 tbsp oil to cook Kebabs
1 tbsp chaat masala
Method
Soak chana dal and urad dal for 2 hours.
Then drain of water and add both to a food processor.
Add spices one by one and give the batter a fine churn.
Now add the vegetables, spices and mix with a spoon.
Season as per taste.
Transfer it to a bowl and add besan. Mix it well.
Next, take the mixture in your hand and make the kebab shapes.
If you are finding it difficult to shape the kebabs then apply some oil in your palms and try shaping them.
After shaping them, refrigerate them for 30 minutes.
After 30 minutes of heat oil in a kadai and then add kebabs on a medium flame.
Cook until well browned, stirring occasionally, for about 15 minutes.
Veggie seekh kebabs are ready.
Cornflakes Ki Chaat
Ingredients
1 cup cornflakes
1/4 cup sev
1 chopped medium size onion
1 chopped medium size tomato chopped
1 grated carrot
3 tbsp chopped cucumber
1 small diced potato
Lime juice
Chopped coriander leaves
1/2 tsp green chutney
1/2 tsp jeera powder/cumin powder
1/4 tsp red chilli powder
1/4 tsp chaat masala
Salt to taste
Method
Take a bowl and mix in all the ingredients but add cornflakes in the end to retain the crispiness.
Serve with tea.
Tomato Bruschetta
Total Time: 30 minutes
Ingredients
6 tomatoes
2 cloves minced garlic
1 tbsp extra virgin olive oil
1 tsp balsamic vinegar
2 tbsp chopped coriander leaves
Salt to taste
1/2 tsp freshly ground black pepper
Toasted breads divided into 4 pieces.
1/4 cup olive oil
Method
Blanch and peel the tomatoes and then let it cool.
Peel the skin and cut them into quarters and squeeze out most of the juices and seeds.
Preheat oven to 450°F with a rack in the top slot of the oven.
Chop tomatoes, toss them with vinegar, coriander, garlic, olive oil, salt and pepper
On the bread, add olive oil before making a toast.
Use a bread knife to slice the toast into 4 pieces.
Then cut a clove of garlic in half and rub over one side of the toast.
Then brush with olive oil.
Serve toasted bread with tomato mixture by arranging the toasted bread on a platter, olive oil side facing up.