These amazing vegetarian and non-vegetarian recipes of spring rolls are easy to make at home and turn out to be mouth-watering and perfectly crunchy if made from the heart with all that love for food! You want to prepare some snacks then this is your answer. Binge watch your fav movies or series with spring rolls on the sides to munch on. So what are you waiting for? Go on, scroll down and gather these ingredients for a stress-busting session of cooking now!
Veg Spring Roll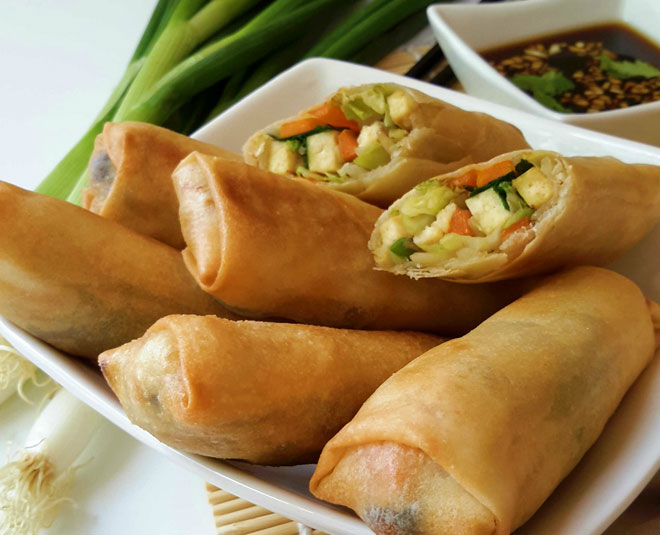 Ingredients
Spring roll sheets 12
Sesame oil 2 tsp
finely chopped garlic 1 tbsp
Chopped ginger 1 tbsp
finely chopped with different colours separated spring onion 4
Julienned carrot 1 large
Diagonally cut green beans
1/2 julienned red bell pepper
Julienned cabbage 2 cups
1 tsp sugar
2 tsp soya sauce
2 tsp ground black pepper
3/4 tsp salt
Oil
1 tbsp all purpose flour
Method
Thaw the frozen sheets and later cover with a clean damp cloth and leave it for another 15 mins.
Chop the veggies and keep them aside.
Heat a large pan with sesame oil.
Add the ginger, garlic and saute for 30 secs.
Then add the white part of the spring onion and saute for another 30 secs.
Add all the veggies (carrot, cabbage, bell pepper, green beans), sugar and saute for a minute.
Then drizzle the soya sauce, sprinkle the fresh ground black pepper and salt and saute for 2 minutes or until the mixture becomes dry.
Once done, add the green part of the spring onion, give a quick mix and turn off the flame.
Transfer the filling to a baking sheet or large tray.
Leave the sheet/tray stand in slanting position and let the filling cool down completely.
This will help in draining out excess liquid from the filling.
For sealing the spring rolls, prepare a paste by mixing the all purpose flour with 1 1/2 tbsp water and keep aside.
Now place the sheet on a clean flat surface.
Place a spoon full of filling about 2 cms away from the corner of the sheet.
Now pick up that corner and roll into a tight wrap around the filling.
Once you roll till the center of the sheet, fold both right and left corners towards the center. Continue to roll.
Once the roll comes to the opposite corner, brush the corner with the flour paste and stick the corner nicely to the roll.
Make sure that there are no gaps in the roll.
Heat a pan with oil and once the oil is hot, drop the spring rolls one by one and fry until golden brown.
As our stuffing is already cooked we need not cook the spring rolls in low/medium flame.
You can fry them in high flame.
Drain them on a paper napkin.
Serve with ketchup or sweet dips.
Non-Veg Spring Roll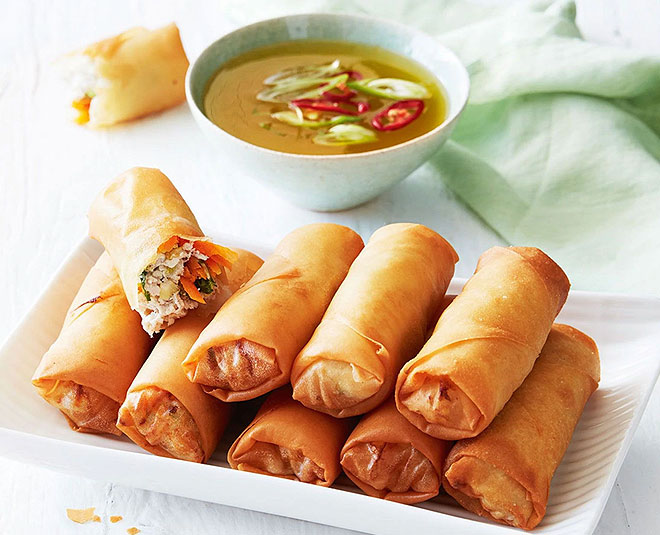 Ingredients
1 tbsp groundnut oil, add extra for deep-frying
200 g chicken chopped into small pea-sized pieces
4 dried mushrooms, soaked in hot water for 20 minutes, drained and finely chopped
1 tbsp light soy sauce
1 tbsp five-spice powder
1 tsp grated fresh root ginger
75g beansprouts
2 large spring onions, finely sliced lengthways
1 tbsp oyster sauce
½ tbsp light soy sauce
Sea salt and ground white pepper
16 ready-made large spring roll wrappers
1 egg yolk, beaten
Don't Miss: These 'Kaddu' Recipes Are Amazing To Beat The Summer Heat!
Method
Heat a wok until smoking and add the groundnut oil, then add the chicken and mushrooms and stir-fry for 1-2 minutes.
Season with soy sauce and five-spice powder, then remove from the wok and set aside to cool for ten minutes.
Wipe the wok clean with kitchen paper.
Place the grated ginger, beansprouts, spring onions, and carrot into a bowl, then add the chicken and mushrooms and season with the oyster sauce, soy sauce, sea salt, and ground white pepper.
Stir well to combine.
Lay two spring roll wrappers one on top of the other.
Spoon two tablespoons of the filling into the centre of the wrapper.
Brush each corner of the wrapper with the cornflour paste, then bring the two opposite corners on the sides together and, keeping your finger on those edges, bring the bottom corner towards the middle and then roll the pastry up tightly towards the top corner.
Tuck the top edge in and seal it with a little of the beaten egg yolk. Repeat with the remaining spring roll wrappers and filling.
Heat the wok over high heat and fill the wok to a quarter of its depth with groundnut oil.
Heat until a cube of bread dropped in sizzles and turns golden-brown in 15 seconds.
Carefully lower the spring rolls in small batches into the oil and deep-fry for 2-3 minutes, or until golden-brown. Remove with a slotted spoon and drain on kitchen paper.
Transfer the spring rolls onto a plate and serve immediately