Green Peas, also popularly known as garden peas is one of the vegetable crops in India and basically, this crop is cultivated for Its green pods. Green peas belong to the legume family and are used in vegetable cooking in soups, frozen, canned food as well.
One of the most interesting and useful ingredients to have in our kitchens are it fresh when in season or even the frozen varieties, it is always a feeling of satisfaction and contentment having some peas in stock on hand since it is simple to add it into any kind of preparation be it in combination with aloo as aloo mattar one of the most popular subzi we make in routine cooking to me, green peas are one of those color and crunch elements to add into almost every dull or not so appetizing to look at recipe be it with a vegetable or non-veg or even pulao for that matter.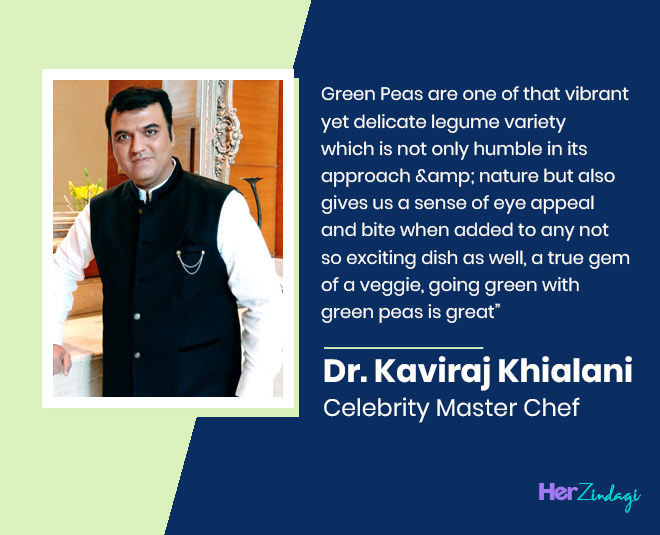 Working with green peas is always interesting since they cook pretty fast and are a great feel of filling and satiety value as well in dishes be it Indian or continental, in gravy or a dry preparation, be it a green pea mash or puree to go with the famous fish –n- chips or a nutritious green pea soup during the rainy season or winters.
Here Are A Few Health Benefits Of Green Peas
Green peas are good immunity-boosting legumes and also aid indigestion.
Green peas are high in protein content and lower bad cholesterol in our bodies.
Green peas promote eye health and vision and are anti-inflammatory.
Green peas regulate blood sugar and are good for bone health as well.
Green peas are high in micro-nutrients and aid liver functions.
Green peas are anti-aging and are also high in fiber content.
Green peas help lose weight and prevent constipation.
Let us try out a few simple and easy-to-make and nutrient-rich recipes using Green Peas!
Healthy Minted Pea Soup
Ingredients
Green peas- 1 cup
Oil-1 tsp
Cumin seeds-1/2 tsp
Ginger- garlic paste-1/2 tsp
Onion-1/2 chopped
Mint leaves-10-12 no
Spinach leaves- 1 cup
Maida-1 tsp- optional
Sweet potato-1 small peeled and diced
Salt and pepper to taste
Mixed herbs-1/4 tsp
Chili flakes-1/2 tsp
Flax seeds/ sunflower seeds-1 tsp,
Water/ veg stock- 3-4 cups
Cashew paste-1 tsp
Fresh cream-2 tsp
Fresh herbs/ greens for garnish.
For the non-veg option- can add boiled chicken cubes as garnish.
Method
Prepare all the ingredients for the minted pea soup.
Heat oil in a saucepan add in the ginger garlic paste and add chopped onion, saute for 1 min.
Add in the peas, mint and salt, pepper, herbs, chili flakes, maida, sweet potato, seeds of your choice, and saute for 1 min.
Add in the spinach leaves, water/ veg stock, and allow to boil, simmer and cook in an open saucepan for 12-15 mins, cool, puree, and strain the soup.
Now check the soup for taste, texture, and flavor and adjust it also add in the cashew paste and some fresh cream and simmer for 2 mins, serve hot garnished with greens, and a touch of cream.
Continental Chicken And Pea Combo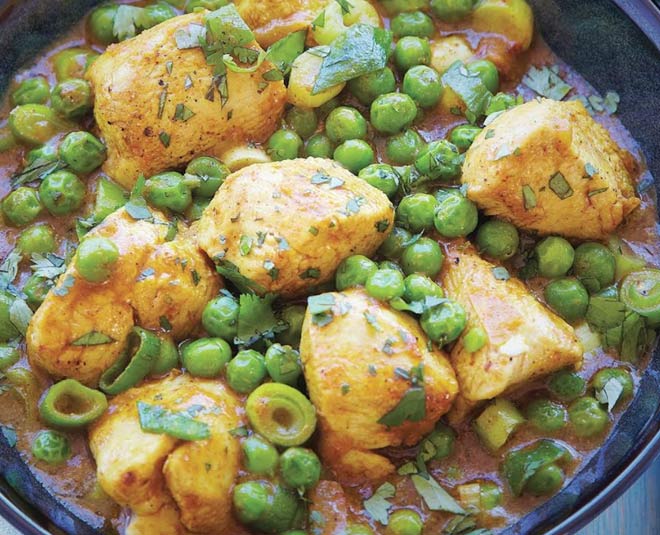 Ingredients
Chicken- 500 gms curry cuts/small pieces with bones.
Green peas-1 cup boiled.
Oil-1 tsp
Butter-1 tsp
Bayleaf-1 no
Peppercorns- 3-4 no
Onion-1 chopped
Garlic-1 tsp chopped
Salt and pepper to taste
Mixed herbs-1/2 tsp
Almond/cashew paste-2 tsp.
White wine-2 tbsp. Optional.
Water/stock-2 cups
Tomato puree-1/2 cup
Fresh cream-1/2 cup
Parsley-2 tsp chopped
Cheese-2 tbsp. grated.
Method
Prepare all the ingredients for the chicken and pea combo recipe.
Heat oil and butter in a pan, add in the bay leaf, peppercorns, garlic, onion, and saute for 1 min.
Add in the chicken pieces, salt, pepper, herbs, tomato puree, and saute for 2 mins, add peas, little water, or stock and simmer for 4-6 mins.
Add almond/ cashew paste and a little cream and blend it well and continue cooking for 3-5 mins more on low flame, finally, check if chicken is well done add the grated cheese and mix, add parsley for garnish and serve hot with bread rolls.
Soya Mattar Paranthas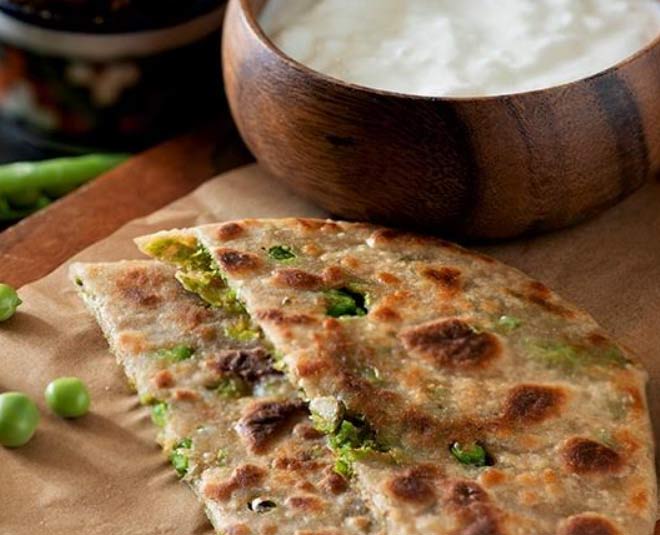 Ingredients
For the paratha dough:
Whole wheat flour-1 cup
Maida/ soy flour- ¼ cup
Salt to taste
Ajwain-1/2 tsp
Kasuri methi-1 tsp
Oil/ghee-2 tsp
Warm water to make dough
For the soya mattar stuffing:
Oil-1 tsp + as needed to cook parathas
Ghee- 1 tsp
Ginger-garlic-chili paste-1 tsp mix
Soya granules/ keema- ½ cup soaked in 1 cup warm water- 10 mins
Green peas-1/2 cup boiled and lightly mashed.
Salt to taste
Garam masala powder-1/2 tsp
Coriander leaves-2 tsp chopped
Mint leaves- 2 tsp chopped
Chaat masala-1/2 tsp
Cheese- 2-3 tbsp. grated.
Method
Prepare all the ingredients for the soya mattar parathas.
Prepare the hard dough for parathas and keep covered for 20 mins.
Heat oil and ghee in a kadai and saute the ginger-garlic-chili paste and add in the soya keema and peas, salt and all masalas and cook for 3-4 mins, simmer and cook for 3-4 mins more add coriander leaves and turn off flame, add cheese when cooled down.
Divide dough and stuffing into 4-5 equal parts and start rolling each piece of dough and stuff with the cooled filling and re-shape and roll into ½ inch thick parathas, using a tava/non-stick pan with oil or ghee cook the parathas on both sides to a nice golden color and cut, serve with curd, papad, achar.
Wholesome Herbed Pea Dip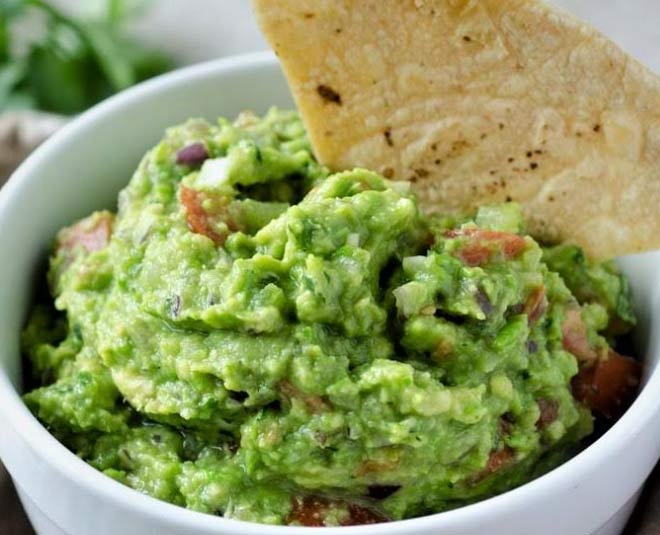 Ingredients
Green peas- 1 cup boiled
Kabuli chana-1/4 cup boiled
Garlic-1 tsp chopped
Green chili-1 tsp chopped
Salt and pepper to taste
Mint and coriander leaves-1/2 cup
Fresh basil-5-6 no.
Sweet potato- ½ cup boiled and grated
Roasted crushed peanuts-1/4 cup
Olive oil/ oil- 2-3 tsp.
Chilled water-2-3 tsp
Lime juice- 2-3 tsp
Chaat masala-1/2 tsp
Roasted crushed jeera-1/2 tsp
Grated cheese/ cream cheese/ veg mayonnaise- 2 tsp
To serve with: chips/ crackers/vegetable sticks/ fried snacks.
Method
Prepare all the ingredients for the herbed pea dip.
Using a jar of a mixer-grinder or a food processor combine all the ingredients and churn them into a nice coarse smooth paste.
Use chilled water/ oil/ lime juice to blend the mixture and remove it into a bowl, adjust the salt and lime and allow the mixture to chill in the fridge for 1 hour.
Before serving give it a nice mix and add in the cheese towards the end and little chaat masala, a few chopped tomatoes or red capsicum dices for color contrast and crunch, arrange the dip in a serving bowl and enjoy.
Chutney Peas Pulao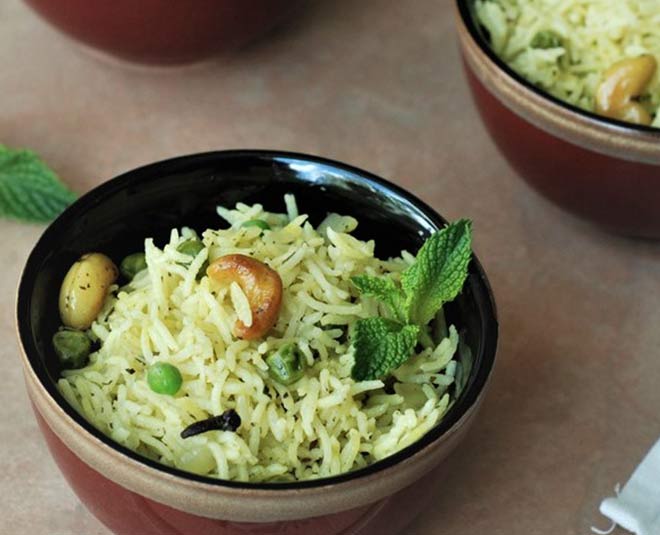 Ingredients
For the rice mixture
Basmati rice-1 cup cooked/boiled.
Oil-1 tsp
Ghee-1 tsp
Fried brown onions-1/4 cup
Mint and coriander leaves- 2 tbsp.
Lime juice-2 tsp
Fried nuts-2-3 tsp
Rose water-2-3 tsp
For the peas and masala:
Oil- 1 tsp
Ghee-1 tsp
Garlic-1 tsp chopped
Cloves- 2-3 no
Cinnamon stick-1 piece
Onion-1 small chopped
Green peas-1 cup boiled.
Salt and garam masala to taste
Flax seeds/ melon seeds- 1 tsp
Green chutney- ½ cup made with mint and coriander, thick texture.
Method
Prepare all the ingredients for the chutney wala peas pulao.
Heat oil and ghee in a pan and saute the rice with browned onions, salt, add the nuts, rose water, mint, coriander, and lime juice and mix well, cook for 2-3 mins.
Heat oil and ghee and saute the garlic, cinnamon, cloves add in the peas, seeds, salt, and garam masala powder cook for 2-3 mins, add in the green chutney and toss well on a low flame, top with the rice and give dum for 8-10 mins and open, serve hot garnished with nuts!
Kaviraj Khialani is a celebrity masterchef, author, consultant, food designer, food writer, and creative cuisine specialist with varied experience in hotels and airlines. For more recipes and articles like these, stay tuned to Her Zindagi.