Easy to digest and loaded with amazing health benefits, oats, and oat dishes are great for one and all. This particular ingredient is gluten-free whole grain and a great source of important vitamins, minerals, fiber and antioxidants. Oats and oatmeal have many wholesome benefits including weight loss, lower blood sugar levels, and a reduced risk of heart disease. Here are a few recipes from the house of Quaker Oats that you could try for a healthy Raksha Bandhan:
Oats and Dates Pie
Image courtesy: Quaker Oats

Ingredients:
20g roasted and powdered oats
20g semolina (Suji)
Sugar to taste
2.5ml oil
5g chopped dates
1 tsp lemon juice
50g peeled and grated apple
15g chopped walnuts
2 tsp boiling water
Preparation:
Mix oats and semolina with sugar and oil
Mix apples, dates and walnuts. Add boiling water and lemon juice and stir till smooth
Pre-heat oven (375°F). Grease a baking dish
Spread half of the oats and semolina mixture in the dish
Top it with a layer of date mixture and cover with rest of oats mixture
Bake for 35-40 mins. (Reduce heat after 20 mins if topping is becoming brown)
Chocolate Baked Oats with Chocolate Chips
Ingredients:
1½ cups oats
⅓ cup sugar
¼ cup melted butter/oil
Egg white from 2 eggs
1 tsp baking powder
¾ cup skimmed milk
1 tsp vanilla flavour
2 tbsp cocoa
⅓ cup chocolate chips
Method:
Pre-heat the oven to 180°C
Grease an 8" pan or line a cupcake tray with cupcake liners
Mix all ingredients together.
Bake for 20-25 min or until the edges are golden brown.
Oats and Carrot Kheer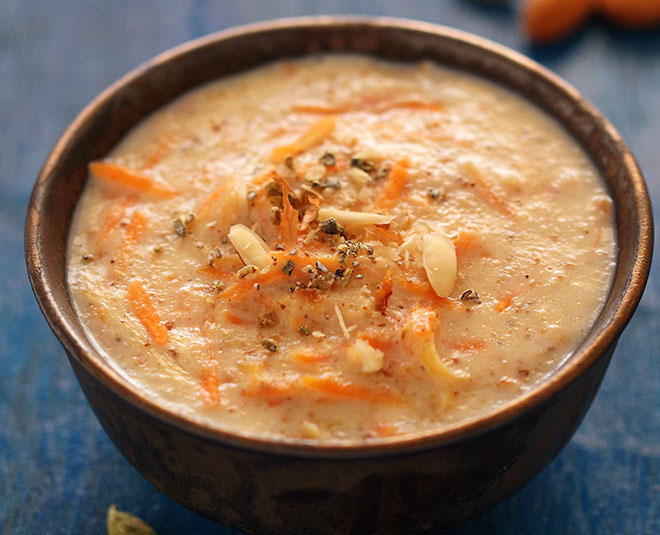 Image courtey: Quaker Oats

Ingredients:
15g roasted oats
300ml skimmed milk
50g grated carrots
1 tsp sugar
1 green cardamom
Preparation:
Boil milk, add carrots and simmer for 10 mins.
Add oats and cook on slow fire stirring continuously.
When kheer thickens to an even consistency, add sugar and green cardamom powder.
Cook for a few more mins, stirring constantly.
Remove from fire and serve hot.
Oats Burfi
Image courtesy: Quaker Oats
Ingredients:
Oats (roasted and powdered) 50g
Sugar 35g
Khoa (grated and mashed) 15g
Ghee 5g
Almonds (powdered) 15g
Cardamom (powdered) 1
Method:
Boil sugar and water to make syrup.
Heat ghee in a pan and roast the oats powder (For powdered oats, roast them 2-3 mins. Cool and grind in a mixer) till it gives aroma.
Add khoa in the pan and cook for few minutes on slow fire with continuous stirring.
Add sugar syrup. Cook it again with continuous stirring on slow fire till the mixture leaves the side of the pan.
Remove from there and add almond powder and cardamom powder.
Spread on a greased thali and allow it to cool.
Cut and serve..