One thing we all love about this hot and humid season is that it brings along fresh, juicy mangoes. If you are a mango lover who awaits the summer season throughout the year just to relish those mango delicacies then you have landed on the right page.
We thought of bringing you easy, quick mango drink recipes which you can enjoy this season. These refreshing drinks require just a few ingredients and are ready within a few minutes.
1 Mango Sherbet
On a hot summer day, you would love to relish this mango sherbet which cools your entire body instantly. This one especially is a must-try if you are bored having those regular rose and orange sherbets at home.
Peel mango and cut it into small cubes. In a blender, add mango cubes, ice, lemon juice, and sugar as per taste. Blend to make a juice. Strain the mixture and your cool mango sherbet is ready.
2Aam Panna
If you have a thing for raw mangoes, try this refreshing aam panna drink. It is tangy and sweet, just your perfect summer cooler.
Pressure raw mangoes and remove the peel once soft.
Using a strainer, strain raw mango pulp.
In a blender, add mango pulp, sugar as required, roasted cumin powder, black salt to taste. Blend to make a concentrate.
Pour this concentrate into a glass container.
To make aam panna, take 2-3 tbsp of the concentrate in a glass.
Add chilled water, stir and enjoy the drink!
3Mango Iced Tea
If you would like your mangoes with a hint of tea then prepare this refreshing iced tea at home. (red grape iced tea recipe)
In a saucepan, add mango cubes, sugar, and water.
Once the sugar dissolves, remove it from heat.
Mash the mangoes with a masher and keep them aside.
Once cool, strain the solids.
In another saucepan, add 6 cups of water and 10 green tea or black tea bags, and bring to a boil.
Allow to steep.
In a glass, add 4 tbsp of mango syrup and pour tea over it. Stir and enjoy!
4Mango Lassi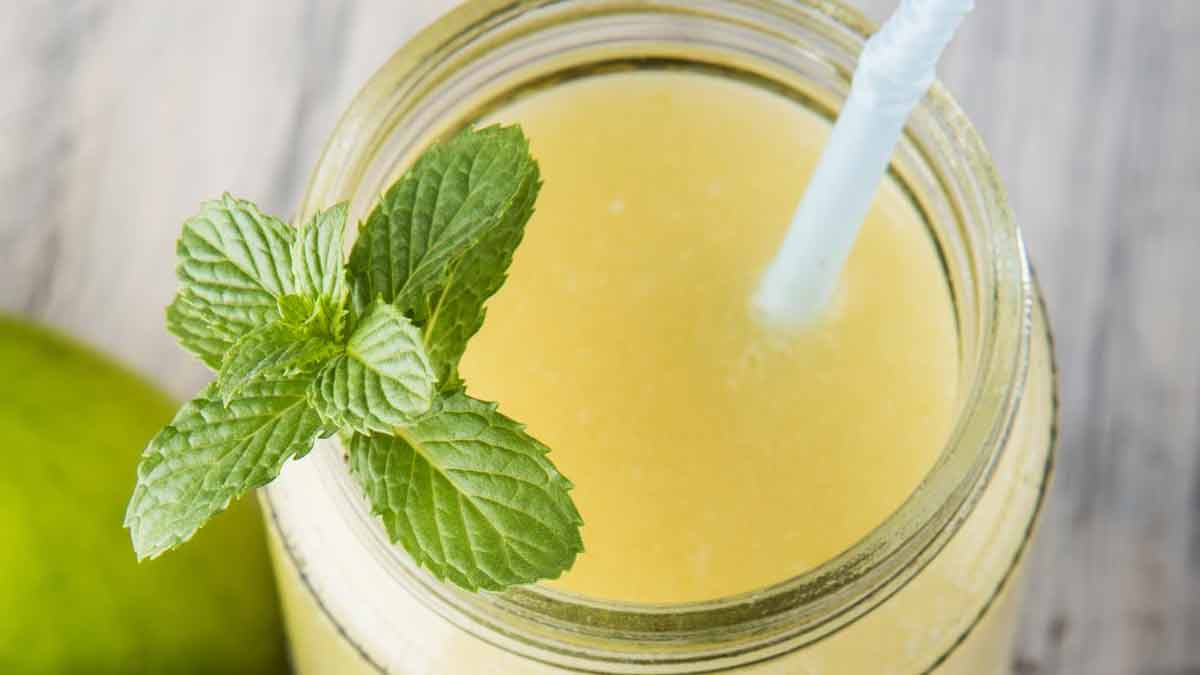 Nothing like relishing a creamy and delicious mango lassi while chilling at home on a hot day and enjoying your favourite show on television. Agree? Try making this easy lassi with a mango twist.
In a blender, add 1 cup diced mangoes, 1 cup plain curd or yogurt, 1/2 cup milk, sugar as per taste, and ice cubes.
Blend till you get a thick, smooth lassi. Enjoy!
5Mango Mojito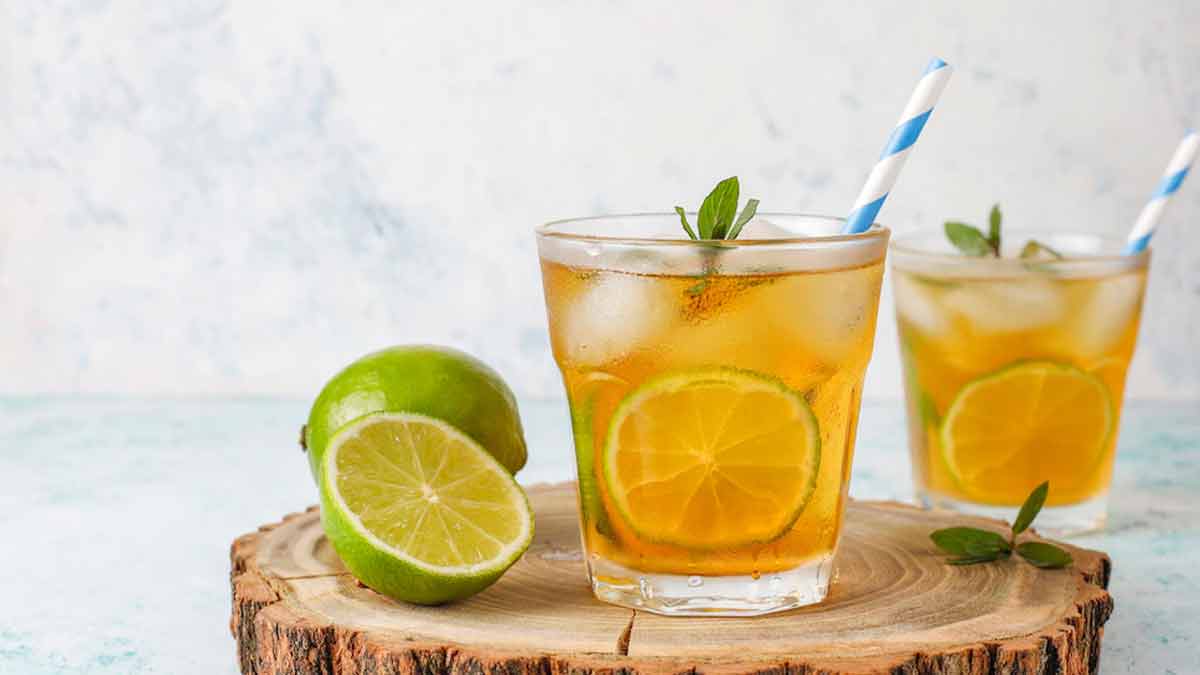 A refreshing non-alcoholic summer drink with the sweetness of mangoes and freshness of lemon.
In a blender, add mango pulp, water, and sugar. Blend to make a juice. Keep it aside.
In a serving glass, add some mint leaves, salt to taste, lemon wedge, and using a spoon, crush the ingredients a little.
Fill the glass with 1/4 cup of mango juice.
Add ice cubes and chilled water.
Enjoy!
6Mango Shikanji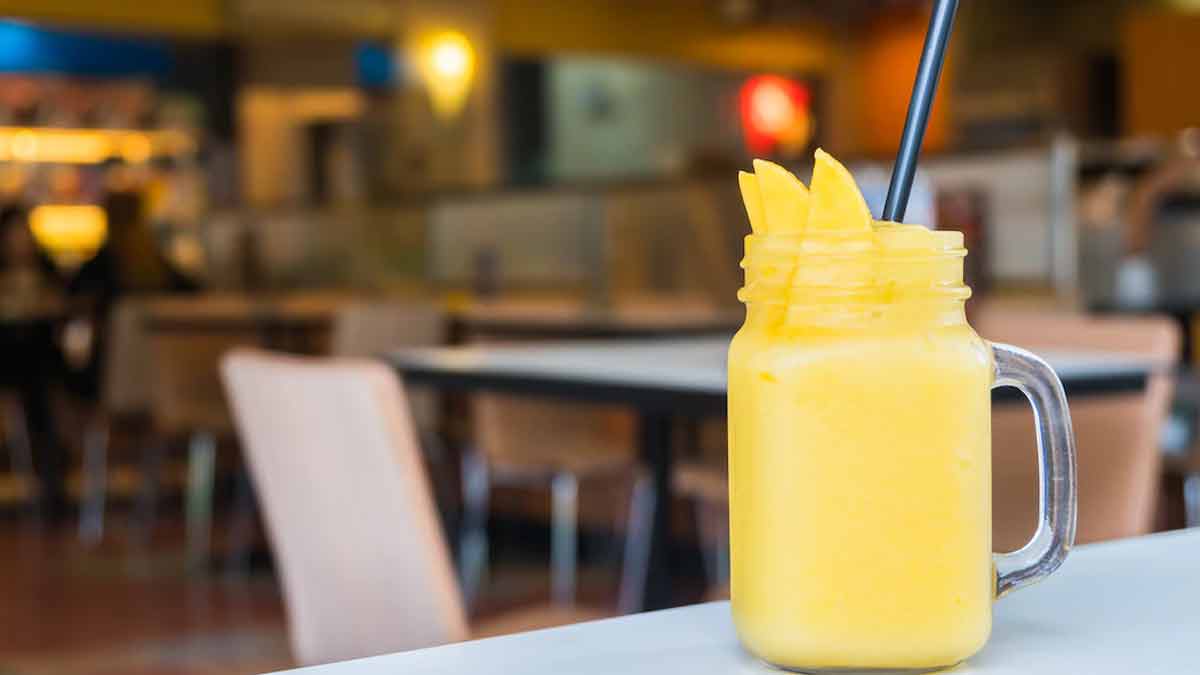 Beat the heat with a chilled glass of mango shikanji. The sweetness of mango and sourness of lemon, it is a win-win combo.
In a big jug, add chilled water, black salt, cumin powder, chaat masala powder, black pepper powder, and lemon juice.
Add mango pulp to it and stir well.
Drop-in some ice cubes and mix.
Enjoy!
7Mango Thandai
This mango thandai has the goodness of mango and healthy nuts. If you have a calling for traditional drinks then this homemade thandai recipe deserves your attention.
Soak almonds, cashew nuts, peppercorn, and fennel seeds in water for 1 hour.
Peel the almonds and grind all the ingredients smooth. Add water if required.
Filter the solids.
In the same blender, add mango cubes, sugar, and nut mix.
Add cold milk and blend.
Strain and enjoy chilled.
8Mango Milk Shake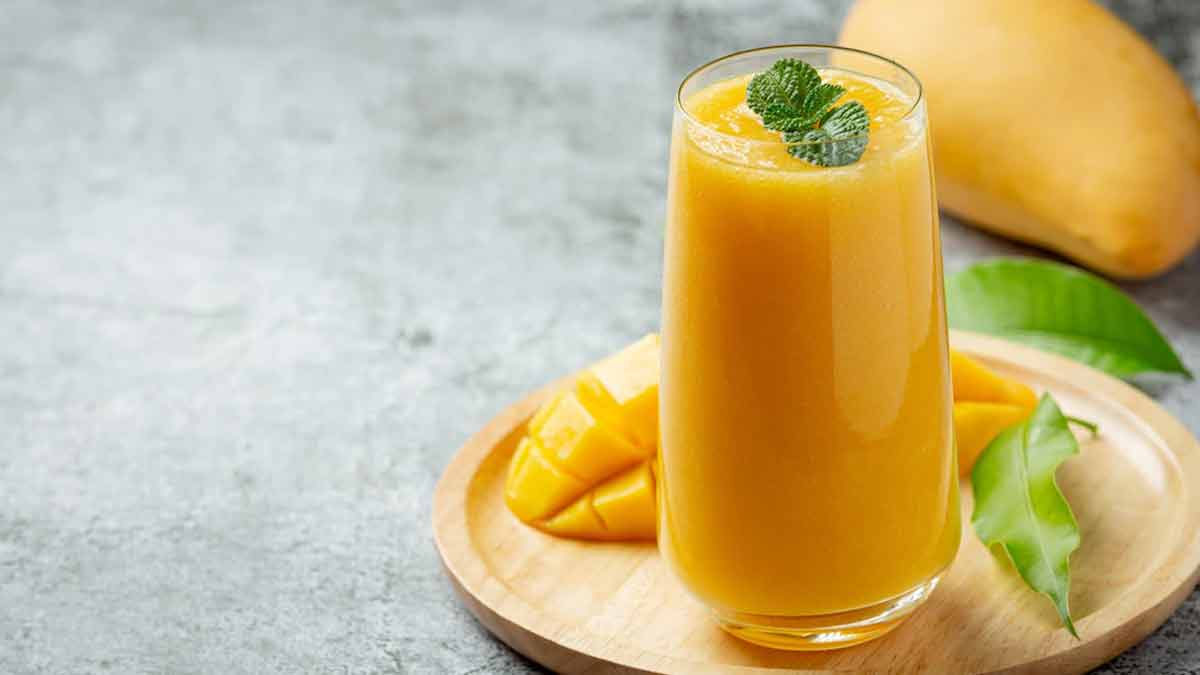 On days you crave a filling, chilled drink, make a mango milk shake. It is just the perfect evening drink for kids and can be served with some crispy snacks.
Wash and peel mangoes. Cut into small pieces and add to a blender.
Add 1 cup milk, sugar as per taste, and ice cubes.
Blend until smooth. Pour into a glass and enjoy!
9Mango Smoothie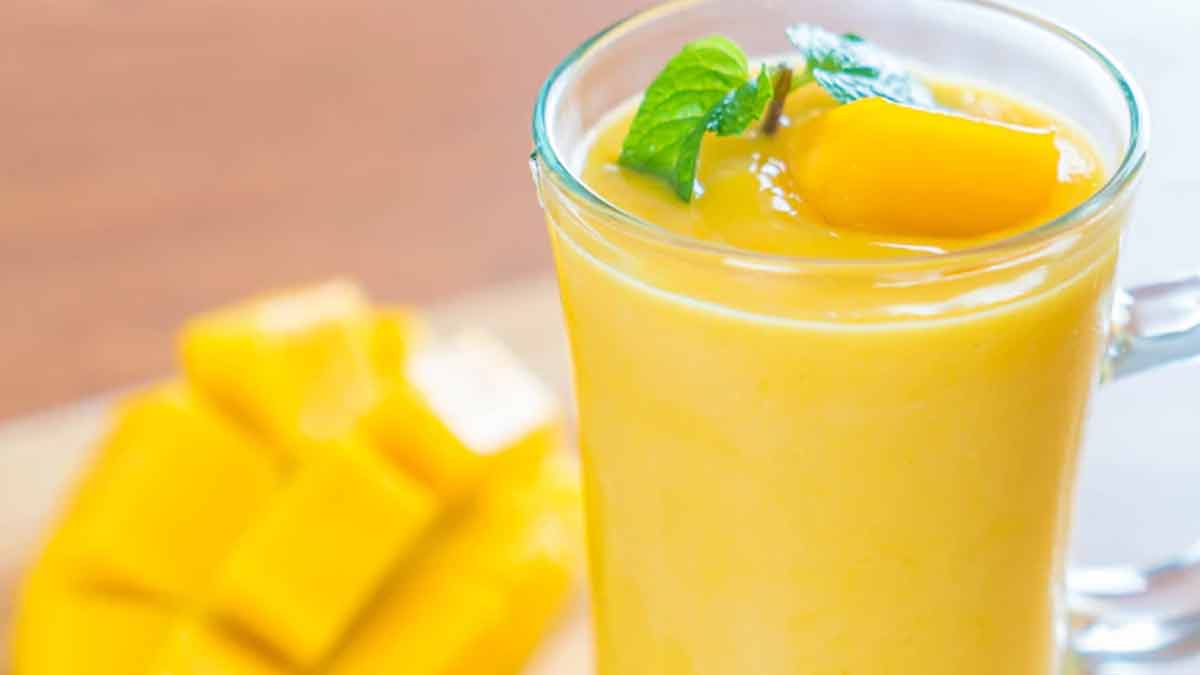 This easy-to-make mango smoothie will become your go-to breakfast. It is super refreshing and filling. Enjoy it as is or with your regular toasts and eggs for a complete breakfast meal.
In a blender, add mango cubes, milk, yogurt, ice, and honey as per taste. Blend to make a smooth mix. Serve.
10Mango Soda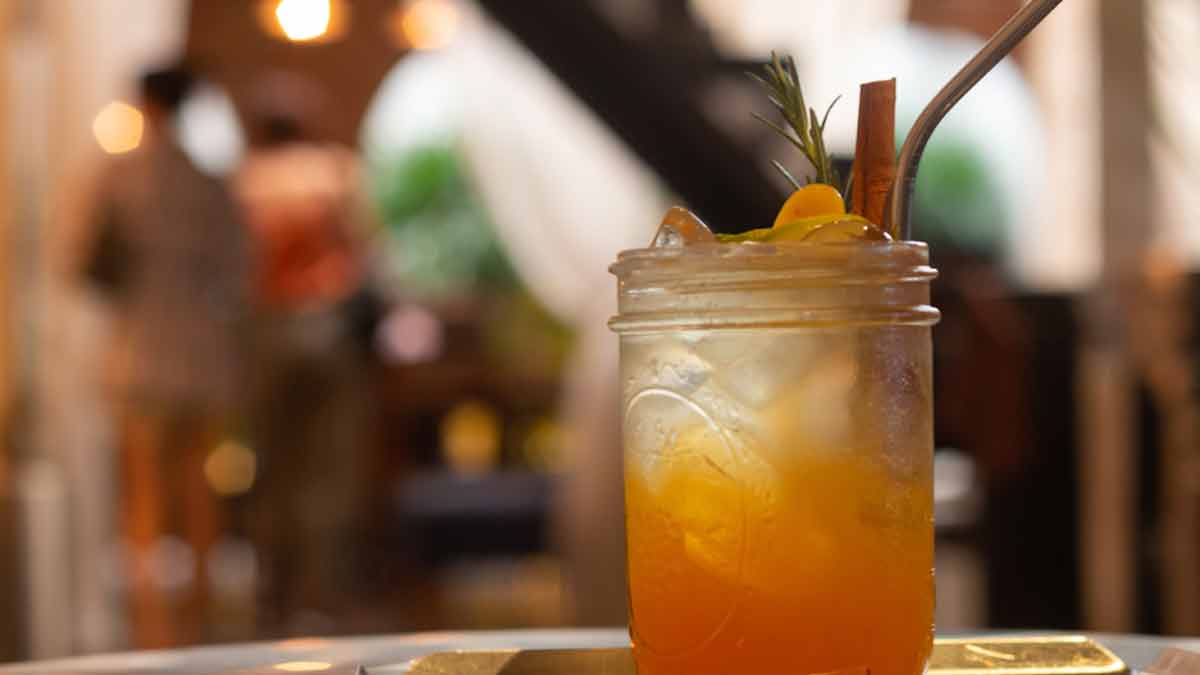 Love your summer drinks with a hint of soda? Make this easy mango lemon soda at home with just a few ingredients and enjoy it on a hot afternoon.
In a blender, add mango puree, sugar as per taste, and 1/2 tsp black salt. Mix.
Pour this mixture into a glass and top it with soda.
Add ice cubes and serve immediately.