Lemon is a must in most households given the number of uses it has. It is not just the uses, in fact, it has many health benefits. From being an excellent home remedy for stomach disorders to helping in weight loss, lemon is a must-have. It refreshes us when we are tired, it helps in dissolving kidney stones, it even helps in controlling our blood pressure. Lemon has many healthy minerals as well such as calcium, potassium, iron and copper. We can reap all these benefits with a lemon pickle because of the method in which they are prepared. So here are few different pickles that are lemon-based and delightful when had with meals. Build your immunity, reduce muscle cramps with these easy pickle or aachaar recipes.
South Indian Lemon Pickle Recipe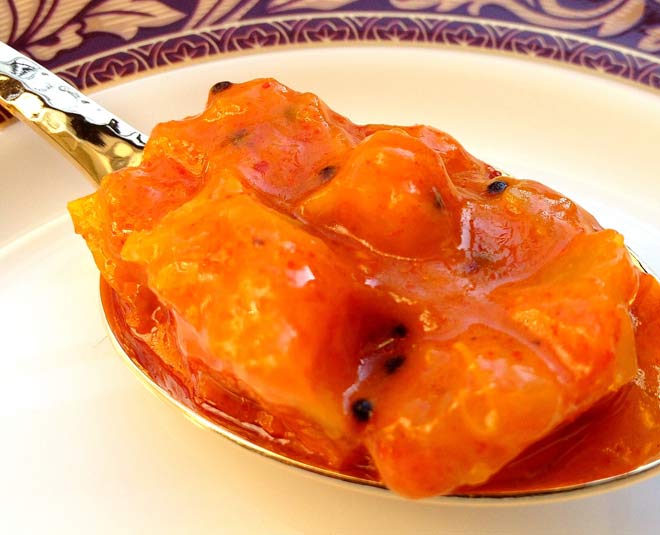 Ingredients:
1 kg chopped lemons
125 gms salt
50 gm chilli powder
25 gm ground fenugreek seeds
8 gms asafoetida or hing
1 tbsp haldi
1/2 cup sesame oil
Method
Heat the oil and saute the lemons in it for 10 minutes on low flame.
Add the chilli powder and salt then again saute for 10 minutes.
Next, add fenugreek seeds, haldi and hing and boil. Once it comes to boil, cook it for 10 minutes.
Once done, take it off the heat and let it cool down completely.
Store it in an urn or a glass jar for 15 days and when it matures, it is ready to serve.
Don't Miss: Nutritionist Rujuta Diwekar Lists Importance, Right Time To Have Amla Pickle, Murabba
Shimla Mirch & Nimbu ka Achaar
Ingredients
1.2 kg capsicum
5 chopped lemons
2 cups lemon juice
3/4 cup salt
6 tbsp cup powdered fennel seeds
6 tbsp powdered cup mustard seeds
1/4 cup haldi
1 tbsp roasted and powdered onion seeds
1/4 cup fenugreek seeds
1/2 tbsp hing
1/2 cup vegetable oil
Method
Slit the capsicums vertically on one side.
Mix together the powdered fennel, mustard seeds, salt, haldi, onion seeds, fenugreek seeds and hing.
Add 1/4 cup of oil and 1/4 cup of lemon juice.
Take the spice mixture prepared above and fill it in the capsicums.
Mix the lemon pieces into the rest of the salt.
Fill an airtight glass jar or an urn in layers. First a layer of lemon juice and then the capsicum, so on and so forth.
Pour remaining lemon juice and let it sit for 3-4 days.
Next, heat the rest of the oil, after 4 days and let it cool down. Pour into the jar.
Serve it right away if you like crunchy capsicum and if not, let it mature and soften for 10 days. Make sure the capsicum is covered with oil so as not to let it spoil.
Don't Miss: Delicious And Healthy Amla Pickle Ready In Just 10 Minutes With This Easy Recipe
Nimbu Adrak ka Achaar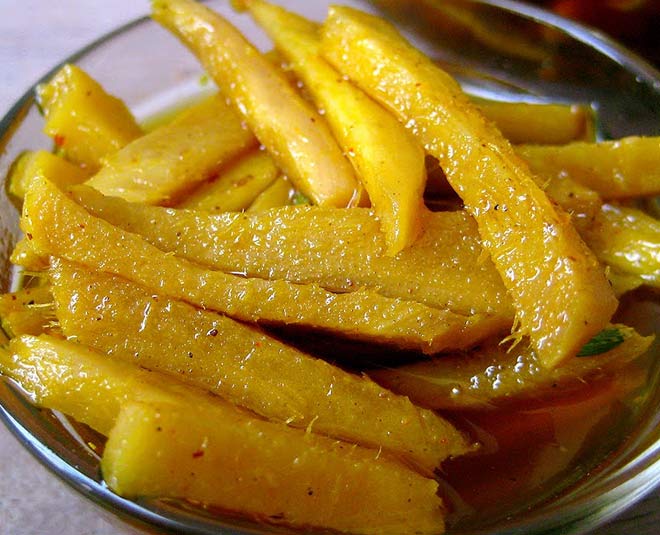 Ingredients
1/2 kg cut into 4 pieces, sour lemon
3/4 cup salt
1/2 cup sliced ginger
1/2 tbsp chilli powder
1/2 tsp hing
Method
Rub the mixture of all these contents on the lemon pieces and put them in a glass jar.
Place the jar in sunlight for 30 days and then serve with paranthas, curries, or whatever you like during mealtime.
For more such easy and useful recipes, stay tuned to HerZindagi.