The food of Italy is world famous and we all have tried the varieties and popular favorites from this cuisine. The pizzas, pasta, risotto, Italian stews, starters like antipasti, Italian baked dishes, the fresh pesto sauce, not to forget the Italian wines, cheese, breads & desserts! there is so much to pick & choose to relish this delectable cuisine.
The basic ingredients which we usually come across in an Italian kitchen include the extra virgin and varieties of olive oil for it adds a unique flavor to the food, the fresh herbs ideally grown in kitchen backyards and in house varieties from basil, thyme, oregano, rosemary and the mixed blends are great to add into Italian foods. Garlic, onion, tomatoes, chili flakes, fresh choice of veggies from zucchini, broccoli, asparagus, baby carrots, potatoes, eggplants are a few of the popular ones used.
Non-vegetarian options include the poultry, eggs, fish and seafood, red meats are preferred as well in stews and marinated grilled and served as main meals too with complimenting wines. Italian national favorite soup minestrone is a must have, healthy and nutritious as it is offers a good balance of nutrients and great for the taste buds. Breads like focaccia, panini, sun-dried tomato- olive bread, ciabatta, herbed rolls are amazing to use for sandwich making. Italian desserts like tiramisu, Pannacotta, cassata are some well known ones as well.
Here are a few recipes from Italian cuisine to give a try!
Roasted Pepper & Tomato Soup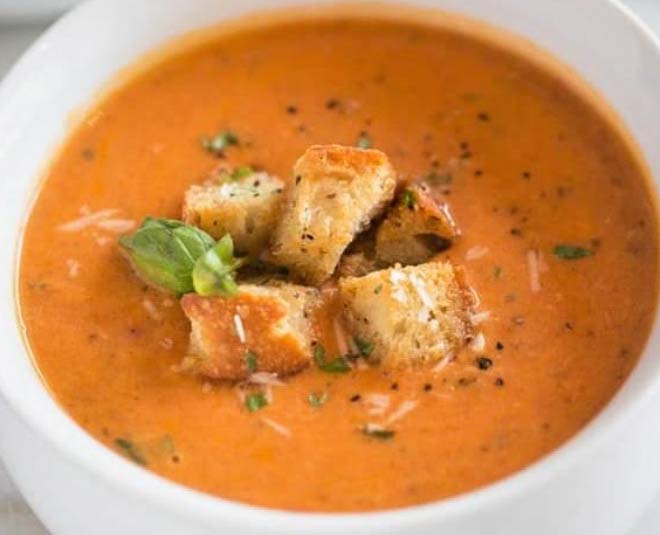 Ingredients
Red Capsicum-1
Red, Ripe Tomatoes- 3-4
Garlic- 4-5 Cloves
Onion-1 Small Chopped
Celery- 1 Stalk, Chopped
Salt And Crushed Black Pepper To Taste
Fresh Basil- 10-12
Veg Stock- 3 to 4 Cups
Tomato Puree-2-3 Tbsp.
Chili Flakes-1/2 Tsp
Refined Flour- 1 Tbsp.
Butter-1 Tsp
Olive Oil-2 Tsp
Fresh Cream-2 Tbsp.
Grated Parmesan/Cheese-2 Tsp
To serve with:
Herbed Croutons- ½ Cup Toasted/Fried/Baked.
Method
Assemble all the ingredients for the soup.
Apply a little olive oil on the red capsicums and tomatoes and place them in an oven to roast for 20-25 mins or on a live flame until charred a little from all sides, remove and process in a mixer jar and keep aside.
Heat oil and butter in a pan add in the garlic, onions and saute them well add in celery, the flour and saute for 12-15 seconds, now add in the pepper-tomato puree and little stock as well to adjust the texture for the soup.
Add in the salt, pepper, basil leaves, chili flakes and allow to boil, simmer for 12-15 mins and strain if desired and blend in the fresh cream bring back to a boil and serve hot garnished with herbs, cheese and the croutons to go along.
Pesto Tossed Potatoes
Ingredients
Baby Potatoes-400 Gm. Boiled And Peeled.
For the pesto sauce:
Fresh Basil Leaves- 1 Cup
Garlic- 3-4 Cloves
Salt And Pepper To Taste
Olive Oil- 2-3 Tbsp.
Chilled Water- 2 Tsp
Lime Juice-2 Tsp
Grated Cheese/Parmesan-2 Tbsp.
Pinenuts/Cashew Tukda/ Walnuts- 2 Tbsp.
To toss along with the pesto potatoes:
Cherry Tomatoes- 4-5 Cut 1 x 2
Black Olives- 2-3 Sliced
Green Olives- 2-3 Sliced
Fresh Micro-Greens- 2 Tbsp.
Method
Assemble all the ingredients for the dish.
Combine all the ingredients for the pesto sauce into a jar of mixer grinder/food processor and churn it up into a nice green sauce.
Remove it into a bowl adjust the seasonings to taste and keep it chilled until used.
Just before serving add the boiled potatoes to a mixing bowl add salt and pepper to taste, add in the pesto sauce, cherry tomatoes, olives and give it a nice toss.
As an option we can also add some more shavings of parmesan cheese and micro-greens and serve it immediately with some nice crusty toasted herbed rolls.
Pasta In Herbed Tomato Sauce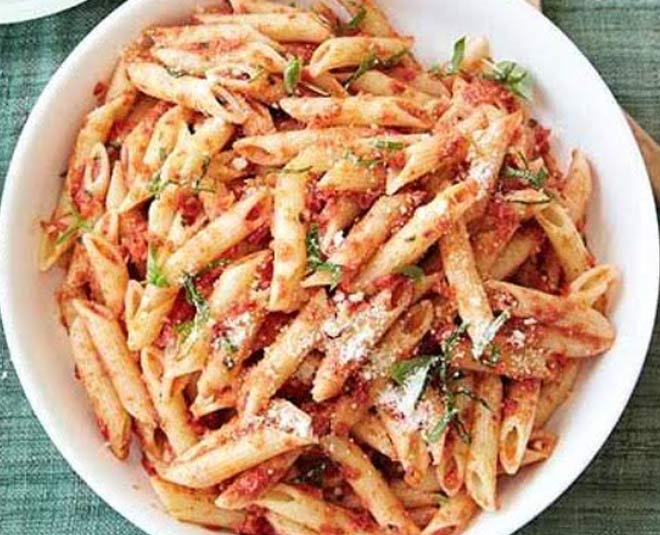 Ingredients
Boiled Penne Pasta- 2 Cups
Olive oil-2 Tsp
Garlic- 4-5 Cloves, Chopped
Onion-1 Small, Chopped
Tomatoes- 4-5 Medium Sized, Blanched And Puree.
Salt And Pepper To Taste
Mixed Herbs-1/2 Tsp
Chili Flakes-1/2 Tsp
Veg Stock- 1 Cup
Refined Flour-1 Tsp
Butter-1 Tsp
Fresh Cream- 2 Tbsp.
White Sauce-1/2 Cup
Cheese-1/4 Cup, Parmesan Or Processed.
Fresh Herbs To Garnish.
Olives- Black/Green As Needed.
Assorted Blanched Veggies- ½ Cup- Broccoli, Bell Peppers, Asparagus Etc. Can Also Be Added To The Pasta For More Color, Texture & Taste.
Method
Pre-prep all the ingredients for the pasta recipe and make it on the spot just before serving.
To prepare the sauce for the pasta, heat olive oil in a pan add in the garlic and onions, give it a nice saute for 1 minute, add in the refined flour and saute it for 20 seconds, add in the tomato puree, salt, pepper, mixed herbs, chili flakes and mix well, bring to a boil and simmer for 12-14 mins add a little veg stock to adjust texture.
Now add in the fresh cream, white sauce and little cheese and blend it all well into the sauce bring it to a boil and add in the boiled penne pasta and olives/ assorted veggies of your choice and adjust seasonings to taste.
Cook them altogether for another 2 mins and serve it hot into a pasta plate and garnish with grated parmesan cheese, olives, fresh herbs.
Bruschetta Al Fresco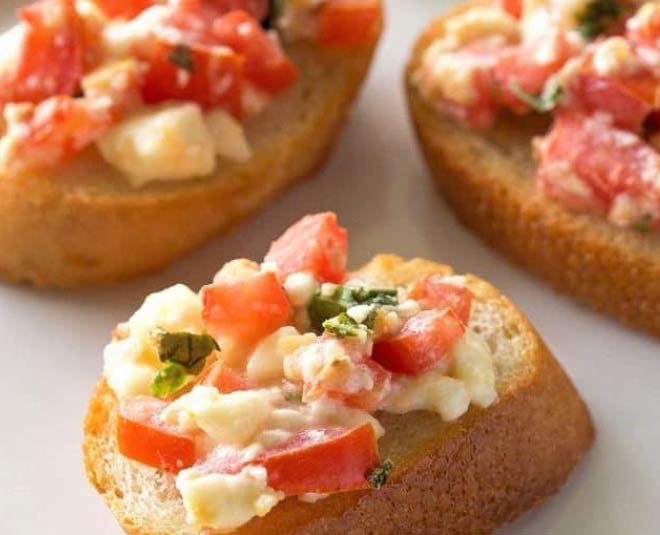 Ingredients
For the base of the bruschetta:
French Bread- 10-12 slices
To spread on the base:
Butter- 2 Tbsp./Olive Oil- 2 Tsp + Garlic- 1 Tsp Chopped + Salt And Crushed Black Pepper + Mixed Herbs- ½ Tsp + Chili Flakes-1/2 Tsp All The Ingredients To Be Mixed Well And Applied On The Slices And Lightly Toast Them And Keep Aside.
For the topping:
Olive Oil-2 Tsp
Garlic- 2-3 Cloves, Chopped
Onion-1 Small, Chopped
Tomatoes-2 No, Blanched, Peeled And Roughly Cut.
Sliced Mushrooms-1 Cup- Optional Can Be Added.
Salt And Crushed Black Pepper To Taste
Sliced Black And Green Olives- 3-4 Each
Mixed Herbs-1/2 Tsp Or Fresh Basil- 8-10 Leaves
Chili Flakes- ½ Tsp
Cheese- 2 Tsp Cream Cheese/ Grated Cheese- 2 Tbsp.
Capsico Sauce/ Tabasco Sauce- 1 Tsp
Method
Pre-prep all the ingredients and keep ready for the topping.
In a pan heat oil and saute the garlic, onions and add in the cut tomato pieces, sliced mushrooms if being used may be added, salt, pepper, herbs, chili flakes and cook for 2-3 mins.
Turn off the flame, add in the Capsico sauce and cheese and mix lightly, just before serving place the topping at room temperature on the slices of bread and garnish with olives/herbs and serve.
Don't Miss: Chef Kaviraj Shares 5 No-Onion- No Garlic Vegetable Recipes
Chicken Mushroom Risotto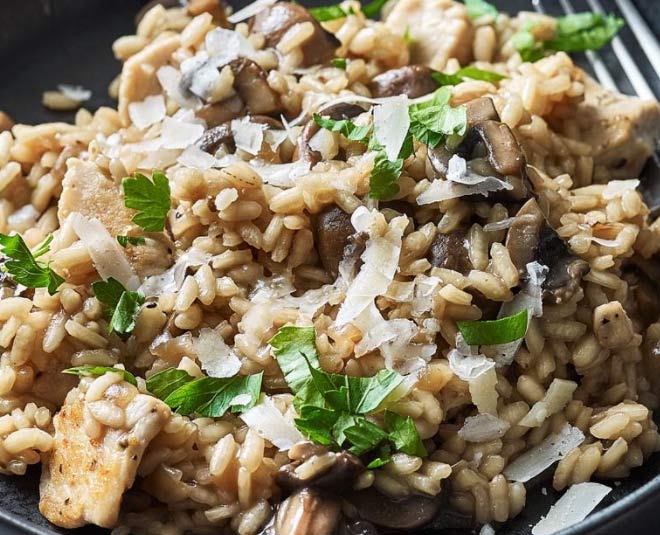 Ingredients
Arborio Rice/ White Rice- 1 cup
Olive Oil- 2 tsp
Butter- 2 tsp
Bayleaf-1 No
Peppercorns- 4-5 No
Garlic- 3-4 Cloves, Chopped
Onion-1 Small, Chopped
Celery- 2 Tsp Chopped
Salt And Pepper To Taste
Sliced Fresh Button Mushrooms- 1 Cup Or 8-10 No
Boneless Chicken Cubes- 1 Cup/ 150 Gms.
Veg/Chicken Stock -3-4 Cups
Mixed Herbs-1 Tsp
Chili Flakes-1/2 Tsp
Fresh Basil- 4-5 No
White Sauce- 1 Cup
Fresh Cream-2 Tsp
Grated Cheese/ Parmesan- 2 Tbsp.
Sliced Olives- Black/Green 3-4 No
Cherry Tomatoes- 4-5 No.
Method
Assemble all the ingredients for the risotto recipe.
Clean the rice and keep aside, the white rice can be washed and soaked for 10 mins in water.
To start with the risotto, heat oil and butter in a pan add in the Bayleaf, peppercorns, garlic and onions and saute for 1 min.
Add in the Arborio rice/ drained white rice, sliced mushrooms and boneless chicken cubes, salt, pepper, herbs, chili flakes and white wine if preferred 2 tsp can be added.
Saute all of it well for 2 mins, 1 and half cup of stock and bring to a boil also add in ½ cup white sauce and simmer and allow to cook until rice and chicken are done.
Lastly add in the fresh cream and cheese, olives and cherry tomatoes and garnish with fresh herbs, cheese and serve hot.
Don't Miss: Bake Eggless Cakes Using Different Methods Shared By Chef Kaviraj Khialani
Blueberry Pannacotta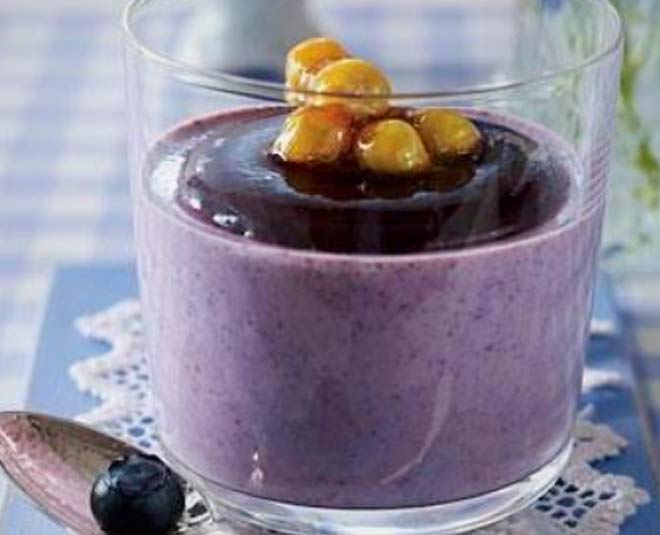 Ingredients
Blueberries- Fresh Or Frozen – 1 And Half Cup
Castor Sugar- ¼ Cup
Cooking Cream/ Heavy Cream- 2 Cups
Gelatin- 2 tsp
Vanilla Essence-1 Tsp
Crunchy Nut Praline- 2 Tbsp. Crushed For The Garnish
Tinned Cherries- 4-5 No For Garnish
Mushy Blue Berries- 2 Tsp For Garnish.
Method
To start with the panna cotta recipe in a bowl combine together the blueberries and sugar and mix well, keep aside for 20-25 mins.
In a saucepan, place the berry sugar mixture and using a wooden spoon mix it gently in order to blend and mash simultaneously.
Reduce the flame and allow to get to a nice syrup kind of texture add in the gelatin at this stage and stir well allowing it to mix.
Add in half the quantity of the cooking heavy cream into the saucepan and mix well, simmer and keep stirring in order to mash up the berries completely.
Strain the above mixture into a separate bowl and now add in the vanilla essence and the remaining half heavy cream and mix it all up well.
Set the panna cotta into individual serving bowls/ dessert cups and chill for 3-4 hours and serve garnished with some more mushy berries or some crunchy nutty praline/ cherries etc.
Stay tuned to HerZindagi for more such delicious recipes by MasterChef Kaviraj Khialani who has a varied experience with airlines and the hotel industry. He is a food designer, author, food writer, consultant, and creative cuisine specialist.